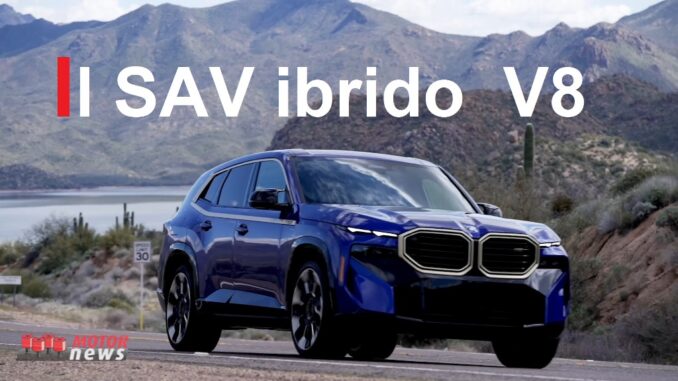 Nella puntata 7 di Motor News, servizi di Nissan e-4ORCE, Opel GSe, Bridgestone Turanza, Polestar Sustainable Report. BMW XM e Suzuki V-Strom 800DE.
Ecco tutti i servizi video…
Ad Andorra con e-4ORCE
I tracciati montani e innevati dei Pirenei e il gelido Circuito di Andorra a 2.400 metri di altitudine hanno accolto Nissan X-Trail e Ariya e-4ORCE. Questo nome racconta la sua natura, dove "e" sta per motore di trazione 100% elettrico, "4ORCE" per potenza e il numero quattro con il quale si scrive sta per trazione integrale. Su X-Trail, il motore anteriore ha 150 kW e quello posteriore 100 kW, con potenza totale del sistema e-4ORCE pari a 157 kW, perché i due motori non erogano mai contemporaneamente le rispettive massime potenze. Su Ariya, e-4ORCE ha una potenza di 225 kW, in grado di accelerare la vettura da 0 a 100 km/h in soli 5,7 secondi.
Servizio con la voce di Aurora Bovone.
La tecnologia dei telai dei modelli Opel GSe
Un sistema di calibrazione esclusivo del telaio e dello sterzo è stato sviluppato dagli ingegneri Opel per i nuovi modelli elettrificati Opel GSe. Gli ingegneri di Rüsselsheim con Christian Hartweg a capo del team, non hanno lavorato solo su Opel Grandland GSe, bensì su tutte le altre varianti del SUV Opel Grandland che ora possono beneficiare delle ottimizzazioni aggiuntive al telaio e allo sterzo.
Video in lingua tedesca con sottotitoli in inglese.
Nuovo pneumatico Bridgestone Turanza 6
Il tema della sicurezza, per Bridgestone, è da sempre un aspetto prioritario e tutti i suoi prodotti hanno un obiettivo primario: salvaguardare la sicurezza degli automobilisti. Il nuovo pneumatico Bridgestone Turanza 6 risponde a questa esigenza, essendo stato progettato tenendo conto dei risultati di un'ampia ricerca condotta tra gli automobilisti europei per indagare cosa si aspettano da uno pneumatico touring estivo e le sfide quotidiane che devono affrontare alla guida.
Polestar Sustainability Report
Fredrika Klarén, Polestar Head of Sustainability, speaks about the Sustainability Report 2022 of the company and what represents this report in terms of transparency, seriousness and industrial respect of the environment.
In italiano – Rapporto Sostenibilità Polestar
Fredrika Klarén, Head of Sustainability di Polestar, parla del Rapporto di Sostenibilità 2022 dell'azienda e di cosa rappresenta questo rapporto in termini di trasparenza, serietà e rispetto industriale dell'ambiente.
Video in lingua inglese.
Il SAV (Sports Activity Vehicle) BMW XM
Il SAV (Sports Activity Vehicle) ad alte prestazioni BMW XM è la prima BMW M originale dopo la BMW M1 e richiama la leggendaria auto sportiva a motore centrale. BMW M GmbH presenta la sua prima auto ad alte prestazioni con sistema di trazione elettrificato. Un sistema ibrido plug-in che comprende un motore a benzina V8 e un motore elettrico straordinariamente potente conferisce alla BMW XM un'accattivante abilità dinamica.
Suzuki V-Strom 800DE, l'avventurosa di Hamamatsu
L'avventurosa V-Strom 800DE riveste un ruolo chiave per Suzuki. Da una parte, la V-Strom 800DE si pone al centro della famiglia delle Sport Enduro Tourer, andando a inserirsi tra la dinamica V-Strom 650 (XT e Explorer) e le nuove arrivate V-Strom 1050 e V-Strom 1050DE. Dall'altra, segna l'ingresso sul mercato di una nuova piattaforma, condivisa anche con la GSX-8S, una street fighter attesa a sua volta su strada nel giro di breve tempo.
Servizio con la voce di Aurora Bovone.
Ecco le anteprime fotografiche dei video…