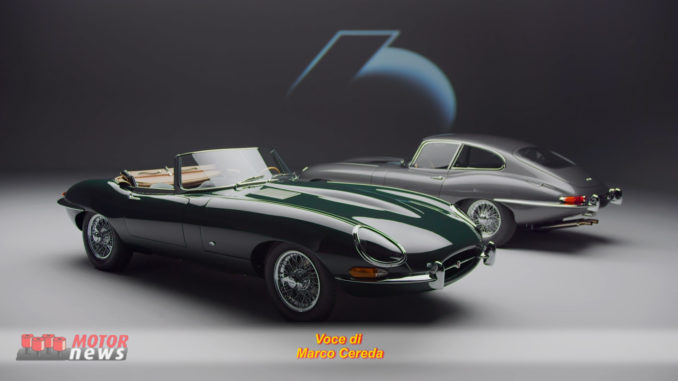 Nella settima puntata di Motor News vi proponiamo dei servizi di BMW, Jaguar, Renault, Free2Move e nel settore delle moto, la Triumph.
Di seguito tutti i servizi…
Nuovi servizi digitali di BMW Serie 5
I nuovi servizi digitali della BMW Serie 5 include BMW Maps, BMW Intelligent Personal Assistant, integrazione smartphone e aggiornamento software remoto. Nella nuova BMW Serie 5, sia il BMW Live Cockpit Plus standard che il BMW Live Cockpit Professional opzionale sono forniti del nuovo sistema operativo BMW 7, insieme a una serie di servizi digitali extra. BMW Intelligent Personal Assistant con funzionalità estese è ora disponibile anche nella nuova BMW Serie 5 come allestimento standard.
"The RoadMap, stories for the common good", by BMW Group
BMW Italia ha realizzato il primo numero di una pubblicazione semestrale intitolata "The RoadMap, stories for the common good", che nasce dalla volontà di offrire una piattaforma di comunicazione e confronto sui temi della reputazione e della responsabilità sociale di impresa. Il primo numero del magazine propone delle riflessioni sul tema del ruolo delle aziende nella società moderna da parte del BMW Group, ma anche numerosi contributi di scrittori ed esperti della comunicazione e della reputazione, operatori del terzo settore e storie dei protagonisti del mondo della disabilità e dell'impegno sociale.
BMW si conferma leader mondiale nel segmento premium
Nel 2020, il BMW Group ha confermato ancora una volta la sua posizione di leader mondiale nel segmento automobilistico premium, con un totale di 2.324.809 veicoli BMW, MINI e Rolls Royce consegnati ai clienti in tutto il mondo. 686.069 veicoli sono stati venduti a livello di Gruppo nel quarto trimestre, con un aumento di 3 punti percentuali rispetto l'anno precedente. Le vendite di veicoli ibridi plug-in sono aumentate di quasi il 40% rispetto l'anno precedente, riflettendo la grande domanda per questa variante di alimentazione.
Jaguar Classic propone E-type 60 Collection
Jaguar Classic ha dato vita a sei copie di auto in edizione limitata, denominate E-type 60 Collection, basate su E-type 3.8 restaurate. Le sei E-type 60 Edition coupé, ispirate alla "9600 HP", sono rifinite con un'esclusiva colorazione esterna Flat Out Grey, interni in pelle color Smooth Black e specifici dettagli celebrativi richiamanti il 1961.
Servizio con la voce di Marco Cereda.
Lancio del SUV Coupé Renault Arkana
Il Direttore Comunicazione Renault Italia, Francesco Fontana Giusti, parla in occasione del lancio di Renault Arkana, un nuovo modello emblematico della Marca Renault che con il piano strategico Renaulution, presentato da Luca de Meo a Gennaio scorso, è entrata in una nuova èra.
Il SUVversivo di Renaulution
Sottolineando il carattere particolare del Nuovo Renault Arkana, è stato presentato come il SUVversivo all'interno del nuovo piano Renaulution della casa francese.
Free mobility con Free2Move
Il marchio di mobilità Free2Move ha sviluppato la funzionalità Mobility Pass con l'obiettivo di risolvere differenti esigenze di mobilità in maniera facile ed intuitiva e così, che si tratti del weekend invernale in montagna, le vacanze al mare con tanto bagaglio, oppure il trasloco con necessità di un veicolo multispazio, l'ampia offerta di modelli disponibili punta a soddisfare ogni possibile esigenza occasionale.
Le Rocket di Triumph in edizione limitata
Ancora più carismatiche, dominanti e inconfondibili: le nuove Limited Edition di Triumph Rocket 3 R e Rocket 3 GT portano su strada prestazioni ed emozione di guida uniche attraverso uno stile ancora più dark e aggressivo. Prodotte entrambe in soli 1,000 esemplari a livello mondiale, ognuno corredato da certificate di autenticità, le nuove Rocket 3 R Black e Rocket 3 GT Triple Black arricchiscono la gamma Rocket 3 con un look ancora più esclusivo e minaccioso.
Servizio con la voce di Aurora Bovone.
Di seguito le anteprime fotografiche dei video…