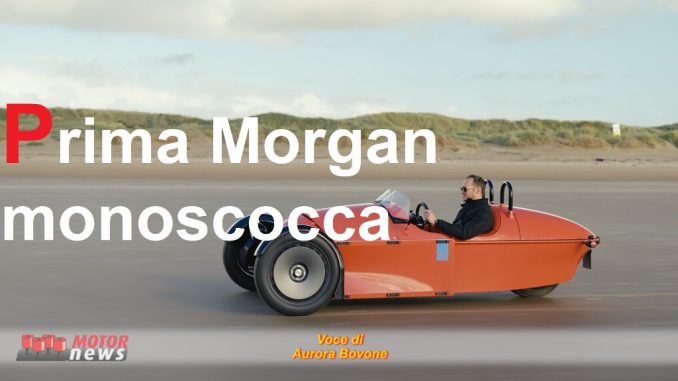 Nella quarta puntata di Motor News del 2022 parliamo di Walter Rohrl, Cupra Formentor, Nissan Qashqai e-Power, Jeep, Morgan e Honda Dax.
Di seguito tutti i video della puntata…
Happy 75th Birthday, Mr. Walter Rohrl
To celebrate the 75th birthday of Walter Rohrl we decided to show the video of 50 years of Opel GT in 2018, where the Bavarian driver participated with his own Opel GT.
In italiano – Buon 75° compleanno, Mr. Walter Rohrl
Per celebrare il 75esimo compleanno di Walter Rohrl abbiamo deciso di proporre il video dei 50 anni di Opel GT nel 2018, dove il pilota bavarese ha partecipato con la Opel GT di sua proprietà.
Video in lingua inglese.
Il SUV coupé Cupra Formentor
Cupra Formentor, primo modello nativo del marchio, supera ogni confine con l'introduzione di Cupra Formentor VZ5. Destinata a essere una proposta ancora più unica sul mercato, Cupra Formentor VZ5 porta a bordo del SUV coupé ad alte prestazioni un cuore pulsante a cinque cilindri, caratteristiche dinamiche ancora più emozionanti e un'esperienza di guida di una raffinatezza ed esclusività senza eguali.
Servizio con la voce di Aurora Bovone.
The new Nissan Qashqai e-Power
Adam Robertson, lead engineer e-Power, speaks about the new Nissan's bold and innovative e-Power powertrain will be introduced to the Qashqai range in late summer, again breaking the mould in the crossover segment that the Qashqai pioneered. The new Qashqai will be the first model in Europe to be equipped with Nissan's unique e‑Power drive system.
In italiano – La nuova Nissan Qashqai e-Power
Adam Robertson, ingegnere capo di e-Power, parla del nuovo audace e innovativo propulsore e-Power di Nissan che sarà introdotto nella gamma Qashqai a fine estate, rompendo ancora una volta gli schemi nel segmento dei crossover che Qashqai ha aperto la strada. Il nuovo Qashqai sarà il primo modello in Europa ad essere dotato dell'esclusivo sistema di trasmissione e‑Power di Nissan.
Video in English language.
Le alternative Jeep
Jeep Renegade e Jeep Compass e-Hybrid offrono un'esperienza di guida ibrida innovativa grazie a uno specifico sistema di propulsione che include un nuovo motore a benzina, da 1,5 T4 turbo da 130 CV e 240 Nm unito a un nuovo cambio a 7 velocità a doppia frizione, che integra un motore elettrico da 48 Volt e 15 kW.
Prima Morgan della storia con struttura monoscocca
Morgan introduce Super 3, che riprende e continua l'eredità di 113 anni di veicoli Morgan a tre ruote. Costruito sulla nuova piattaforma in alluminio in tre parti dell'azienda, Super 3 è la prima Morgan della storia con una struttura monoscocca. Alimentata da un motore Ford tre cilindri da 1,5 litri, supera notevolmente i dati di potenza e prestazioni dei precedenti modelli Morgan a tre ruote.
Servizio con la voce di Aurora Bovone.
Il ritorno di Honda Dax
Dopo 41 anni di assenza, il Dax di Honda si prepara finalmente a fare il suo ritorno in Europa accanto ai modelli Monkey e MSX125 Grom dell'esclusiva gamma di mini-bike della casa giapponese.
Servizio con la voce di Aurora Bovone.
Di seguito le anteprime fotografiche dei video…