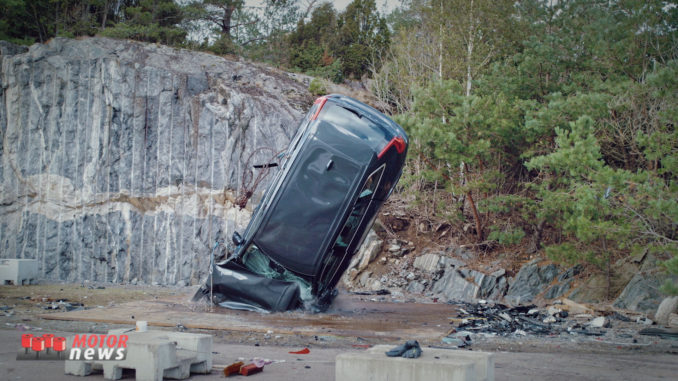 Nella puntata 34 del 2020 di Motor News parliamo di sicurezza, guida autonoma e off-road con DS, Volvo, Peugeot, Nissan e MINI.
Di seguito i servizi della puntata…
Guida semi autonoma di DS 3 Crossback
La guida semi autonoma è una realtà molto vicina per DS Automobiles, che equipaggia la DS 3 Crossback con la tecnologia DS Drive Assist. Il sistema è abbinato, per ovvi motivi, a versioni con cambio automatico e si rivela particolarmente adatto alla guida in autostrada e su strade a scorrimento veloce.
Da 30 metri per garantire la sicurezza secondo Volvo
Volvo Cars fa cadere auto nuove da 30 metri per aiutare i servizi di soccorso a migliorare le tecniche di salvataggio. È il crash test più estremo mai eseguito da Volvo Cars e la sua funzione è cruciale. Gli specialisti che effettuano l'estrazione di un traumatizzato da un veicolo, una tecnica nota come 'estricazione', spesso utilizzano le auto incidentate che arrivano al Centro Sicurezza di Volvo Cars per affinare le loro tecniche di salvataggio.
Servizio con la voce di Marco Cereda.
Volvos multiple times from a crane, from a height of 30 metres
To allow rescue services to prepare for any possible crash scenario and to simulate the forces that erupt in the most extreme crashes, beyond what can be simulated with ordinary crash testing, Volvo Cars recently took equally extreme measures. For the first time, it dropped several new Volvos multiple times from a crane, from a height of 30 metres.
In the video speaks Håkan Gustafson, a senior investigator with the Volvo Cars Traffic Accident Research Team and rescue specialist Jens Molin.
Nuovo Peugeot 2008 in Friuli
La selvaggia natura delle Dolomiti Friulane si presta come spettacolare cornice per l'avventura di Nuovo Peugeot 2008, alla ricerca di paesaggi spettacolari e fuori dai percorsi più battuti. Due mondi a confronto, da una parte panorami dalla bellezza quasi primordiale, dall'altra la fresca vincitrice del premio Auto Europa 2021, in cui i contenuti rappresentano un'autentica avanguardia tecnologica.
Nissan Qashqai Mild Hybrid
Nella primavera del 2021 debutterà la terza generazione di Nissan Qashqai, con una gamma elettrificata, il sistema e-POWER e il motore 1.3 litri benzina mild hybrid. Anche per la terza generazione di Qashqai la progettazione è stata curata dal team di Nissan Design Europe a Londra, e la sua ingegnerizzazione dal Nissan Technical Centre Europe di Cranfield, Bedfordshire, nel Regno Unito.
Servizio con la voce di Marco Cereda.
MINI Countryman powered by X-Raid Team
Con il know-how del risultato del Rally Dakar, la nuova MINI Countryman ora si propone in versione powered by X-Raid Team. MINI Countryman, il modello più grande del marchio premium britannico è stato progettato con cinque porte e una grande versatilità degli spazi interni. I motori potenti e la trazione integrale ALL4 opzionale garantiscono un divertimento di guida illimitato anche in off-road. Del resto, come veicolo di supporto del team X-Raid, vincitore assoluto in carica del Rally Dakar, la MINI Countryman ha già dimostrato prestazioni impressionanti in condizioni estreme.
Di seguito le anteprime foto dei servizi…