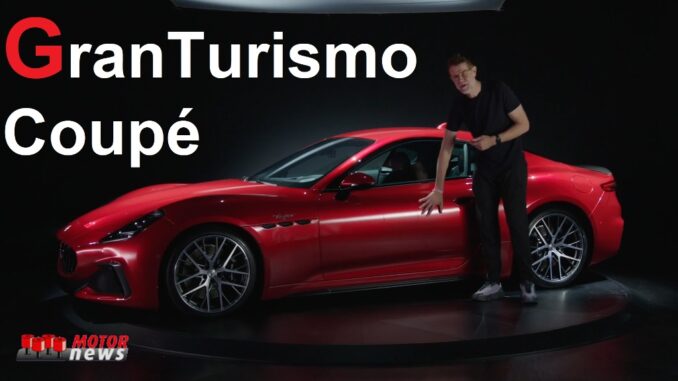 Nella puntata 31 di Motor News, servizio di Toyota Corolla Cross, Maserati GranTurismo, Porsche campione in GTD-Pro, spot Nuovo Lexus RZ 450E e Toni Bou nuovo campione di trial.
Ecco i servizi video…
Presentata la Nuova Corolla Cross
Toyota presenta alla stampa la Nuova Corolla Cross, modello che proietta la vettura più venduta al mondo nel segmento dei C-SUV.Il nuovo SUV, sviluppato su piattaforma TNGA-C, completa la gamma Corolla, affiancandosi alle varianti Hatchback e Touring Sports, e completa anche la linea di SUV Toyota con una vettura pratica nell'utilizzo quotidiano, grande disponibilità di spazio per i passeggeri ma senza riunciare ad un design lineare e dotato di forte personalità.
Design of Maserati GranTurismo
Klaus Busse, Head of Design Maserati Gran Turismo, speaks about the car aerodynamic lines, the design and the compromise to build a car between the race and the road.
In italiano – Design della Maserati Gran Turismo
Klaus Busse, Head of Design Maserati Gran Turismo, parla delle linee aerodinamiche dell'auto, del design e del compromesso per costruire un'auto tra la pista e la strada.
Porsche campione in GTD-Pro a Road Atlanta
Porsche ha vinto il campionato costruttori nella classe GTD-Pro con il team clienti Pfaff Motorsports dei piloti Matt Campbell e Mathieu Jaminet incoronati i nuovi campioni piloti. Questi i risultati dopo la finale dell'IMSA Weather Tech Sports Car Championship 2022. Il team clienti Porsche dal Canada ha concluso la gara della Petit Le Mans a Road Atlanta al terzo posto e la Porsche 911 GT3 R schierata da Wright Motorsports ha tagliato il traguardo al quarto posto nella categoria GTD.
Spot di "Black Panther: Wakanda Forever" per Nuovo Lexus RZ 450E
Per entrare a far parte dei ranghi dell'élite dei guerrieri Dora Milaje del Regno di Wakanda bisogna possedere qualità straordinarie, e anche il mezzo di trasporto che si sceglie deve essere ugualmente straordinario. Ecco il nuovo RZ 450e Full Electric, il BEV tecnologicamente avanzato di Lexus che porta un altro elemento speciale nell'arsenale dei Dora Milaje: un'attitudine elettrizzante.
Toni Bou, campione di trial per la 32esima volta
La corona del Campionato del Mondo TrialGP 2022 ha un nuovo proprietario, nientemeno che Toni Bou. Il pilota del Repsol Honda Trial Team, secondo nella prova di Ponte di Legno, possiede ora 32 titoli mondiali, con un totale di 16 titoli consecutivi nel TrialGP e altri 16 nell'X-Trial.
Di seguito potete vedere le anteprime fotografiche dei video…