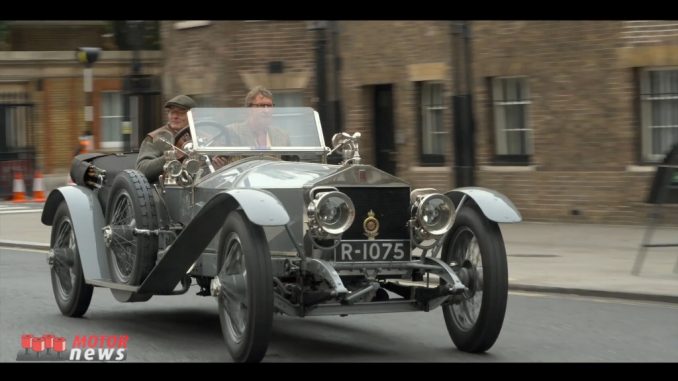 Nella puntata 29 di Motor News, servizi di Citroën C5 X, Nissan Townstar, DS 4, Rolls Royce, Volkswagen Taigo e nel settore della moto, la MV Agusta F3 RR.
Ecco tutti i servizi della puntata.
La magica sintesi di Citroën C5 X
Citroën C5 X è una magica sintesi tra una berlina, una station wagon e un SUV, illustrata dal punto di vista del design. Nel video, Alexandre Cazeaux, Project Manager di Citroën C5 X e Frédéric Angibaud, Exterior Designer di Citroën C5 X, illustrano i particolari dell'ammiraglia Citroën.
Nissan Townstar raccoglie una pesante eredità
Nissan ha presentato il veicolo commerciale Townstar; compatto, versatile e capace di soddisfare le esigenze dei clienti, offerto anche in versione elettrica. Questa versione del Townstar raccoglie l'eredità di e-NV200 e vanta due tipi di motorizzazione per entrambe le versioni van e combi (trasporto passeggeri): un motore 1.3 benzina da 130 CV e 240 Nm di coppia, conforme allo standard di emissione Euro 6d-Full e un motore 100% elettrico con batteria da 44 kWh e 245 Nm di coppia.
DS Automobiles diventa brand premium elettrico
Giorgio Contu, Responsabile Comunicazione DS Automobiles Italia, parla dell'elettrificazione del brand, a partire dalla gamma attualmente in commercio che include tutte quattro i modelli elettrificati; fino alla conversione a brand completamente full electric a partire dal 2024. La stessa DS 4 appena lanciata, verrà proposta nel 2024 anche con la versione full electric.
Rolls Royce e la storia che si ripete
Recentemenete la storia si è letteralmente ripetuta quando Rolls-Royce Silver Ghost 1701 ha rievocato la sua sorprendente corsa nel percorso Londra-Edimburgo del 1911. L'auto, progettata come "Auto da velocità sperimentale", ha vinto l'evento originale con la marcia più alta per l'intero viaggio di ritorno di 799 miglia (ovvero 1286 km) tra le due capitali. Dato lo stato primitivo delle strade dell'epoca in Gran Bretagna, la sua velocità media di 19,59 mph (31,52 km/h) era impressionante – e la sua allora inaudita efficienza del consumo di carburante di oltre 24 miglia per gallone (o se preferite circa 8,5 km con un litro) erano ancora più sorprendenti.
E' possibile ordinare in Italia la Volkswagen Taigo
Con l'apertura degli ordini della Taigo, Volkswagen aggiunge alla sua gamma italiana di modelli compatti a trazione anteriore basati sul pianale modulare trasversale MQB A0, costituita da Nuova Polo e T-Cross, una terza variante di carrozzeria con una linea finora riservata quasi esclusivamente alle fasce di prezzo più elevate.
Servizio con la voce di Aurora Bovone.
The New Volkswagen Taigo
Klaus Zellmer, Member of the Board Volkswagen Sales, Marketing and After Sales; Dr. Hendrik Muth, Head of Product Marketing Volkswagen; Marco Pavone, Head of Exterior Design Volkswagen and Martina Biene, Head of Produc Line "Small" Volkswagen speak about the new Volkswagen Taigo recently unveiled.
In italiano – La Nuova Volkswagen Taigo
Klaus Zellmer, membro del consiglio di amministrazione Volkswagen Sales, Marketing e After Sales; Dr. Hendrik Muth, Responsabile Marketing Prodotto Volkswagen; Marco Pavone, Head of Exterior Design Volkswagen e Martina Biene, Head of Produc Line "Small" Volkswagen parlano della nuova Volkswagen Taigo presentata di recente.
Video in lingua inglese.
Massima performance con MV Agusta F3 RR
La MV Agusta RR è la punta di diamante della gamma F3: al vertice per prestazioni, dotazione e sviluppo tecnologico. Che si parli di meccanica, ciclistica o aerodinamica, sulla nuova MV Agusta F3 RR ogni elemento è stato studiato per offrire il massimo delle performance, che la rendono la migliore interprete del segmento Supersport.
Servizio con la voce di Aurora Bovone.
Di seguito le anteprime fotografiche dei video…