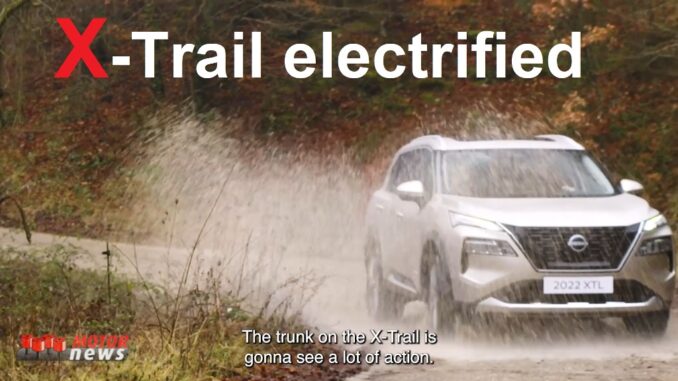 Nella puntata 28 del 2022 di Motor News, il buon compleanno a Opel, Nissan X-Trail, Volkswagen Golf R, un anno di Porsche a Franciacorta e nuova Honda Hornet.
Di seguito tutti i servizi video…
Alles Gute zum Geburtstag, lieber Opel
Nel settembre del 1862 Adam Opel fondo l'omonima azienda a Rüsselsheim costruendo le prime macchine per cucire, per poi passare alle biciclette (1886) e alle automobili (1899). Dopo l'inizio con le macchine per cucire, Opel diventò il più grande produttore di biciclette del mondo e infine un marchio automobilistico di fama internazionale. La filosofia che ha distinto fin dal principio, e per sempre, tutti i prodotti "made by Opel" è quella di rendere le innovazioni alla portata di tutti, che resta valida ancora oggi.
The new Nissan X-Trail now is electrified
Cliodhna Lyons, Vice President Product Planning, Nissan AMIEO region, speaks about the new Nissan X-Trail that now is powered with the innovative E power system and also the innovative ePedal.
In italiano – La nuova Nissan X-Trail ora è elettrificata
Cliodhna Lyons, Vice President Product Planning, regione Nissan AMIEO, parla della nuova Nissan X-Trail che ora è dotata dell'innovativo sistema di alimentazione E power e anche con l'innovativo ePedal.
Video in lingua inglese.
Riprogettato il Nuovo Lexus RX
Lexus ha effettuato una completa riprogettazione del grande SUV di lusso RX, basandosi sul vasto heritage del modello. Nuovo RX è disponibile in Europa con una gamma di tre diversi propulsori elettrificati. Al centro dell'offerta del marchio in Europa occidentale troviamo RX 450h+ con tecnologia ibrida plug-in.
Vent'anni di Volkswagen Golf R
Nell'estate del 2002, Volkswagen ha lanciato sul mercato uno dei modelli compatti più sportivi al mondo: la prima Golf R32. Con il motore a sei cilindri da 3,2 litri e 241 cavalli, era la Golf più potente mai prodotta da Volkswagen. Da allora, la lettera R accanto al logo Volkswagen entusiasma con i modelli più sportivi e d'impatto del Marchio. La Volkswagen R festeggia insieme ai suoi tanti fan di tutto il mondo il 20° anniversario della Golf R con un modello dedicato: la Golf R 20 Years, ora disponibile anche in Italia con un prezzo di listino a partire da 63.900 Euro.
Servizio con la voce di Marco Cereda.
Il Porsche Experience Center Franciacorta compie un anno
Nel suo anno di debutto il Porsche Experience Center Franciacorta ha ospitato più di 22.000 visitatori da tutto il mondo. L'ottavo dei nove Experience Center esistenti è stato infatti pensato per un pubblico italiano ma sono ben 54 le nazionalità di provenienza di coloro che lo hanno visitato nei suoi primi 12 mesi di attività.
Nuova generazione di Honda Hornet
Fuyuki Hosokawa, Capo Progetto dei Test Honda, parla della nuova Honda Hornet che ha mantenuto il picco di potenza nel motore, ma con la percezione di una coppia maggiore e una sensazione di pulsazioni ai regimi bassi e medi, senza dimenticare l'agilità di guida in ogni situazione.
Video in lingua giapponese con sottotitoli in italiano.
Di seguito le anteprime fotografiche dei video…