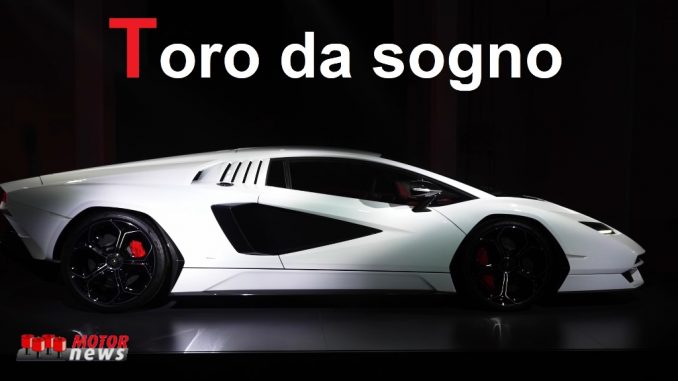 Nella puntata 25 dell'anno 2021 di Motor News parliamo di due supersportive, di un'ammiraglia e tra altre cose anche delle 24 Ore di Le Mans.
Le due supersportive sono Acura NSX Type S e Lamborghini Countach LPI 800-4; l'ammiraglia e la Citroën C5 X e inoltre potete vedere DS Automobiles e il mondo del golf, il nuovo SUV Opel Grandland, Porsche e le 24 Ore di Le Mans con un servizio dal tramonto all'alba, il lavoro di Mazda e Bose per dotare le vetture di un sound particolare e infine per gli amanti delle due ruote, vi proponiamo dei servizi della Suzuki Burgman 400 Model Year 2022 e del Biker Fest di Lignano Sabbiadoro.
Di seguito tutti i servizi video…
Rapporto "green" tra DS Automobiles e il mondo del golf
Entrambi i mondi sono green. Il Golf e DS Automobiles hanno questa parola in comune; il primo per lo scenario dove si svolge questo sport impegnativo e particolare dove i giocatori amano camminare in mezzo al green; il costruttore perché dalla sua nascita punta sul green con le vetture ibride plug-in ed elettriche…
Eugenio Franzetti, Managing Director DS Automobiles Italia, racconta nel servizio tutti questi particolari…
The most powerful Acura NSX than ever
New video showcases the development journey of the new 600 HP 2022 Acura NSX Type S, the most powerful NSX ever. Development leader Satoshi Mizukami and exterior designer Dai Hara highlight the tight integration between more aggressive design and elevated performance of NSX Type S.
Delivering an even more emotional driving experience, limited production NSX Type S is the ultimate expression of Acura's commitment to Precision Crafted Performance.
In italiano – L'Acura NSX più potente che mai
Il nuovo video mostra il percorso di sviluppo della nuova Acura NSX Type S da 600 CV 2022, la NSX più potente di sempre. Il leader dello sviluppo Satoshi Mizukami e il designer degli esterni Dai Hara sottolineano la stretta integrazione tra il design più aggressivo e le prestazioni elevate della NSX Type S.
Offrendo un'esperienza di guida ancora più emozionante, la NSX Type S in produzione limitata è la massima espressione dell'impegno di Acura per le prestazioni di precisione artigianale.
Servizio in lingua inglese.
Nuovo Opel Grandland, con Opel Vizor e anche ibrido
Nuovo Opel Grandland non solo è dotato dell'Opel Vizor, da un design audace, da un posto guida digitale e da fari di ultima generazione, ma è anche hybrid plug-in. Grazie al Pure Panel completamente digitale, il nuovo Opel Grandland offre un'esperienza di guida completamente diversa. Il SUV Opel monta inoltre tecnologie e sistemi di assistenza alla guida di ultima generazione, come i fari attivi IntelliLux LED Pixel con ben 168 elementi LED in totale.
Citroën C5 X, between a saloon, an estate and a SUV
Alexandre Cazeaux, Citroën C5 X Project Manager; Frédéric Angibaud, C5 X's exterior designer and Cécile Batho, co-director of the Brain Value design institute speaks in the video about different details of the new Citroën C5 X, that allow Citroën to go back to the large tourer segment with an innovative model that is a cross between a saloon, an estate and a SUV.
Video in French language with undertitles in English.
In italiano – Citroën C5 X, tra berlina, station wagon e SUV
Alexandre Cazeaux, responsabile del progetto Citroën C5 X; Frédéric Angibaud, designer degli esterni di C5 X e Cécile Batho, condirettore dell'istituto di design Brain Value, parlano nel video di diversi dettagli della nuova Citroën C5 X, che consentono a Citroën di tornare nel segmento delle grandi tourer con un modello innovativo che è un incrocio tra una berlina, una station wagon e un SUV.
Video in lingua francese con sottotitoli in inglese.
Dusk till dawn at Le Mans
Dusk till dawn. Porsche show the emotions of the night in the 24 Heures du Mans, with the interviews to their drivers Richard Lietz, Michael Christensen, Patrick Dempsey, Kévin Estre, Neel Jani, Matt Campbell and Alex Stehlig. Pure adrenaline!!!
In italiano – Dal tramonto all'alba a Le Mans
Dal tramonto all'alba. Porsche mostra le emozioni della notte nelle 24 Ore di Le Mans, con le interviste ai loro piloti Richard Lietz, Michael Christensen, Patrick Dempsey, Kévin Estre, Neel Jani, Matt Campbell e Alex Stehlig. Adrenalina pura!!!
Servizio in lingua inglese.
Mazda e Bose, questione di sound
Mazda e Bose hanno iniziato a lavorare insieme 30 anni fa sulla Mazda RX-7 di terza generazione
La partnership era stata concepita per migliorare l'esperienza di guida attraverso un'eccezionale qualità del suono. Da allora, le due aziende hanno continuato a collaborare per dar vita a innovative soluzioni audio premium che contribuiscono a un'esperienza di guida superiore. Nel loro insieme, potenza del suono e gioia di guidare offrono al cliente un'esperienza eccezionale e coinvolgente che consente ai passeggeri di percepire all'interno della propria auto ogni dettaglio acustico e l'impatto emotivo di un concerto dal vivo.
Nel video parlano Matthew Valbuena, Ingegnere della tecnologia di veicolo Mazda Motor North America Operations; Nick Lade, ingegnere degli impianti audio Bose Automotive Systems; Mike Rosen, ingegnere capo Bose Automotive Systems; Ryoji Oe, ingegnere del suono Mazda Motor Corporation; Frederic Hartnick, Responsabile Ingegneria Mazda Motor Europe e Bud MacLellan, Responsabile Ingegneria del suono Bose Automotive Systems.
Video in lingua inglese con sottotitoli in italiano.
Il Toro di Lamborghini fa sognare con la nuova Countach
Lamborghini ha presentato in anteprima europea alla Milano Design Week la Countach LPI 800-4, 50 anni dopo il lancio della prima Countach. Questa vettura, prodotta in un'edizione limitata di 112 esemplari, è un futuristico omaggio a un veicolo che ha ridefinito il look delle supersportive, con stilemi che si ripetono ancora oggi nelle silhouette di ogni Lamborghini.
Suzuki Burgman 400 Model Year 2022
Con il Model Year 2022 il Suzuki Burgman 400 si rinnova e alza l'asticella nel segmento degli scooter di grossa cilindrata, da lui stesso creato nel 1998. Il Burgman 400, l'"Atleta Elegante", è omologato Euro 5 grazie anche all'introduzione della tecnologia Dual Spark, monta di serie il Traction Control, impreziosisce le sue forme con una nuova affascinante colorazione ed è acquistabile attraverso due formule che prevedono un piccolo anticipo iniziale e comode rate mensili di soli 99 Euro, con la prima da versare dopo sei mesi.
Servizio con la voce di Aurora Bovone.
Biker Fest a Lignano Sabbiadoro
La 35ª edizione della Biker Fest andrà in scena dal 16 al 19 settembre a Lignano Sabbiadoro, in provincia di Udine. L'evento si svolgerà in 4 diverse zone della città per accentuare e diversificare le peculiarità di ogni attrazione proposta, così che l'intera comunità venga coinvolta dalla manifestazione.
Servizio con la voce di Aurora Bovone.
Di seguito le anteprime fotografiche dei video della puntata…