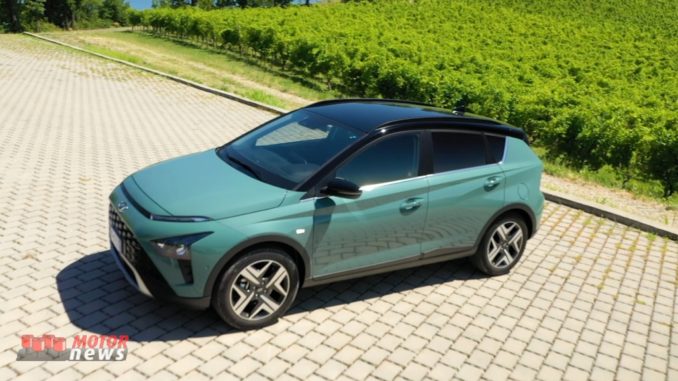 Nella 25esima puntata di Motor News, Suzuki nei Monti Simbruini, Volkswagen Taigo, Nuova Hyundai Bayon, sedile DS Automobiles e BMW R 18 Transcontinental.
Ecco tutti i servizi…
Con Suzuki ai Monti Simbruini
Saranno i Monti Simbruini e l'area appenninica che si trova al confine tra il Lazio e l'Abruzzo a fare da cornice all'annuale Raduno Suzuki 4×4, che in questo 2021 giunge alla sua decima edizione. Per tutti coloro che guidano una Suzuki a trazione integrale l'appuntamento è fissato per sabato 25 settembre a Carso'li, in provincia dell'Aquila.
Volkswagen Taigo, il primo SUV coupé del Segmento B
Volkswagen propone la Taigo, il suo primo SUV coupé del Segmento B che si differenzia per il suo look, la posizione di seduta rialzata e la versatilità nell'uso quotidiano.
L'andamento a scendere della zona posteriore della Taigo, in perfetto stile coupé, non limita lo spazio per la testa dei passeggeri. Così la Volkswagen aggiunge alla sua gamma di modelli compatti a trazione anteriore basati sul pianale modulare trasversale MQB, costituita da Polo e T-Cross, una terza variante di carrozzeria con una linea finora riservata quasi esclusivamente ai modelli della fascia di prezzo alta.
Servizio con la voce di Marco Cereda.
Hyundai completa la gamma SUV con Nuova Hyundai Bayon
Nuova Hyundai Bayon è disponibile presso gli showroom Hyundai di tutta Italia, andando a completare l'offerta SUV del brand con un design distintivo, tanto spazio e avanzati sistemi di sicurezza e connettività di serie. Il motore turbo 1.0 T-GDi con tecnologia mild hybrid a 48 volt è in grado di erogare una potenza massima di 100 CV, con il cambio manuale intelligente o con il cambio a doppia frizione a 7 marce, ma è anche disponibile con un motore MPi da 1,2 litri con 84 CV abbinato a una trasmissione manuale a cinque rapporti.
DS Automobiles designs Charles De Gaulle commander seat station
The flagship ship of the French National Defense, the Charles de Gaulle aircraft carrier, is now commanded from a post designed by the DS Automobiles teams. The design of the commander's seat is inspired by the seat of the DS 9. As in the DS 9, the new commander's seat of the Charles de Gaulle aircraft carrier stands out for its technology and refinement: heated, ventilated and with massage function, it is in Basalt Black Nappa leather with watch bracelet processing. In the video, Thierry Metroz, Head of Design DS Automobiles explains how this process takes place.
In italiano – DS Automobiles progetta la postazione del comandante della Charles De Gaulle
La nave ammiraglia della Difesa Nazionale Francese, la portaerei Charles de Gaulle, è ora comandata da una postazione progettata dai team di DS Automobiles. Il design della postazione del comandante è ispirato al sedile della DS 9. Come nella DS 9, il nuovo sedile del comandante della portaerei Charles de Gaulle si distingue per tecnologia e raffinatezza: riscaldato, ventilato e con funzione massaggio, è in pelle Nappa Nero Basalto con lavorazione a braccialetto d'orologio. Nel video, Thierry Metroz, Responsabile Design DS Automobiles spiega lo svolgimento di questa lavorazione.
Servizio in lingua francese.
Nuova R 18 Transcontinental da BMW Motorrad
Con la nuova R 18 Transcontinental, BMW Motorrad aggiunge alla famiglia R 18 una Grand American Tourer e la R 18 B "Bagger", particolarmente popolare negli Stati Uniti. Come per i precedenti modelli R 18, la nuova R 18 Transcontinental e la R 18 B combinano l'emozionante potenza del "Big Boxer" con un concept di telaio classico che attinge a modelli storici, un equipaggiamento esclusivo e un design elegante.
Servizio con la voce di Aurora Bovone.
Di seguito le anteprime fotografiche dei video…