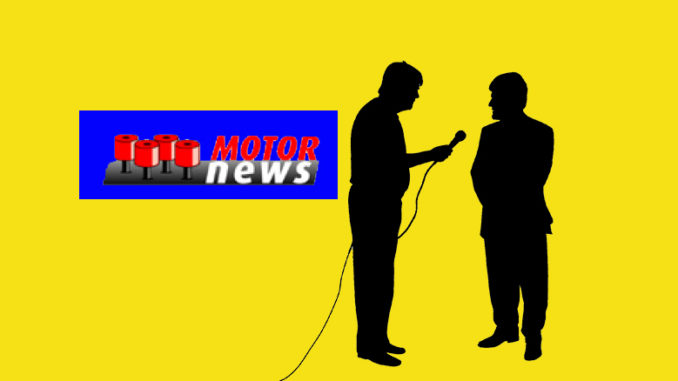 Nella seconda puntata del 2018 di Motor News: le news di gennaio di DS Automobiles, nuove MINI tre, cinque porte e cabrio; il motore PSA è Engine of the Year; Nissan xMotion Concept a Detroit; Peugeot 208 GTi by Peugeot Sport e lo spot di Stefano Accorsi per Peugeot, gli interni della DS5 Performance Line, BMW X2 presentata a Detroit, il SUV Jaguar E-Pace e la Ducati Panigale.
News DS Automobiles di Gennaio 2018
L'impegno storico di DS porta la memoria all'epopea dei tempi eroici, quando auto strettamente di serie si sfidavano sui tortuosi tracciati della costa azzurra e le DS erano impegnate con successo al Rally di Montecarlo. Oggi l'impegno sportivo di DS si chiama Formula E con il team DS Virgin Racing dove nella terza prova della stagione a Marrakech Sam Bird è giunto terzo.
Sempre a Marrakech, si è disputato il rookie test: una sessione di prove riservata agli esordienti in cui Antonio Giovinazzi e Joel Eriksson hanno fatto ben sperare per un possibile futuro nella Formula E, con tempi sul giro non distanti da quelli delle prime guide.
Riservata ai salotti eleganti è invece la DS 3 Black Lezard, una serie limitata che dedica un'attenzione maniacale alla cura dei dettagli raffinati.
Le nuove MINI tre, cinque porte e cabrio
Gli aggiornamenti per la MINI tre porte, cinque porte e per la MINI Cabrio comprendono nuovi upgrade di design, novità per le motorizzazioni e nuovi cambi automatici, ulteriori opzioni di personalizzazione ed un ampliamento dei servizi digitali disponibili nell'ambito dell'offerta denominata MINI Connected.
Servizio con la voce di Alice Bovone.
Il motore PSA è premiato come Engine of the Year
Forte di un eccellente savoir-faire in materia di riduzione delle emissioni inquinanti e dei gas ad effetto serra, Groupe PSA è da sempre all'avanguardia nella diffusione di tecnologie virtuose e la nuova motorizzazione benzina PureTech ha ricevuto il Premio Engine of the Year 2017.
Il Concept xMotion di Nissan
Il progetto sperimentale per un SUV compatto potenzialmente rivoluzionario, il concept xMotion, deriva dai crossover e SUV all'avanguardia che hanno segnato la storia di Nissan, tra cui ricordiamo i recenti Kicks e Rogue Sport.
Servizio con la voce di Marco Cereda.
Peugeot 208 GTi by Peugeot Sport
Per animare la 208 GTi più sportiva della gamma, Peugeot Sport ha optato per la variante più potente del collaudato 1.6 THP, un quattro cilindri turbo da 1,598 cc capace di sviluppare 208 cavalli a 6.000 giri al minuto e un picco di coppia di 300 Nm disponibile già a 3.000 giri al minuto; accoppiato a un cambio manuale a sei rapporti specificamente rivisto per enfatizzare le accelerazioni ed esaltare le performance della 208 GTi by Peugeot Sport.
Giulio Marc D'Alberton, Responsabile delle Pubbliche Relazioni di Peugeot Italia, illustra i particolari di questa vettura sportiva della casa del leone.
Stefano Accorsi nello spot di Peugeot 208
Stefano Accorsi è il protagonista dello spot pubblicitario della Peugeot 208 e nel servizio vediamo il dietro le quinte della realizzazione dello spot e anche il "prodotto publicitario" finito.
L'eleganza degli interni nella filosofia DS
Frutto dell'abilità degli artigiani DS, gli interni di DS 5 brillano per eleganza e comfort, con rivestimenti e rifiniture all'altezza dei più lussuosi atelier di moda parigini.
A Detroit presentata la nuova BMW X2
La nuova BMW X2 è una BMW dal carattere indipendente con un design che combina la discreta robustezza dei modelli BMW X con il potenziale atletico di una coupé. Tre le varianti di motori e trasmissioni offerte al lancio: una benzina X2 sDrive20i da 192 CV abbinata al veloce e sportivo cambio Steptronic a 7 velocità, e due diesel: l'unità X2 xDrive20d da 190 Cv e quella X2 xDrive25d da 231 Cv, entrambe con l'efficiente trasmissione automatica Steptronic a 8 marce.
DNA sportivo Jaguar nel nuovo SUV E-Pace
La Jaguar E-PACE è un SUV compatto cinque posti che racchiude il design e le prestazioni delle sportive Jaguar in una vettura a trazione integrale spaziosa, pratica e sempre connessa. Un veicolo dal DNA sportivo dotato delle più avanzate tecnologie, caratterizzato dal tipico design e dalle rinomate dinamiche di guida Jaguar.
Servizio con la voce di Alice Bovone
Ducati Panigale V4, dalla Moto GP alla strada
Si chiama Panigale V4 e segna un nuovo e importante capitolo nella storia Ducati, una "sinfonia" di prestazioni ed emozioni tutta italiana. La Panigale V4 è la prima moto Ducati prodotta in serie a essere equipaggiata con un motore 4 cilindri, strettamente derivato dal Desmosedici della MotoGP.
Servizio con la voce di Aurora Bovone.
Fine della puntata n° 2 dell'anno 2018 di Motor News.