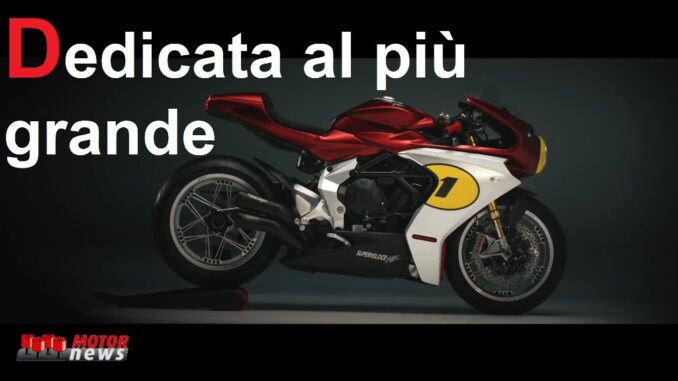 Nella 19 puntata di Motor News del 2022, servizi BMW M4 CSL, Maxda CX5, Bentley Flying Spur S, Suzuki Bike Days ed MV Agusta Superveloce Ago.
Di seguito tutti i video…
Edizione speciale di BMW M4 CSL
Per celebrare il suo 50° anniversario, BMW M GmbH presenta la nuova BMW M4 CSL in edizione speciale, basata sui suoi modelli ad alte prestazioni di successo. Con una potenza elevata, un design agile e dedicato, una configurazione a due posti, interventi al telaio specifici per il modello e dotazioni selezionate, la nuova BMW M4 CSL fa della guida in pista la sua ragion d'essere come segnalato dalla sigla che è l'acronimo di "Competition, Sport, Lightweight".
The new SUV Maxda CX5
In the video you can see the features of the new SUV Mazda CX-5, with its elegance, its sound and its versatility.
In italiano – Il nuovo SUV Maxda CX-5
Nel video potete vedere le caratteristiche del nuovo SUV Mazda CX-5, con la sua eleganza, il suo suono e la sua versatilità.
Video in lingua inglese.
La nuova Flying Spur S è anche ibrida
Bentley completa la sua nuova gamma S con il lancio della nuova Flying Spur S, che esalta le caratteristiche dinamiche della berlina inglese. È anche la prima volta che lo storico logo "S" di Bentley viene utilizzato per un prodotto ibrido, un altro passo verso Beyond100, la visione del futuro del percorso sostenibile di Bentley.
I nuovi modelli Flying Spur S si concentrano sul piacere di guida, ma con la possibilità di scegliere tra i propulsori V8 da 4,0 litri o il V6 Hybrid.
La passione di Suzuki per la bicicletta
Per Suzuki la passione per lo sport incoraggia tutti a sfidare i propri limiti ed è proprio questo lo spirito del Suzuki Bike Day, che nella sua 2° edizione invita gli appassionati di ciclismo di ogni livello a dimostrare il proprio DNA sportivo percorrendo il famoso circuito dell' Autodromo Internazionale Enzo e Dino Ferrari di Imola. Nel video, il Presidente di Suzuki Italia, Massimo Nalli, illustra i dettagli dell'evento.
Superveloce Ago di MV Agusta, un omaggio alla leggenda
MV Agusta rende omaggio alla leggenda. Il risultato è una serie unica in edizione limitata dell'originale Superveloce, che ora restituisce ancora più esclusivo il top di gamma Superveloce Ago. Si tratta della Superveloce più sportiva di sempre. Ancora una volta, una moto irripetibile che tutti gli appassionati difficilmente dimenticheranno.
Ecco le anteprime fotografiche dei video…