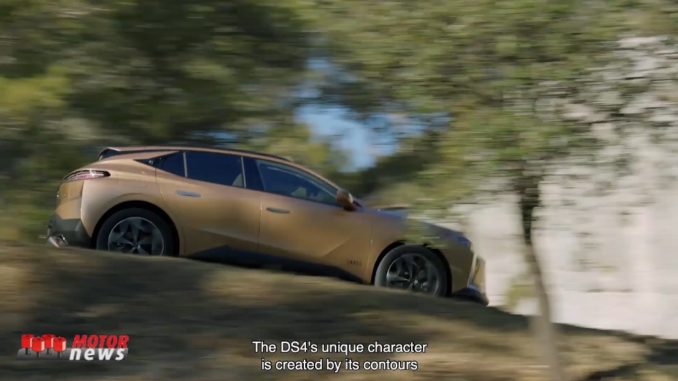 Nella 19esima puntata di Motor News, la nuova DS 4, le BMW X3 e X4, nuovo capitolo di Lexus con NX e un messaggio di inclusione sociale dal mondo della moto.
Di seguito tutti i servizi…
The new DS 4
The young French brand, DS Automobiles offers a host of incredible opportunities and continues its growth. After DS 7 Crossback, DS 3 Crossback and DS 9; DS 4 is the fourth model in the range and introduces a new generation of avant-garde design. In a Premium C segment that's still just as strategically important, DS 4 is innovative with a unique shape, available in three versions: DS 4, DS 4 Cross and DS 4 Performance Line. DS 4 stands out with its charismatic design driven by unmatched expertise and advanced technology.
In the video, the words of Béatrice Foucher; CEO DS Automobiles.
In italiano – La nuova DS 4
Il giovane marchio francese DS Automobiles offre una serie di incredibili opportunità e continua la sua crescita. Dopo DS 7 Crossback, DS 3 Crossback e DS 9; DS 4 è il quarto modello della gamma e introduce una nuova generazione di design all'avanguardia. In un segmento Premium C che è ancora altrettanto strategicamente importante, DS 4 è innovativa con una forma unica, disponibile in tre versioni: DS 4, DS 4 Cross e DS 4 Performance Line. DS 4 si distingue per il suo design carismatico guidato da un'esperienza senza pari e da una tecnologia avanzata.
Nel video, le parole di Béatrice Foucher; CEO DS Automobiles. Servizio in lingua inglese.
Thierry Metroz, Design Director of DS Automobiles
Design Director, DS Automobiles, Thierry Metroz, speaks about DS 4 design and profiles, that combines fluidity and sharp lines. The rear wings reveal a healthy muscular appearance with curves and sharp edges on the bodywork emphasising the C pillar, which has a gloss black finish branded with an inset DS Automobiles badge. A new generation light signature features at the back with the laser embossed scale effect.
In italiano – Thierry Metroz, Design Director di DS Automobiles
Il Design Director di DS Automobiles, Thierry Metroz, parla del design e dei profili di DS 4, che combina fluidità e linee decise. Le ali posteriori rivelano un aspetto muscoloso sano con curve e spigoli vivi sulla carrozzeria che sottolineano il montante C, con ha una finitura nera lucida marchiata con uno stemma DS Automobiles incluso. Una firma luminosa di nuova generazione presenta sul retro con l'effetto scala in rilievo al laser.
Video in lingua francese con sottotitoli in inglese.
Purity and fluidity of interior design, "hand-made" upholstery
DS 4 has a digital interior, seamless and ergonomic with each part integrated intuitively as much for function as form. This fluidity is driven by innovations that aim to create complete calm within DS 4. The art of travel is demonstrated with a new control lay out, grouped in three zones of interface to simplify the experience.
In the video, Thierry Metroz, Design Director of DS Automobiles, speaks about the internal design of the new DS 4.
In Italiano – Purezza e fluidità dell'interior design e tappezzeria "fatta a mano"
DS 4 ha un interno digitale, senza cuciture ed ergonomico con ogni parte integrata in modo intuitivo tanto per la funzione quanto per la forma. Questa fluidità è guidata da innovazioni che mirano a creare una calma completa all'interno di DS 4. L'arte del viaggio è dimostrata con un nuovo layout di controllo, raggruppato in tre zone di interfaccia per semplificare l'esperienza.
Nel video, Thierry Metroz, Design Director di DS Automobiles, parla del design interno della nuova DS 4.
Video in francese con sottotitoli in inglese.
Accelerating development with DS 4
A profitable brand with market share growing around the world, despite an unprecedented health situation, DS Automobiles is accelerating its development with DS 4. Built on a reliable base with unique and world-renowned expertise in the field of electrification, the new Premium C offering is employing refinement and the latest in engineering to win new fans. "DS 4 was conceived to redefine the outline of the Premium C segment. It's aimed at customers attracted by two body shapes: the new aspirational Coupé-SUV and the traditional compact hatchback. At every stage of its design, the idea of appealing to these two segments drove our decisions – said Marion David – Product Director, DS Automobiles.
In italiano – accelerazione dello sviluppo con DS 4
Un marchio redditizio con una quota di mercato in crescita in tutto il mondo, nonostante una situazione sanitaria senza precedenti, DS Automobiles sta accelerando il suo sviluppo con DS 4. Costruita su una base affidabile con competenze uniche e di fama mondiale nel campo dell'elettrificazione, la nuova offerta Premium C sta impiegando la raffinatezza e le ultime novità in fatto di ingegneria per conquistare nuovi fan. "DS 4 è stata concepita per ridefinire il profilo del segmento Premium C. Si rivolge a clienti attratti da due forme di carrozzeria: il nuovo ambizioso Coupé-SUV e la tradizionale berlina compatta. In ogni fase del suo design, l'idea di fare appello a questi due segmenti ha guidato le nostre decisioni – ha affermato Marion David – Product Director, DS Automobiles.
Video in lingua inglese.
Rinnovate le BMW X3 e X4
Più sportivi, moderni e digitali. Nella seconda fase del ciclo dei modelli, BMW rinnova il suo Sports Activity Vehicle (SAV) di successo e la Sports Activity Coupé (SAC) dotandoli di un nuovo look, un migliore equipaggiamento e una struttura di gamma ottimizzata per il cliente. Il frontale ridisegnato e la rinnovata sezione posteriore conferiscono un'enfasi ancora più chiara al robusto look off-road e all'aspetto sportivo della BMW X3 di terza generazione. La sua controparte coupé, la BMW X4 di seconda generazione, adotta il nuovo frontale e aggiunge il proprio tocco caratteristico con l'esclusiva griglia a rete a doppio rene BMW e il posteriore particolarmente dinamico.
Nuovo capitolo per Lexus con il modello NX
NX apre un nuovo capitolo per Lexus, introducendo nuove direzioni nel design esterno e interno, nuovi propulsori, tra cui il primo ibrido elettrico plug-in di Lexus, miglioramenti dinamici che offrono un'esperienza di guida più gratificante e connessa, multimedia e connettività di nuova generazione e l'uso di tecnologie avanzate per livelli più elevati di sicurezza, comfort e praticità.
Servizio con la voce di Aurora Bovone.
Viaggiare per l'Europa come messaggio di inclusione
Make Life An Inclusive Ride – BMW Motorrad Italia di nuovo insieme a Franco Antonello e al figlio autistico Andrea per un nuovo e avventuroso viaggio in giro per l'Europa, per portare un importante messaggio di inclusione sociale sul tema dell'amicizia. BMW Motorrad Italia sarà partner della Onlus "I bambini delle fate" per questo importante progetto di comunicazione e inclusione sociale che il pubblico potrà seguire sui canali social di Franco Antonello.
Di seguito le anteprime fotografiche dei video…