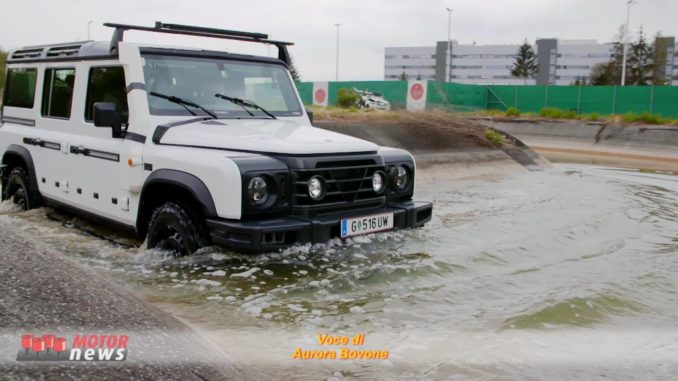 Nella dodicesima puntata TV del 2021 di Motor News abbiamo incluso servizi di DS Automobiles, MINI, INEOS e Suzuki per quanto riguarda il mondo della moto.
Di seguito i servizi…
I punti in comune tra DS Automobiles e la Federazione Italiana Golf
Appena iniziata la partnership DS Automobiles con la Federazione Italiana Golf sono subito evidenti i punti di contatto che hanno portato a questa collaborazione. È una evidente questione di valori e di stile, a rendere così naturale la sovrapposizione tra lo sport green per definizione ed il brand che pone il proprio raffinato savoir faire al servizio di ogni modello in gamma.
L'eccellenza tecnologia del motore Puretech di DS 3 Crossback
Il motore 1.2 Puretech è stato eletto per quattro anni consecutivi "Motore dell'anno", e grazie a lui, DS 3 Crossback affronta la sfida dell'abbattimento del CO2. Questa motorizzazione permette un abbattimento dei consumi, ma offre una guida dinamica grazie alle tre differenti potenze a disposizione: 100, 130 e 155 cavalli.
Servizio di Giorgio Contu, Responsabile Comunicazione DS Automobiles Italia.
MINI Cooper S Cabrio Sidewalk
Il vento vigoroso, l'aria pura del Mare del Nord, le tortuose strade di campagna e la prospettiva di una giornata di sole in spiaggia rendono la regione costiera la destinazione ideale per un viaggio a bordo della MINI Cooper S Cabrio Sidewalk. Nella sua ultima edizione, il modello open-top a quattro posti combina l'esclusiva verniciatura Deep Laguna metallic con i dettagli sorprendenti del nuovo e ridotto linguaggio di design MINI.
Il collaudo di INEOS Grenadier, il vero fuoristrada minimalista
INEOS Automotive ha completato la fase successiva di collaudo dinamico del suo Grenadier, nella quale le doti in fuoristrada sono state messe a dura prova su uno dei percorsi più severi al mondo per i veicoli 4X4. I prototipi Grenadier di ultima generazione sono stati approvati da Sir Jim Ratcliffe, Presidente di INEOS, dopo aver affrontato con successo i temuti sentieri del Monte Schöckl in Austria, vicino al quartier generale di Magna Steyr, nell'ambito di un programma di valutazione e collaudo.
Servizio con la voce di Aurora Bovone.
The new Suzuki GSX-S1000
The new Suzuki GSX-S1000 looks very aggressive and slender as compared to the previous model. Its headlamp unit comprises triple hexagon-shaped LED modules flanked by a sharp cowl. The bike looks beefier than before, thanks to the muscular fuel tank with tank extensions and the bikini fairing. Other design elements that make the new GSX-S1000 more appealing than before include a step-up split seat, raised tail, and body-coloured alloy wheels.
In italiano – La nuova Suzuki GSX-S1000
La nuova Suzuki GSX-S1000 si presenta molto aggressiva e slanciata rispetto al modello precedente. Il suo gruppo ottico è composto da tre moduli LED a forma esagonale affiancati da un cupolino affilato. La moto sembra più robusta di prima, grazie al serbatoio del carburante muscoloso con estensioni del serbatoio e alla carenatura del bikini. Altri elementi di design che rendono la nuova GSX-S1000 più accattivante di prima includono un sedile sdoppiato rialzato, coda rialzata e cerchi in lega in tinta con la carrozzeria.
Some technical aspects of the new Suzuki GSX-S1000
Suzuki GSX-S1000 comes with an LCD instrument cluster rather than a TFT unit. However, the Japanese brand has equipped the bike with SIRS (Suzuki Intelligent Ride System) that includes three driving modes, five-step traction control system, low rpm assist, ride-by-wire throttle, and bi-directional quickshifter. The bike is propelled by an updated 993 cc, liquid-cooled, in-line four-cylinder engine coupled to a six-speed gearbox with slip and assist clutch. This powerplant puts out 150 bhp of power.
In italiano – Alcuni aspetti tecnici della nuova Suzuki GSX-S1000
La Suzuki GSX-S1000 è dotata di un quadro strumenti LCD anziché di un'unità TFT. Tuttavia, la casa giapponese ha equipaggiato la moto con il SIRS (Suzuki Intelligent Ride System) che include tre modalità di guida, sistema di controllo della trazione a cinque fasi, assistenza ai bassi regimi, acceleratore ride-by-wire e cambio rapido bidirezionale. La moto è spinta da un aggiornato motore a quattro cilindri in linea da 993 cc, raffreddato a liquido, accoppiato a un cambio a sei marce con frizione a slittamento e di assistenza. Questo propulsore eroga 150 CV di potenza.
Ecco le anteprime fotografiche dei servizi…