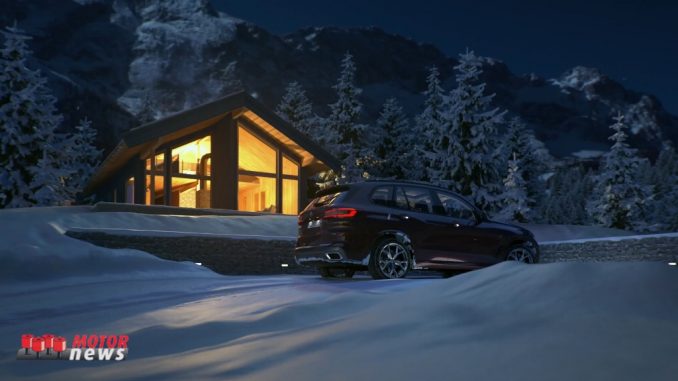 Nella prima puntata dell'anno di Motor News offriamo servizi ci BMW e Mini, Lamborghini, Volkswagen, Škoda e Honda per quanto riguarda il mondo della moto.
Di seguito tutti i servizi video…
Le feste natalizie secondo BMW e Mini
Durante il periodo natalizio, Mini ha deciso di dedicare un video a tutte le persone che si sono messe in viaggio per ricongiungersi alle proprie famiglie, sotto lo slogan della community Mini "Siamo tutti diversi, ma stiamo bene insieme".
Da parte sua, BMW ha deciso di proporre ai suoi clienti due animazioni, una per Natale e una per Capodanno che hanno allietato le feste dei guidatori del marchio bavarese.
Progetto NFT di Lamborghini "Space Time Memory"
È arrivato il primo giorno del nuovo anno lunare e con esso anche l'apertura dell'asta per il primo progetto NFT di Lamborghini "Space Time Memory". Per l'occasione, l'artista Fabian Oefner ha condiviso nuovi dettagli sul significato intimo dell'opera: "Sono un figlio dell'era spaziale, quindi sono cresciuto con le immagini dello Shuttle lanciato nel cuore della notte. Per me, quest'opera non riguarda solo un'auto, ma ha anche a che fare con i ricordi. Questo progetto non è la mera scomposizione di un'auto, riguarda anche la Space Key, una chiave in fibra di carbonio, che collega due mondi: il mondo digitale e quello fisico".
Servizio in lingua inglese.
Nuova Volkswagen T-Rock R autolimitata a 250 km/h
Debutta sul mercato italiano la Nuova T-Roc R, la versione sportiva al vertice della gamma del rinnovato crossover compatto Volkswagen. Associato di serie a un cambio DSG a 7 rapporti, il suo motore 2.0 TSI da 300 cavalli le permette di raggiungere la velocità massima limitata elettronicamente di 250 km/h.
Servizio con la voce di Marco Cereda.
From Škoda, knowing the past to understand the present
Knowing the past to understand the present. With this slogan, Škoda launches the new Fabia Montecarlo, which recalls the races of the Bohemian automaker in the Monegasque competition. The first victory at the Monte Carlo Rally was in 1977 with the legendary Škoda 130 RS in the category up to 1,300 cm3.
In italiano – Da Škoda, conoscere il pasato per capire il presente
Conoscere il passato per capire il presente. Con questo motto, Škoda lancia la nuova Fabia Montecarlo, che richiama le sportive della casa boema nella competizione monegasca. La prima vittoria al Rally di Monte Carlo è stata nel 1977 con la leggendaria Škoda 130 RS nella categoria fino a 1.300 cm3.
Honda CB300R, la nuova "Neo Sports Café"
Nella gamma Honda delle 'Neo Sports Café' la rinnovata CB300R si posiziona a livello intermedio. È una naked dal look minimalista, spinta da un monocilindrico a 6 marce da 286 cc e 31,1 cavalli che si può guidare con patente A2.
Servizio con la voce di Aurora Bovone.
Ecco le anteprime fotografiche dei video…