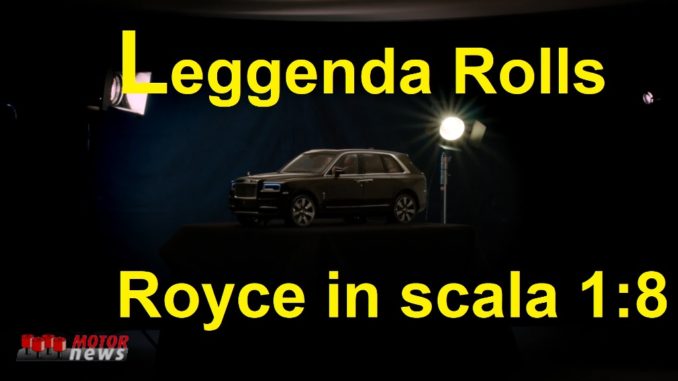 In Motor News puntata 15 del 2020 i 70 anni di Seat, Nuova Hyundai i30, Rolls Royce Cullinan in scala 1:8 e news di diversi modelli di Opel, DS, Citroën, BMW e MINI.
Ecco i servizi…
Il Multimedia Navi Pro, Apple Carplay di Opel Combo Life
I tutorial di Opel mostrano in modo semplice come utilizzare i sistemi presenti sulle vetture, quali Multimedia Navi Pro, Apple Carplay di Combo Life e non solo.
Apple Carplay è il sistema di connettività di Multimedia Navi Pro di Opel Combo Life e anche di altri modelli Opel e in questa puntata si mostra come sfruttare al meglio le funzionalità del sistema.
Seat compie 70 anni di vita
70 anni fa, Seat ha dato inizio a un viaggio appassionante. Il 9 maggio 1950 veniva fondata l'azienda che ha portato la Spagna sulle quattro ruote, democratizzando la mobilità. A partire da quel momento, e per ognuno dei 70 anni di storia, Seat ha vissuto una profonda trasformazione, dimostrando una costante capacità di reinventarsi. Questo percorso, pieno di sfide, ha reso Seat ciò che è oggi. L'unica casa automobilistica che disegna, sviluppa, produce e commercializza auto in Spagna, il primo investitore industriale in R&D del Paese, di cui rappresenta l'1% del PIL e da cui esporta l'80% delle vetture. Un'azienda solida parte del Gruppo Volkswagen, gruppo costruttore leader a livello mondiale. Una società che cresce e continua a offrire le migliori soluzioni di mobilità per rendere più semplice la vita delle persone.
SUV premium DS 3 Crossback Performance Line
Sono pochi i modelli che possono vantare un'offerta articolata e completa come il SUV DS 3 Crossback in allestimento Performance Line. Questa versione è in grado di esprimere pienamente la matrice premium di DS Automobiles grazie allo stile scultoreo e i contenuti tecnologici della gamma, a partire dai motori previsti, ovvero quello a Benzina PureTech, il Diesel BlueHDi oppure dotata di trazione 100% elettrica.
Lo sviluppo della gamma si articola anche attraverso la completezza degli allestimenti, che esprimono con analoga forza una ricchezza di contenuti in perfetta sintonia con le ambizioni della Marca.
Servizio con la voce di Marco Cereda.
Ever more personality and comfort in the New Citroën C3
Citroën is unveiling New C3, the evolution of the Brand's best-seller worldwide, a real success with 750,000 sales achieved by the 3rd C3 generation since its launch at the end of 2016.
New C3 has a modern and protective look. It doesn't look like any other vehicle. It builds on its differences with a colourful personality and unrivalled comfort and reinforces its difference with the new Citroën identity, the increased customisation potential, New Airbump design, a brand new on-board comfort experience, assist for the SOS assistance, Connect Nav with its 7 " touch tablet and Connect Play for smartphone duplication and efficient Euro 6 combustion engines. The New C3 will arrive at dealerships starting in June 2020.
In Italiano
Sempre più personalità e comfort nella nuova Citroën C3.
Citroën presenta Nuova C3, l'evoluzione del best-seller del marchio in tutto il mondo, un vero successo con 750.000 vendite raggiunte dalla terza generazione C3 dal suo lancio alla fine del 2016.
La nuova C3 ha un aspetto moderno e protettivo. Non assomiglia a nessun altro veicolo. Si basa sulle sue differenze con una personalità colorata e un comfort senza pari e rafforza la sua differenza con la nuova identità Citroën, il maggiore potenziale di personalizzazione, il nuovo design degli Airbump, una nuova esperienza di comfort di bordo, assistenza per l'assistenza SOS, Connect Nav con il suo Touch tablet da 7", Connect Play per la duplicazione dello smartphone e efficienti motori a combustione Euro 6. La nuova C3 arriverà presso i concessionari a partire da giugno 2020.
The details in the walkaround of the New Hyundai i30
Hyundai has released a walkaround video where Richard Haleš – Product Marketing Specialist of Hyundai Motor Europe presents the New i30 in detail. Among the various updates of the car of the Korean manufacturer are a grid with a 3D graphic pattern and the new LED V headlights (DRL), the new front and rear bumpers and new 16 or 17-inch alloy wheels. The new i30 features additional safety and connectivity devices offers for the first time the electrified powertrains via a 48V hybrid system.
In italiano
I dettagli nel walkaround della Nuova Hyundai i30
Hyundai ha rilasciato un video walkaround dove Richard Haleš – Product Marketing Specialist di Hyundai Motor Europe presenta la Nuova i30 in dettaglio. Tra i diversi aggiornamenti della vettura della casa coreana si annoverano una griglia con motivo grafico 3D e i nuovi fari a LED a V (DRL), i nuovi paraurti anteriore e posteriore e nuovi cerchi in lega da 16 oppure da 17 pollici. La nuova i30 presenta ulteriori dispositivi di sicurezza e connettività, offrendo per la prima volta powertrain elettrificati tramite un sistema ibrido a 48V.
Fine dello sviluppo della BMW Serie 4 Coupé
A seguito di una serie di test nella fase di processo di sviluppo preparatorio alla produzione in serie della nuova BMW Serie 4 Coupé, l'ultima versione del modello a due porte si sta avviando alla fase finale dei test dinamici. Dopo aver affinato la qualità di guida presso il centro di collaudo invernale di Arjeplog, in Svezia, presso il centro di collaudo del BMW Group a Miramas in Francia, sul circuito Nordschleife del Nürburgring e su varie altre piste, i prototipi sono tornati alla base dove gli ingegneri daranno ora gli ultimi ritocchi alla tecnologia del telaio della nuova BMW Serie 4 Coupé sulle autostrade e sulle strade extraurbane intorno al Centro di ricerca e innovazione del BMW Group a Monaco di Baviera.
DNA da corsa per la Nuova MINI John Cooper Works GP
La Nuova MINI John Cooper Works GP è una vettura unica nel suo genere, con DNA da corsa, che stabilisce nuovi parametri di riferimento in termini di prestazioni all'interno del segmento delle auto piccole premium, essendo il modello più veloce del marchio britannico che sia mai stato approvato per l'uso su strada. Un motore turbo a 4 cilindri da 306 cavalli rende il modello a due posti basato sulla MINI 3 Porte ancora più veloce – da zero a 100 km / h in soli 5,2 secondi. La sportiva di casa MINI sarà prodotta in un'edizione limitata di 3000 unità presso lo stabilimento MINI di Oxford.
Servizio con la voce di Marco Cereda.
La perfezione della replica in scala di Rolls Royce Cullinan
La replica in scala 1:8 di Cullinan presentata da Rolls Royce Motor Cars riproduce fedelmente ogni dettaglio dell'originale in miniatura. E' così si alimenta la leggenda Rolls Royce… perché Sir Henry Royce una volta disse: "Le piccole cose fanno la perfezione, ma la perfezione non è cosa da poco."