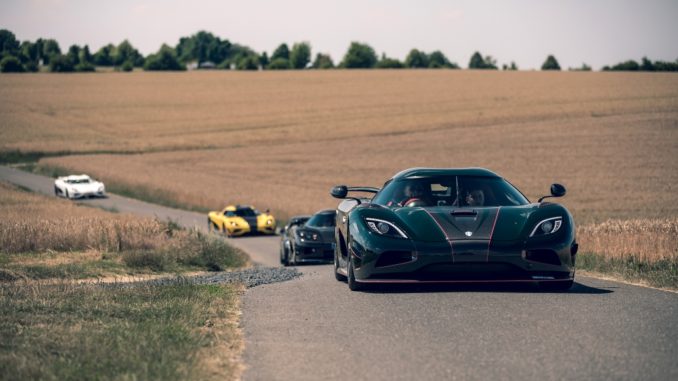 The ancestral home of the Koenigsegg family in Southern Germany is the 2018 scenary of Koenigsegg Owners Tour that now has been re-named as Ghost Squadron.
Friday – kick-off!
Ghost Squadron 2018 kicked off in Baden-Baden, 70kms west of Stuttgart. Guests and their cars assembled at the Brenners Park Hotel and Spa, a beautiful hotel and their base for the first two nights of the event.
The first duty of this event was to present the keys to Thor and Väder to their lucky owners. The two Agera Final Edition cars made their public debut at Ghost Squadron 2018.
Fittingly, the handover took place in a garage. Privately located underneath Brenner Park Hotel, the garage allowed the owners time to explore their new cars in relative peace before bringing the cars outside for everyone to see.
The goal, as always for this event, is to have fun and build friendships within the wider Koenigsegg family. The event is open to all Koenigsegg customers world-wide and while timing and logistics prevent many owners from attending, the 2018 turnout was fantastic with 16 Koenigseggs present and a handful of future customers driving other vehicles as part of an extended fleet.
Whenever we gather Koenigseggs together in numbers, crowds follow.
Ghost Squadron 2018 was no exception, with locals and car spotters alike enjoying the opportunity to photograph their favourite cars, many of them enjoying the Koenigsegg experience for the first time.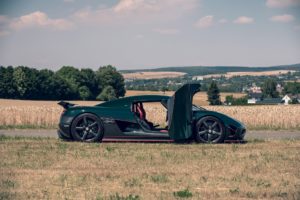 The enthusiasm people bring to these events is infectious. When you work with these cars every day, you can fall into the trap of thinking they're 'normal'. Events like this and people's reactions to seeing such exotic machinery are a good reminder that what we do here in Ängelholm is pretty special.
We'd like to thank the crowds that gave us so much enjoyment and energy over the days of the tour. We hope we brought you as much joy as you brought us enthusiasm and inspiration!
Saturday
Friday night was time to come together over drinks and dinner. Saturday was for driving.
Our first stop on the tour was at the picturesque Schwarzenbach Dam, shown below. Our fleet joined the visitors walking the dam wall and parked up for some spectacular video and photo opportunities. Every time we get together like this we manage to get at least one iconic image to remember.
This was the 'money' location.
Note: There are only 15 cars shown in some of these shots. They were taken before a 16th car – a blue CCX – joined us at the front of the pack, in front of the Regera.
From there we took another winding mountainous route to Hotel Dollenburg for lunch.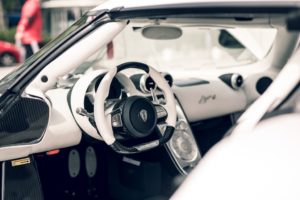 We really can't say enough about how beautiful the Black Forest region is and what a rich destination it makes for a driving holiday. The roads are stunning, winding as they do through some of the most beautiful countryside Europe has to offer. It's easy to see why Germany has such a vibrant automotive industry with a 'driver's car' focus in nearby cities like Stuttgart and Munich.
Roads like this could inspire nothing less.
Whatever your automotive poison, if this place is not on your automotive holiday bucketlist, it should be. Just check out these roads!
Hotel Dollenburg is beautifully perched on a hillside in Bad Peterstal-Griesbach, 35kms to the south of Baden-Baden as the crow flies but 52kms by the region's glorious winding roads.
The group underwent a small split after lunch, along national lines.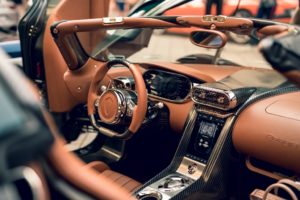 It was a Saturday, but it wasn't just any Saturday. This particular Saturday had special significance as it was the FIFA World Cup quarter final – Sweden vs England. Our English guests, being mad football fans, decided to head straight back to Baden-Baden after lunch to watch the game in comfort.
The Swedes – being mostly employees of the company and therefore on duty (we had just one Swedish Koenigsegg owner on tour) – soldiered on to our next destination – go-karting!
The karts were fast and the competition furious as our group executed manoeuvres that they might hesitate to do with their Koenigseggs on public roads. There were plenty of sweaty celebrations at the track after the two races – and celebrations of a different kind from our English group back in Baden-Baden, too!
Sunday
Another day of spectacular driving saw us take a 300km route, heading south-east for our lunch destination before heading west for the night.
Can you ever get tired of scenery like this?
Sunday was a special day for the whole Koenigsegg family – both the real family in the nuclear sense and the wider Koenigsegg Automotive family.
Sunday was the day we drove to Koenigseggwald, a village in the Ravensburg district of Baden-Württemberg.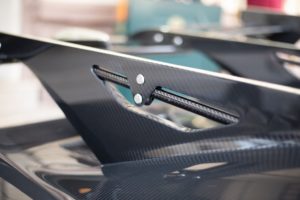 This village is the ancestral home of the Comital House of Koenigsegg with the original estate dating back to the 1100's and the family name first being used in 1251. The estate is still occupied by the Koenigsegg family today, where they run a diversified business based on farming, forestry and wine-making.
The inspiration for the Koenigsegg Automotive shield can be seen on the family's coat of arms.
The German branch of the Koenigsegg family was kind enough to welcome us to their home for a BBQ lunch overlooking the magnificent lawn where the Swedish Koenigseggs were parked. We were welcomed with a brief family history by Hereditary Count Maximilian of Koenigsegg-Aulendorf and his wife, Hereditary Countess Valerie of Koenigsegg-Aulendorf.
Our final drive for the weekend saw us head towards Lake Constance where we took a ferry crossing before the drive to our lodgings for the night at Park Hotel, Adler.
It's fair to say our fellow ferry-trippers weren't quite expecting to be sharing their ride with such a colourful fleet. The short journey gave them all a chance to check out the cars while our crew took in some fresh air.
Our final destination – Park Hotel, Adler.
This site was first used as a hotel a full 570 years ago. There have been additions, fires, rebuilds and renovations since then but the old-world character and charm remains. Parking the cars outside the hotel in the evening sun was a fitting way to end our tour. Dinner, drinks and a fantastic party provided a festive final conclusion.
Our thanks to:
– The Koenigsegg family in Koenigseggwald.
– Our wonderful hosts at Brenner Park Hotel and Spa, and the Park Hotel, Adler.
– The staff at Schwarzenbach Dam.
– Our German dealers, Premium Automotive Concept Esser, for arranging many of the logistics on the ground.
– Our fantastic team members both in Ängelholm and in Germany.
Source: Koenigsegg