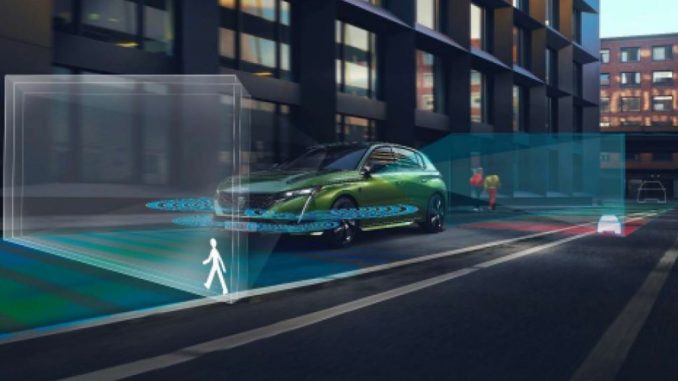 Sono passati 132 anni da che il marchio Peugeot ha fatto irruzione nel mondo della mobilità, e da allora il brand continua ad essere all'avanguardia tecnologica.
Dalla Type 1 del 1889 a Nuova 308 del 2021, Peugeot ha saputo declinare le principali innovazioni che nell'era moderna vedono l'elettronica e il software come principali protagonisti.
Le espressioni più recenti sono il rivoluzionario Peugeot i-Cockpit, i sofisticati aiuti alla guida ADAS, l'ecosistema dei veicoli elettrificati e gli aggiornamenti software del veicolo OTA (Over The Air). Tutte queste innovazioni sono presenti su Nuova Peugeot 308.
Nel corso della sua esistenza, Peugeot ha attraversato tutti i tipi di rivoluzione: industriale, tecnologica, politica, sociale e, ora, digitale.
Dagli anni 2000, è in atto una nuova rivoluzione digitale, in costante accelerazione. Il Marchio Peugeot si è ovviamente adattato e ha sfruttato le opportunità, innovando in un settore non più solo meccanico, ma anche virtuale.
Peugeot i-Cockpit, l'interfaccia digitale del piacere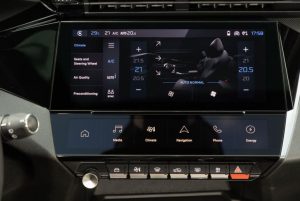 Svelata quest'anno, Nuova Peugeot 308 offre ai suoi clienti innovazioni di altissimo livello, a cominciare dalla nuova generazione del Peugeot i-Cockpit, che segna un'evoluzione in termini di ergonomia, design, qualità dei materiali e degli assemblaggi e tecnologia, con un'interfaccia digitale inedita. Il Peugeot i-Cockpit (volante compatto e posizionato più in basso, quadro strumenti più in linea con la visione della strada, touchscreen centrale, ergonomia e materiali curati nell'abitacolo) fa saldamente parte del DNA del Marchio. Ad ogni generazione si arricchisce e si aggiorna, per offrire un piacere di guida ed una esperienza sempre più intensa.
Il Peugeot i-Cockpit di Nuova 308 porta al debutto il nuovo i-Connect Advanced, un sistema di infotainment intuitivo, connesso e decisamente moderno.
Il quadro strumenti digitale, posizionato più in linea con la visione della strada, è caratterizzato da una dimensione di 10 pollici sin dall'allestimento Active Pack. Dall'allestimento GT, il quadro strumenti diventa poi tridimensionale. Interamente parametrizzabile e personalizzabile, il display presenta diverse modalità di visualizzazione (3D Connected Navigation con i servizi TomTom trafic, Radio/Media, Aiuti alla guida ADAS, Flussi di energia…) direttamente modificabili dal comando multifunzione.
A partire dall'allestimento Allure, Nuova Peugeot 308 presenta gli i-toggle virtuali interamente configurabili che sostituiscono i tasti fisici.
Ogni i-toggle è un comando tattile virtuale di scelta rapida per impostare le regolazioni della climatizzazione, un contatto telefonico, una stazione radio, l'avvio di un'applicazione o una specifica funzione… configurato secondo la scelta dall'utente. Disposti sotto lo schermo a centro plancia, introducono un'estetica e un livello tecnologico inediti nel segmento.
Aiuti alla guida sempre più avanzati
A bordo di Nuova Peugeot 308, gli aiuti alla guida (ADAS) di ultima generazione completano l'offerta delle tecnologie a bordo al massimo livello. Il risultato è un livello di sicurezza attiva sempre maggiore che si coniuga con un grande comfort di utilizzo.
Un ulteriore passo avanti verso la guida semi-autonoma è rappresentato dal pack Drive Assist 2.0. È costituito dall'Adaptive Cruise Control con funzione Stop & Go (con cambio automatico EAT8) e dal Lane Keeping Assist, l'aiuto al mantenimento della vettura nella propria corsia, ma questa volta aggiunge 3 nuove funzioni disponibili sulle strade con carreggiate separate:
Semi-automatic Lane Change (Cambio di carreggiata semiautomatico): propone al conducente di superare il veicolo che precede e poi di rientrare nella sua corsia, a partire da 70 km/h fino a 180 km/h.
Anticipated speed recommendation (Adattamento consigliato della velocità): il sistema suggerisce al conducente di adattare preventivamente la sua velocità in base ai cartelli stradali con i limiti di velocità.
Curve speed adaptation (Adattamento della velocità in curva): ottimizza la velocità dell'auto in funzione del raggio di curvatura della strada, evitando di entrare troppo veloci. Attivo fino a 180 km/h.
Per le versioni elettrificate, un ecosistema digitale completo: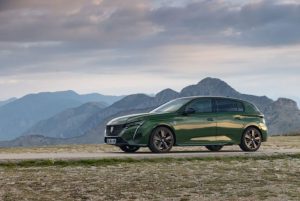 Per accompagnare i suoi clienti nella transizione tecnologica verso l'elettrico, il marchio Peugeot propone una gamma di servizi basata su diversi pilastri. Sono disponibili per tutti gli utenti dei modelli elettrificati di Peugeot, comprese le 308 Ibride plug-in. Il risultato è una maggiore serenità, per un maggiore piacere di utilizzo.
Peugeot Easy-Charge pensato per facilitare ai nostri Clienti l'accesso alle diverse soluzioni di ricarica con:
Una serie di soluzioni di ricarica a casa o in ufficio, attraverso differenti soluzioni tecnologiche offerte da Free2Move eSolution: wallbox di diversi tipi per sfruttare al meglio le potenzialità della propria auto.
un'offerta di ricarica pubblica attraverso Free2Move, permettendo l'accesso ad una rete di oltre 220.000 colonnine in Europa: preselezione delle postazioni di ricarica in base alla distanza, la velocità e il prezzo della ricarica stessa.
Peugeot Easy care aiuta i clienti nel loro processo di scoperta della tecnologia e permette loro di utilizzare l'auto in piena serenità:
nuovi simulatori sui portali WEB di Peugeot per stimolare la scoperta delle potenzialità del mondo elettrico
contratti di servizio e un'assistenza stradale su misura, che potranno essere inclusi in un unico finanziamento per potere usare il proprio veicolo in tutta tranquillità
Il certificato di capacità della batteria rilasciato al momento della manutenzione e che facilita la rivendita del veicolo, certificando il livello di efficienza della batteria
la batteria è garantita 8 anni o 160 000 km
Dall'App MyPeugeot sullo smartphone o dal touchscreen centrale della vettura, è possibile:
Avviare o programmare un pre-condizionamento termico quando il veicolo è in carica. Oltre al comfort, questa funzionalità permette di ottimizzare così l'autonomia (senza intaccare la carica della batteria) e l'efficienza energetica del veicolo.
Consultare, programmare, avviare o rimandare la ricarica della batteria.
Non bastasse, il cliente ha anche la possibilità di acquistare il suo veicolo nuovo, direttamente online, utilizzando anche con un finanziamento se lo desiderasse. Il tutto da smartphone, tablet o PC.
OTA (OVER THE AIR): apice dell'innovazione digitale e del progresso continuo
Presentato su Nuova Peugeot 308, il nuovo processo di aggiornamento 100% digitale permette di aggiornare a distanza (OTA, Over The Air) il sistema operativo o una suite per fornire miglioramenti, aggiornamenti e correzioni ai programmi di bordo. Il vantaggio pratico è che per ottenere gli aggiornamenti che migliorano le prestazioni del veicolo il cliente non deve più recarsi in Concessionaria.
Nuove applicazioni (navigazione, parcheggio, noleggio, ecc.) possono anche essere scelte dal cliente e inviate in modo intuitivo all'auto, ottimizzando i tempi del cliente.
Fonte: Peugeot Italia