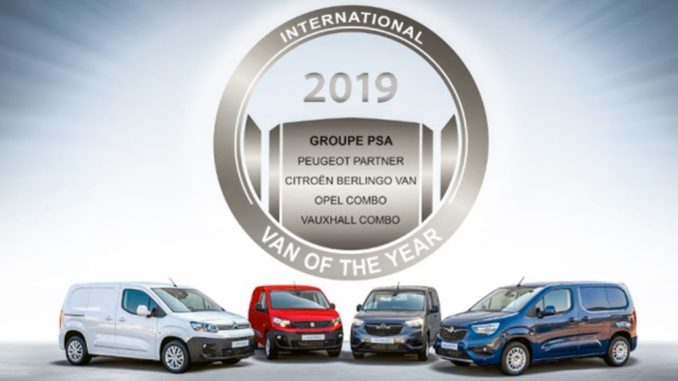 Premiata la nuova generazione di Peugeot Partner, Citroën Berlingo Van, Opel Combo e Vauxhall Combo, presentati in anteprima mondiale al Salone Internazionale del Veicolo Commerciale di Hannover.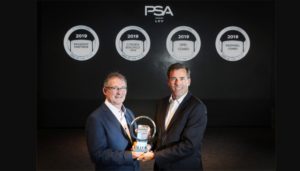 Il riconoscimento della pertinenza della Core model strategy del piano Push to Pass rappresenta anche un contributo al rafforzamento della leadership di Groupe PSA in Europa che detiene oltre il 30% del mercato nel segmento dei veicoli commerciali leggeri.
Derivati da un programma trasversale, i nuovi Peugeot Partner, Citroën Berlingo Van e Opel/Vauxall Combo sono stati progettati per offrire sistematicamente le prestazioni più adeguate alle esigenze dei clienti professionisti, sia in termini di praticità e aiuti alla guida che di sicurezza. Questa nuova generazione di veicoli commerciali leggeri rinnova un successo commerciale che vede sul primo posto del podio europeo nel 2017 l'attuale Peugeot Partner e sul terzo gradino il Citroën Berlingo Van, dopo dieci anni di presenza sul mercato.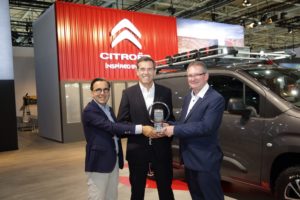 Jarlath Sweeney, presidente della giuria IVOTY descrive questa nuova offerta come «la più pertinente in questo segmento da anni» e spiega la decisione della giuria :
Il programma comune ai 4 marchi di Groupe PSA, Peugeot Partner, Citroën Berlingo Van, Opel Combo e Vauxhall Combo, è ben strutturato per il futuro, ricco di progressi tecnologici per aiutare chi è alla guida e dotato di un costo di esercizio molto vantaggioso per i clienti professionisti o i gestori delle flotte. L'innovativo sistema di allerta sovraccarico è un'eccellente iniziativa perché permetterà di garantire la conformità di utilizzo e migliorare la sicurezza. La scelta tra due dimensioni di passo è un altro progresso, come l'introduzione di una variante a trazione integrale, visto che un numero crescente di aziende di servizi pubblici cercano una trazione 4×4 in questo segmento di mercato. Nel complesso, un pacchetto eccellente e ben progettato.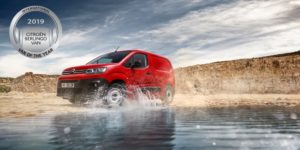 Sviluppati sulla base della piattaforma EMP2, questi nuovi modelli sono dotati di gruppi motopropulsori e di equipaggiamenti di aiuto alla guida di ultima generazione e propongono ai clienti professionisti prestazioni ai migliori livelli del mercato : abitabilità, modularità e volume di carico che arriva fino a 1 000 kg.
Per coprire tutti gli utilizzi, questi veicoli commerciali leggeri sono proposti in due lunghezze e sono disponibili nella configurazione a 2, 3 e 5 posti.
Groupe PSA ha introdotto innovazioni utili e importanti in questo segmento in tutte le generazioni di veicoli. Oggi, vengono proposti due equipaggiamenti unici sul mercato: l'indicatore di sovraccarico con l'Overload indicator e il miglioramento della visione posteriore periferica grazie al Surround rear vision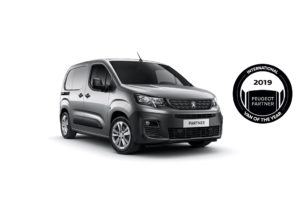 Con questa nuova offerta, Groupe PSA intende consolidare la propria leadership nel mercato dei veicoli commerciali.
Groupe PSA è molto fiero di ricevere il prestigioso premio internazionale 'Van of the Year'. che ricompensa il nostro know-how e il posizionamento della nostra offerta ai massimi livelli del mercato. Questa nuova generazione di veicoli commerciali leggeri segna una tappa decisiva del rinnovo della nostra gamma professionale, coerente con le nostre ambizioni di sviluppo dei veicoli commerciali nel piano strategico Push to Pass – commenta Carlos Tavares, Presidente del Direttorio di Groupe PSA.
Il premio «International Van Of The Year» esiste dal 1992. La giuria si compone di un panel europeo di 25 giornalisti ed editori di riviste indipendenti, specializzate nei veicoli commerciali leggeri (VCL).