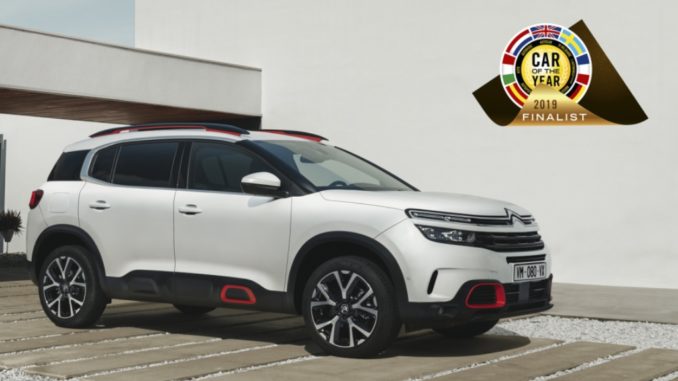 Le nomine sono state ufficializzate dalla giuria del premio europeo Auto dell'Anno e tra i 7 modelli in lizza dalle 38 vetture candidate c'è Nuovo SUV Citroën C5 Aircross.
L'Auto dell'Anno 2019 sarà rivelata il prossimo 4 marzo, in occasione del salone di Ginevra.
Ogni anno, dal 1964, il comitato organizzatore "Car of the Year" premia l'auto dell'anno con la votazione di 60 giornalisti provenienti da 23 Paesi europei. Le vetture candidate sono scelte sulla base di criteri come rapporto qualità/prezzo, design, comfort, sicurezza, tecnologie e rispetto dell'ambiente.
Dotato di forte personalità, Nuovo SUV Citroën C5 Aircross si distingue per il suo stile unico, energico e protettivo. Il nuovo modello di punta di Citroën, presentato al grande pubblico in occasione del Salone dell'Automobile di Parigi, ha già superato i 1.500 ordini in Europa, dove sarà lanciato sul mercato a partire da dicembre (a seconda dei Paesi).
Nuovo SUV C5 Aircross conquista i clienti con il suo design robusto e possente, forte ma non arrogante, e si distingue nell'universo dei SUV per i suoi volumi fluidi arricchiti da elementi grafici forti come gli Airbump.
In linea con il programma Citroën Advanced Comfort, Nuovo SUV C5 Aircross è innovativo per il suo confort globale grazie alle sospensioni con Smorzatori Idraulici Progressivi e ai sedili Advanced Comfort, oltre alla sua abitabilità e modularità di riferimento, frutto dall'eccezionale know how di Citroën nel mondo delle monovolume. Nuovo SUV C5 Aircross, al passo con i tempi, propone 20 tecnologie di assistenza alla guida e 6 tecnologie di connettività.
Con oltre 590.000 vendite in Europa, è il 5° anno di crescita consecutivo per Citroën, che raggiunge un volume di vendite record negli ultimi 7 anni, con una progressione del 6% in Europa rispetto allo stesso periodo del 2017. Un anno dopo il Nuovo Compact SUV Citroën C3 Aircross, primo modello dell'offensiva SUV Citroën lanciato a ottobre 2017 che ha raggiunto quasi 120.000 ordini, Nuovo SUV Citroën C5 Aircross contribuisce al rinnovamento della Marca, permettendo a Citroën di proseguire la sua crescita.
Alla fine dei test comparativi tra le 7 vetture finaliste, che si svolgeranno a febbraio 2019, il modello che avrà raccolto il maggior numero di voti vincerà questo prestigioso titolo, e sarà premiato il 4 marzo 2019, la vigilia del Salone di Ginevra.