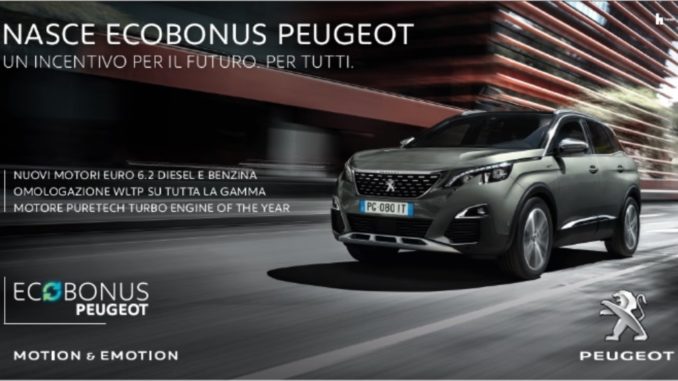 Peugeot ha varato l'operazione "ECOBONUS Peugeot" che permette di assicurare il cliente contro divieti e blocchi della circolazione che preoccupano quando si acquista una vettura nuova.
Lo scenario mediatico ha creato un senso di allarme che induce il consumatore a trattare con apprensione l'acquisto di una vettura nuova, in modo particolare se è Diesel.
Con l'operazione "ECOBONUS Peugeot" la casa del leone rassicura il cliente e gli mette a disposizione lo stato dell'arte delle tecnologie disponibili sul mercato, con un vantaggio davvero tangibile e concreto.
ECOBONUS Peugeot recentemente lanciata in Italia è una iniziativa che ha lo scopo di mettere a disposizione dei Clienti la migliore offerta tecnologica per ridurre le emissioni inquinanti e i consumi delle auto. Un'eccellenza tecnologica che accomuna tutti i suoi modelli, con l'obiettivo di permettere a tutti di guidare una nuova vettura del Leone dando in permuta una qualunque auto usata, senza alcun vincolo di età o alimentazione (come invece spesso accade), con un vantaggio che arriva fino a 6.000 euro.
Come molti sapranno, il 1° settembre scorso è entrato in vigore il nuovo protocollo di omologazione dei veicoli per trasporto persone WLTP. Il 1° ottobre, inoltre, numerose amministrazioni locali, fra cui le Regioni Lombardia, Piemonte, Veneto ed Emilia Romagna, hanno introdotto nuove restrizioni alla circolazione per i motori più inquinanti.
Peugeot dispone di innovative tecnologie per la riduzione dei consumi e delle emissioni inquinanti: dal filtro antiparticolato realizzato per i motori a benzina (GPF) al FAP (filtro anti particolato) e al catalizzatore SCR per i motori Diesel.
Un'eccellenza tecnologica quella di Peugeot che già oggi è pronta per il futuro, grazie ai motori omologati Euro 6.2 secondo il nuovo protocollo WLTP e alle raffinate tecnologie che permettono la riduzione delle cilindrate senza penalizzare le prestazioni, come nel caso del motore benzina PureTech Turbo, eletto Engine Of The Year 2018 per il quarto anno consecutivo. Un propulsore disponibile su 7 diversi modelli, per un totale di 15 versioni complessive. Una tecnologia che riduce i consumi, eleva il piacere di guida grazie alle caratteristiche di erogazione e alla riduzione di peso e dimensioni, riduce le emissioni inquinanti.
I motori Diesel BlueHDi Peugeot, dal canto loro, sono altrettanto dotati a livello tecnologico e in grado di dare un taglio drastico e concreto a consumi ed emissioni: sono dotati di FAP (Filtro Antiparticolato in ceramica) e di sistema SCR (Selective Catalytic Reduction) che, attraverso l'aggiunta di urea, trasforma le emissioni degli ossidi d'azoto (NOX) in acqua e azoto, riducendo così del 90% le relative emissioni.
Con questa operazione straordinaria dalla durata limitata, Peugeot intende dare un contributo concreto alla riduzione dell'inquinamento e dare una risposta che supera le aspettative dei Clienti in fatto di tecnologia e innovazione.