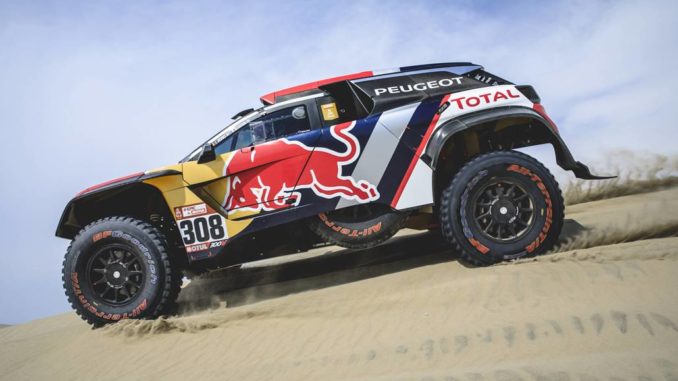 Se è svolta la tappa 2 della Dakar 2018 e dopo il breve aperitivo della tappa inaugurale, la corsa è entrata nel vivo con una full immersion nelle dune di Ica vicino a Pisco per una speciale composta al 90% di fuoripista. La sfida lunga 267 km ha richiesto grandi doti di navigazione soprattutto da parte dei piloti e co-piloti delle auto, che oggi aprivano la pista.
La gara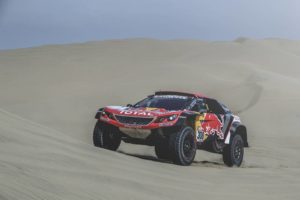 Tre Peugeot 3008 DKR concludono in fila e in testa la seconda Tappa della Dakar, quarantesima della serie e decima in Sud America. Sono quelle di Cyril Despres e David Castera, la numero 308 "nuance rouge", di Stephane Peterhansel e Jean-Paul Cottret, 300 "jaune", e la Peugeot di Sébastien Loeb e Daniel Elena, 3008 DKR Maxi #306 "blanche".
Sfumature di colore per le carrozzerie, ma il colore delle performance è più omogeneo e deciso. Sulle dune del largo anello di percorso iniziato e concluso ai margini del Bivacco di Pozo Santo, e passato come una cometa sulle affascinanti costiere del "Pacifico Peruano", le 3008 DKR hanno preso un sopravvento clamoroso, in un certo senso previsto già in sede di progetto ma verificato al 100% per la prima volta, in quelle condizioni di "true desert" caratteristiche delle migliori Dakar e concesse all'Evento dal Perù. È la prima tripletta "stagionale" del Team Peugeot Total, la prima di questa Dakar, che si converte anche nel primo podio provvisorio dell'edizione 2018 largamente occupato dalle "belve" di Velizy.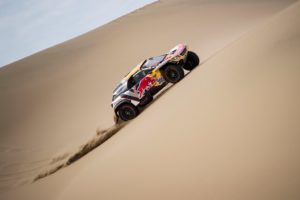 Il più contento di tutti è il "Domatore", l'Ingegnere, Direttore e Team Manager del Progetto Bruno Famin, che in un colpo solo registra due importanti verifiche. La prima è la capacità di imporre scelte tattiche azzeccate ai suoi quattro "galletti", come quella di far correre in souplesse la prima Speciale. La seconda, più raffinata e generale, è il test di competitività sul campo della 3008 DKR Maxi, decisamente "passed"!
In virtù dei risultati della seconda giornata del Rally, la classifica generale riporta immediatamente sulla copertina della Dakar 2018 due delle tre Peugeot. Primo è Despres, Peterhansel è a un'inezia. Già in apertura di "giornale", tuttavia, troviamo anche la Macchina di Loeb, che ha ridotto ma non annullato il ritardo derivato dal problema ai freni della prima Speciale del Rally, ed è quarto a sei minuti. Più attardata la numero 303 (nuance bleu) di Carlos Sainz e Lucaz Cruz, che a causa di una doppia foratura è all'ottavo posto della generale a 13 minuti dal Leader.
Anche la categoria delle moto vede un nuovo leader: Joan Barreda. Lo spagnolo della Honda ha imposto un ritmo impressionante. É stato bravo Adrien Van Beveren a limitare il distacco a 3 minuti.
Nei quad Ignacio Casale ha fatto un altro passo avanti con la seconda vittoria di tappa. Sergey Karyakin, il vincitore del 2017, lo segue a ruota a soli 43 secondi. Nona Camela Liparoti nella classe SxS. Vittoria di Eduard Nikolaev nei camion.
Performance del giorno
Alessadro Botturi si conferma il più veloce degli italiani, ventesimo a 20'10" da Barreda.
Quest'anno la gara si preannuncia veramente dura e sto risparmiando la moto – ha dichiarato il pilota Yamaha. L'obiettivo è arrivare a Cordoba, per cui vale la pena affrontare ogni tappa con intelligenza. Fatta eccezione di Barreda e Van Beveren che facevano un altro ritmo, siamo tutti molto vicini. La tappa era veramente dura, 90% fuoristrada come le vecchie tappe africane e una navigazione a CAP.
Statistica del giorno
Joan Barreda rincorre la vittoria finale, ma si è confermato ancora una volta velocissimo. Lo spagnolo della Honda si è aggiudicato infatti la 20a vittoria di tappa. Più di lui hanno vinto solo Despres and Peterhansel (33), Arcarons (27), Coma (25) and Auriol (24).
Dichiarazioni del giorno
Sébastien Loeb:
Alla fine sono contento. Siamo in una buona posizione e domani non dovrò aprire pista. L'obiettivo è superare al meglio queste prime tappe peruviane, conservando il mezzo ed evitando errori di navigazione.
Eugenio Amos, 15° a 25'51 dal vincitore:
Abbiamo guidato con un buon ritmo ma senza prendersi rischi. La prima parte di dune era impegnativa mentre la seconda più veloce, con passaggi in piccoli canyon.