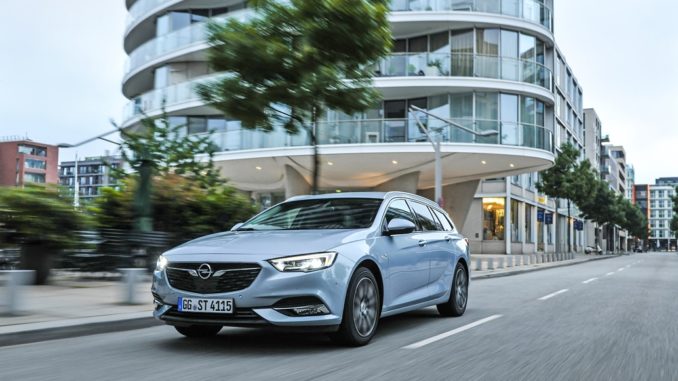 Opel ha consegnato la Opel Insignia numero 1.111.111 a Thomas Breser, Amministratore Delegato di IDE Integrated Dynamics Engineering GmbH.
A consegnare la vettura, Xavier Duchemin, Managing Director Sales, Aftersales and Marketing di Opel Automobile GmbH. La Insignia Sports Tourer Business Edition sarà presto messa a disposizione degli ingegneri di IDE.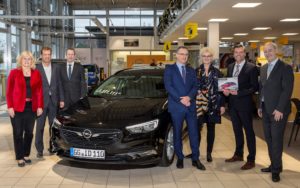 Xavier Duchemin, accompagnato da Patricia, principessa di Erbach-Schönberg, amministratore delegato di Auto Jacob GmbH di Rüsselsheim, ha dichiarato:
La Opel Insignia è il biglietto da visita ideale per qualsiasi azienda. Le tecnologie innovative e l'elevatissimo comfort della nostra ammiraglia rendono più piacevole qualsiasi viaggio d'affari. Il capiente bagagliaio offre molto spazio, utile non solo per il lavoro ma anche per il tempo libero.
La Opel Insignia Sports Tourer destinata a entrare a far parte della flotta di IDE monta un motore turbodiesel 2.0 litri da 125 kW/170 CV, potente e allo stesso tempo economico, con cambio manuale a sei rapporti e dispositivo start/stop (consumi di carburante[1], [2]: ciclo urbano 7,3-6,8 l/100 km, ciclo extraurbano 4,7-4,6 l/100 km, ciclo misto 5,6-5,4 l/100 km, emissioni di CO2 pari a 148-142 g/km), che rispetta la rigorosa normativa Euro 6d-TEMP sulle emissioni. I sedili ergonomici certificati dagli esperti di postura di AGR e l'assistente al parcheggio anteriore e posteriore consentono di guidare in totale relax. Il sistema di infotainment Multimedia Navi con schermo touch a colori da sette pollici – compatibile con Apple CarPlay e Android Auto, fornisce tutte le istruzioni di navigazione.
Opel Insignia, amata dai clienti e apprezzata dagli esperti
Per quanto riguarda il comfort, la sicurezza e la presenza di tecnologie avanzate, Opel Insignia, prodotta a Rüsselsheim, prosegue la tradizione delle grandi ammiraglie Opel. La prima serie di Insignia lasciò pubblico e critica a bocca aperta. Dopo l'anteprima mondiale a Londra, fu eletta "International Car Of The Year 2009" e questo fu solo il primo di una lunga serie di riconoscimenti assegnati a questa vettura, prodotta fino al 2017 in 900.000 unità.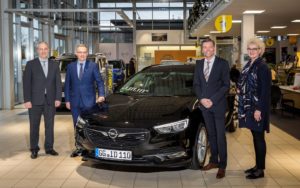 La nuova Insignia giunse sul mercato nella primavera 2017 in versione berlina Grand Sport e station wagon Sports Tourer e Country Tourer (quest'ultima con l'avanzata trazione integrale con torque vectoring). La versione top di gamma è la sportiva Insignia GSi con motore BiTurbo diesel 2.0 litri da 154 kW/210 CV e trasmissione automatica a otto velocità (consumi di carburante[3], [4]:ciclo urbano 9,4 l/100 km, ciclo extraurbano 5,8 l/100 km, ciclo misto 7,1l/100 km, emissioni di CO2 pari a 188-187 g/km). A oggi sono state prodotte oltre 200.000 unità della seconda generazione.
Tra i premi ricevuti da Insignia vale la pena ricordare il "Volante d'oro 2017" in Polonia (Auto Świat), Svizzera (Auto Bild) e Slovenia (Auto Bild), il premio "Best Car 2017" (Fleet Cars & Vans, Fleet Auto Premium) in Polonia e "Fleet News of the Year" (FLEET Magazine) in Repubblica Ceca. Nel 2018 Insignia è stata eletta "Family Car Of The Year" in Portogallo (Observador), Romania (AUTOpro) e per la seconda volta nel Regno Unito (Auto Express) oltre a essere Best Large Family Car nei "Carbuyer Best Car Awards". L'ammiraglia Opel è stata nominata "Business Sedan of the Year" da Kilometres Enterprise in Francia e "Autoflotte Top Performer 2018" in Germania.
Le immatricolazioni di Insignia nelle flotte sono infatti aumentate del 90,5 per cento nel giro di 12 mesi. Grazie alle sue avanzate tecnologie, all'elevato livello di comfort e alla massima efficienza, Insignia occupa una posizione di vertice nel proprio segmento di mercato.
L'ammiraglia Opel offre tanta tecnologia e il massimo comfort
Opel Insignia è un'auto aziendale efficiente e una comodissima vettura per affrontare lunghi viaggi con la propria famiglia. Chi possiede una Insignia ha a propria disposizione numerose tecnologie avanzate come i fari anteriori IntelliLux LED matrix e i sedili ergonomici certificati dagli esperti di postura di AGR, mentre i sistemi di infotainment Multimedia Radio e Multimedia Navi garantiscono una connettività all'avanguardia. Grazie alle informazioni sul traffico in tempo reale, chi viaggia con Insignia può essere sempre aggiornato sui prezzi dei carburanti e sulla disponibilità di parcheggi.
[1] I dati WLTP sono convertiti in valori NEDC a fini comparativi
[2] Dati WLTP nel ciclo misto (a titolo esclusivamente informativo, da non confondersi con i valori ufficiali NEDC): 6,2-5,6 l/100 km, emissioni di CO2 pari a 162-148 g/km
[3] I dati WLTP sono convertiti in valori NEDC a fini comparativi
[4] Dati WLTP nel ciclo misto (a titolo esclusivamente informativo, da non confondersi con i valori ufficiali NEDC): 8,0-7,6 l/100 km, emissioni di CO2 pari a 209-198 g/km
Fonte: Opel Italia