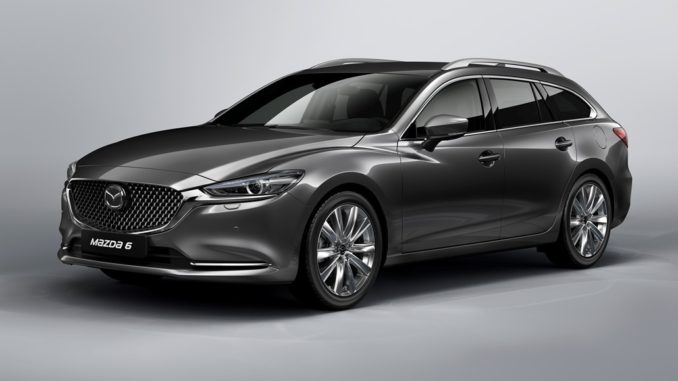 La nuova Mazda6 Wagon sarà al suo debutto mondiale al Salone di Ginevra, la nuova Mazda6 berlina verrà per la prima volta presentata in Europa e nello stand ci saranno i due concept Mazda Vision Coupé e Mazda Kai Concept, completando lo stand il rivoluzionario motore a benzina SKYACTIV-X di nuova generazione.
La più recente versione di Mazda6 è anche quella più completa, e offre un miglioramento della qualità praticamente in ogni dettaglio. La vettura presenta un design esterno più maturo, elegante e raffinato,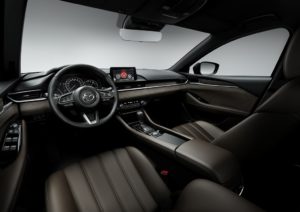 estese modifiche agli interni fra cui sedili totalmente nuovi, dinamica di guida evoluta, maggiore efficienza aerodinamica, ridotti disturbi NVH e una gamma di dotazioni di sicurezza i-ACTIVSENSE ancora più ampia, che comprende il sistema di monitoraggio a 360° attorno alla vettura e un sistema intelligente di regolazione della velocità.
La Mazda Vision Coupé, recentemente premiata come "Most Beautiful Concept Car of the Year", adotta la forma base di un filante coupé a quattro porte. Rinuncia al movimento ritmico che per i primi modelli con il design KODO veniva evidenziato nello stile della carrozzeria, optando invece per una forma semplice che elimina tutti gli elementi non essenziali secondo il principio "less is more". Mazda ha investito tantissimo tempo e cura sul design esterno, specialmente sul gioco di luci lungo le sue superfici.
Il suo nome KAI significa "pioniere", la hatchback compatta Mazda Kai Concept pone infatti le basi per il futuro del marchio Mazda, rappresentando le rivoluzionarie tecnologie dell'azienda e la più recente evoluzione del suo design KODO. Essa adotta il rivoluzionario propulsore Mazda SKYACTIV-X nell'ambito della piattaforma di nuova generazione SKYACTIV-VEHICLE ARCHITECTURE, che massimizza le capacità intrinseche del corpo umano per raggiungere la massima connessione fra conducente e vettura.
Esclusività di Mazda, SKYACTIV-X è un motore all'avanguardia che introduce un innovativo metodo di combustione – denominato SPCCI (Spark Controlled Compression Ignition) – dove l'accensione avviene per compressione controllata da candela. Studiato perché diventi il primo motore a benzina di serie ad adottare l'accensione per compressione*, SKYACTIV-X combina i vantaggi di un motore a benzina ad accensione per scintilla — erogazione agli alti regimi ed emissioni più pulite — con quelle di un motore diesel con accensione per compressione — superiore risposta iniziale e risparmio di carburante — per realizzare un motore "crossover" che offre il meglio di entrambe le soluzioni.
* Febbraio 2018, secondo una ricerca interna