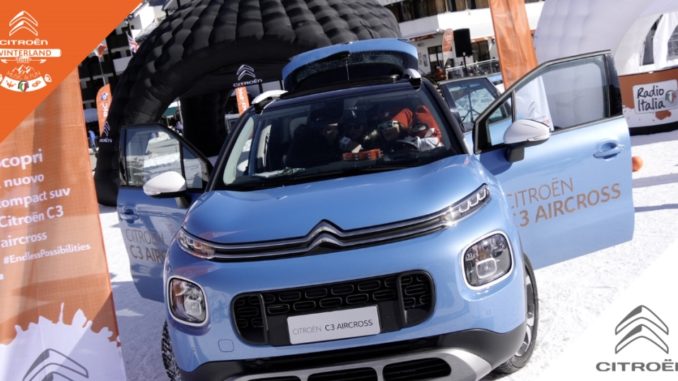 Citroën propone un villaggio turistico itinerante dove sport, musica e intrattenimento si incontrano in 8 tappe in 8 località sciistiche italiane che la casa francese ha denominato "Citroën Winterland Tour" dove il
divertimento è assicurato con un calendario fittissimo di appuntamenti e attività è pronto ad accogliere gli amanti della montagna, dello sport e della musica italiana.
I visitatori troveranno uno snow park per le attività di tubing e bowling umano, un'area fitness per fare esercizi a corpo libero e seguire i passi di zumba. Inoltre, ogni domenica, in collaborazione con Energiapura – Catch the Color (leader nel panorama mondiale dell'abbigliamento tecnico racing e delle protezioni per lo sci alpino), le piste si coloreranno con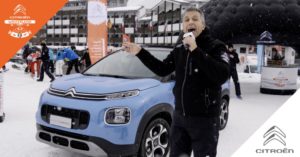 Catch the Color, una divertente caccia al tesoro in cui i partecipanti dovranno trovare – nel minor tempo possibile – una sequenza ordinata di colori nei quali poi si immergeranno fisicamente!
Ma non è tutto: oltre a vivere l'emozione di uno studio radiofonico on the snow con molteplici collegamenti in diretta, i visitatori avranno la possibilità di scoprire il nuovo compact SUV Citroën C3 Aircross.
Moderno, attraente, adatto a tutti gli stili di vita, si distingue per uno stile unico immediatamente riconoscibile, un'abilità di riferimento e una modularità eccezionale. In ognuna delle otto tappe del "Citroën Winterland Tour", Citroën C3 Aircross sarà a disposizione per test drive sulla neve, che metteranno in evidenza le sue "endless possibilities" di utilizzo ma soprattutto la sua versatilità di guida su diversi fondi stradali grazie al Grip Control con Hill Assist Descent.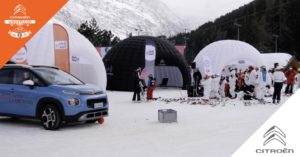 Con gli impianti di risalita in chiusura, il divertimento continua grazie a Radio Italia che con la sua musica e la sua animazione a cura di Sergio Labruna e Mirko Mengozzi, renderà speciale l'Après Ski. Successivamente, al termine dell'aperitivo, sarà il momento della Torchlight: le piste saranno illuminate da tantissimi sciatori che, con una torcia in mano, scenderanno a valle dando vita a uno spettacolo suggestivo. Infine, a seconda della località sciistica, se dopo la giornata sulla neve qualcuno avrà ancora voglia di ballare in compagnia degli amici, potrà godersi il Radio Italia Party con dj set, intrattenimento e un panorama d'eccezione.
Il calendario di 8 tappe in 8 località sciistiche italiane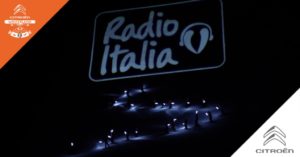 La Thuile 10/11 Febbraio 2018
Rivisondoli 17/18 Febbraio 2018
Folgaria 24/25 Febbraio 2018
Bormio 03/04 Marzo 2018
Bardonecchia 10/11 Marzo 2018
Pila 17/18 Marzo 2018
Plan de Corones 24/25 Marzo 2018
Tonale 31/01 Aprile 2018.