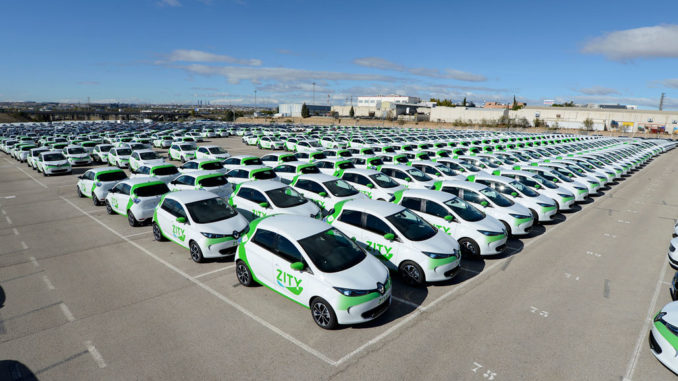 Renault joins forces with Ferrovial to create ZITY car sharing scheme
500 all-electric ZOE provided for the scheme
Madrid has highest rate of car sharing across Europe
100 per cent electric ZOE Z.E.40 has a 250 mile range (NEDC)
ZOE is best-selling EV in Europe and more than 4,500 have been sold in the UK since 2013
Award-winning ZOE is available to purchase in the UK from £14,425 on-the-road (including PiCG, excluding battery hire)
A fleet of 500 all-electric Renault ZOE will be arriving in Madrid this month with ZITY, the result of a cooperation between Renault and the urban services operator Ferrovial.
This new car-sharing scheme covers a wide area of the Spanish capital, with vehicles provided to customers in the right place at the right time via an efficient smartphone application. Already the best-selling electric vehicle manufacturer in Europe, this new large-scale scheme strengthens Renault's position and its commitment to sustainable mobility for all.
Madrid has the highest rate of daily car-sharing in Europe due to the city's size, population, traffic problems and air pollution issues.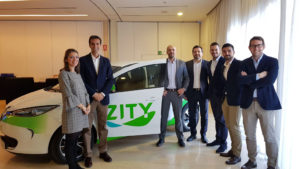 The local authorities' commitment to electric vehicles has contributed further to this: at times of intense air pollution, electric vehicle parking is free and they are still permitted access to the city centre at times of high pollution when entry restrictions on internal combustion engine (ICE) vehicles are at their most drastic. Another landmark will be reached in June 2018, when Madrid's "Hyper-centre" will be permanently out of bounds to ICE vehicles.
These circumstances led to Renault and Ferrovial signing an agreement in August to launch a new car-sharing scheme called ZITY.
The ZOEs in the scheme benefit from RIDECELL technology with a GSM smartphone connection completed by a Bluetooth link. That means the ZOE can be contacted even in places where connectivity is poor, such as underground car parks, and the time taken for the vehicles to respond to smartphone instructions sent by customers is reduced. RIDECELL also lets customers lock and unlock the cars using their smartphones.
With the new R90 motor and Z.E.40 battery, ZOE's range is 250 miles (NEDC) – Renault estimates that in real-world driving conditions that this equates to around 186 miles in summer and 124 miles in cold winter conditions. ZOE Z.E.40 can charge from zero to 80 per cent full in as little as 65 minutes thanks to its patented Chameleon Charger™ that allows it to make the most of the widest range of power supplies and also keep charging times to a minimum. Renault's Range OptimiZer technology ensures ZOE is highly efficient with its heat pump, a bi-modal braking system and Michelin ENERGY E-V tyres.
ZOE is available to purchase in two ways. Firstly, under a battery hire scheme, where ZOE pricing starts at £14,245 (OTR) after the Government Plug-in Car Grant with battery leasing from £49 per month. New for 2017 is the 'Unlimited' option with no mileage cap, priced at £110 per month. It is easy to purchase a used ZOE with a battery lease – the new owner simply chooses which leasing option suits their needs the best and starts monthly payments based on their lease plan. You can also buy the ZOE outright. ZOE i 'full purchase' models start from £18,995 (OTR) after the Government Plug-in Car Grant, giving the buyer full ownership of the car and battery and no monthly battery lease payment.
ZOE is the best-selling electric vehicle in Europe and more than 4,500 ZOE have been sold since launching in the UK. ZOE is one of four models in Renault's diverse all-electric vehicle range, which also includes the Twizy quadricycle, the Kangoo Van Z.E.33 and the forthcoming Master Z.E. large panel van.
For further details on the Renault ZOE, including the latest offers, please visit www.renault.co.uk