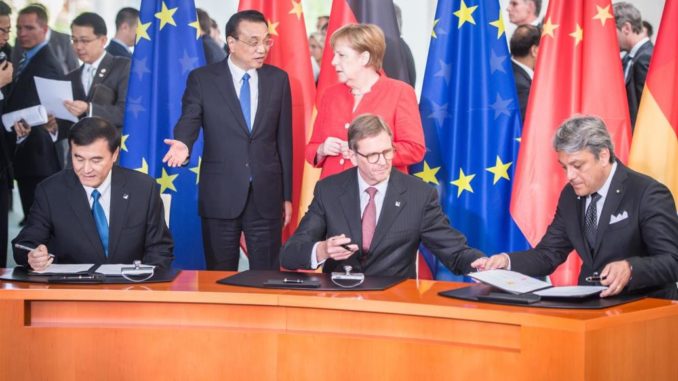 Alla presenza della Cancelliera tedesca Angela Merkel e del Premier cinese Li Keqiang, Volkswagen Group China, Anhui Jianghuai Automobile Group Corp., Ltd. (JAC) e SEAT hanno firmato un Memorandum of Understanding con l'obiettivo d'istituire un nuovo centro ricerca e sviluppo con il focus verso i veicoli elettrici, la connettività e le tecnologie di guida autonoma.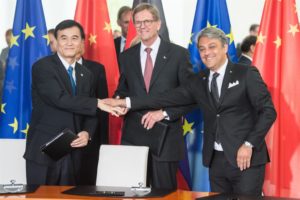 L'accordo include anche lo sviluppo di una competitiva piattaforma per veicoli alimentati a batteria (BEV). SEAT entrerà nel mercato cinese entro il 2020/2021. Si tratta di un passo importante per rafforzare la collaborazione fra i due Paesi e per supportare Volkswagen Group China nel diventare leader nel campo della mobilità elettrica.
Le vetture elettriche sono il futuro della mobilità e la Cina è all'avanguardia nello sviluppo di soluzioni di mobilità sostenibile – ha affermato Jochem Heizmann, Membro del Consiglio di Amministrazione di Volkswagen AG e Presidente e CEO di Volkswagen Group China. Siamo lieti di avere l'opportunità di collaborare ulteriormente con un partner fidato nello sviluppo di tecnologie per la e-mobility. Ciò rappresenta un altro passo importante per la strategia generale del Gruppo Volkswagen in Cina.
Questo nuovo Memorandum of Understanding giocherà un ruolo fondamentale nei piani del Gruppo per la mobilità elettrica in Cina, soprattutto per soddisfare le esigenze dei Clienti di questo Paese.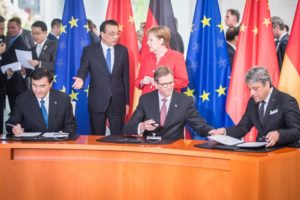 Assieme a JAC e SEAT, Volkswagen Group China istituirà un centro R&D per lo sviluppo di veicoli elettrici, della connettività e di tecnologie per la guida autonoma pensate specificatamente per il mercato cinese, inclusi parti fondamentali, componenti e tecnologie chiave; il completamento è previsto per il 2021. Nell'ambito del MoU, SEAT diventerà azionista di JAC Volkswagen tramite un aumento di capitale di quest'ultima o un trasferimento di azioni da parte di Volkswagen Group China. Ciò porterà all'introduzione della marca SEAT nel mercato cinese probabilmente a partire dal 2020/2021.
Inoltre, la joint venture introdurrà una competitiva piattaforma BEV basata sulle risorse tecnologiche delle tre parti con l'obiettivo di portare ai Clienti una scelta di veicoli ancora più vasta in tutti i segmenti, sia in Cina che a livello globale. Nell'ambito della vasta iniziativa di elettrificazione "Roadmap E", con gli sforzi e i contributi di JAC Volkswagen, FAW-Volkswagen, SAIC VOLKSWAGEN e Volkswagen Group China guideranno lo sviluppo della mobilità elettrica in Cina, dove è prevista l'introduzione nel mercato di 40 modelli prodotti localmente entro i prossimi 7/8 anni.