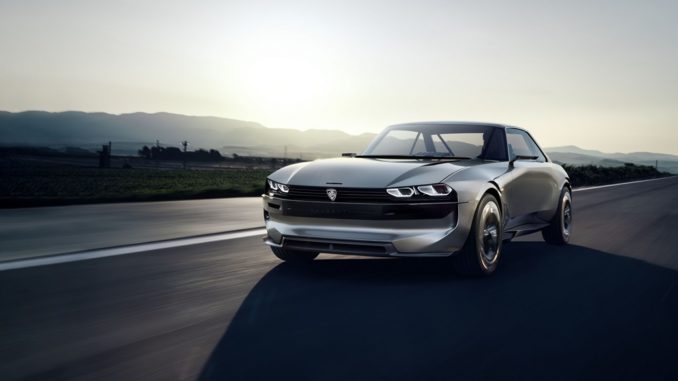 In tutta la sua storia, Peugeot ha sempre curato il comportamento dinamico, le prestazioni dei propri modelli e il piacere di guida.
In questi momenti di profondi cambiamenti nel settore dell'auto, alcuni temono che l'elettrificazione, l'avvento di funzioni di assistenza alla guida sempre più avanzate, lo sviluppo della tecnologia per la guida autonoma portino a un'auto più sicura e più ecosostenibile, ma a scapito del piacere di guida.
Attualmente la Casa del Leone si concentra sul futuro dell'auto puntando ancor più sul piacere di guida e sul comfort, combinandoli con i più alti livelli di sostenibilità e sicurezza per tutti gli occupanti. Una filosofia che si esprime nel concetto di "Unboring the future".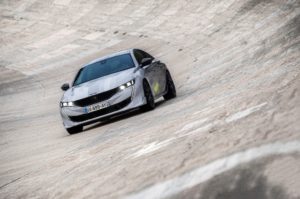 Con la Peugeot e-Legend come prima e massima espressione di questo concetto, questo modo di vedere il futuro dell'auto è già diventato una concreta realtà in prodotti come le nuove Peugeot e-208 ed e-2008, ma anche il SUV ibrido plug-in 3008 Hybrid4, forte di ben 300 CV. Un concetto che verrà ulteriormente ampliato tra qualche mese quando sarà disponibile la nuova 508 Peugeot Sport Engineered, quintessenza del concetto di Neo-Performance.
In un contesto in cui i progressi tecnologici sembravano portare verso un futuro opaco e grigio per l'auto, votato ad una mobilità più sicura e sostenibile, Peugeot ha dato un forte segnale al mondo dell'auto con la presentazione della concept car e-Legend al Salone dell'Auto di Parigi, nel 2018: vero manifesto tecnologico ed entusiasmante visione del futuro della mobilità, declinato sotto forma di un attraente coupé che combina innovazioni rivoluzionarie. Un prototipo con un forte rimando alla storia del Marchio del Leone, grazie ad uno stile che ha reso omaggio alla meravigliosa Peugeot 504 Coupé del 1969. La combinazione di tecnologie quali la guida autonoma e l'elettrificazione sono infatti per Peugeot una grande opportunità per esaltare ancor più l'esperienza che si può provare a bordo di un'auto col Leone sulla calandra.
La concept car e-Legend incarna pienamente questa visione. Un vero oggetto del desiderio che esalta la libertà di movimento e offre la possibilità di scegliere tra varie modalità di guida, contando su un powertrain 100% elettrico e connesso col mondo esterno. Un'esperienza completamente immersiva grazie al Responsive i-Cockpit, che si adatta alle quattro modalità di guida disponibili: Soft e Sharp, se si desidera lasciare la guida all'auto, Legend e Boost, se si sceglie di guidare in prima persona.
Al di là delle concept-car, la filosofia "Unboring the Future" raggiunge la massima espressione nella Nuova 508 Peugeot Sport Engineered, gran turismo plug-in hybrid dalle grandissime prestazioni, ma con consumi ed emissioni incredibili, grazie alla sua sofisticata tecnologia. I numeri resi possibili dal suo powertrain ibrido plug-in sono impressionanti: eroga una potenza complessiva di 360 CV e può scattare da 0 a 100 km/h in appena 5,2 secondi, il tutto con emissioni di soli 46 g / km di CO2.
Sviluppate dai designer e ingegneri di Peugeot Sport, le nuove 508 PSE e 508 SW PSE rappresentano la prima espressione del concetto di Neo-Performance, per combinare prestazioni elevatissime ma bilanciate con un grande rispetto per l'ambiente. Il primo esempio di una nuova gamma di prodotti che si fonda sulla tecnologia elettrificata e che sfrutta tutta l'esperienza maturata nelle competizioni da Peugeot Sport.
Nella gamma SUV, la filosofia "Unboring the Future" trova la sua massima espressione nel Nuovo Peugeot 3008 Hybrid4, forte di ben 300 CV, un modello che mette a disposizione grandissime prestazioni (0-100 in 5,9 s) grazie alla trazione integrale, ma accompagnate da emissioni di CO2 best in class nel mercato ibrido. Una tecnologia che permette di offrire uno spazio interno identico alla normale Peugeot 3008 con propulsori termici, ma col vantaggio di poter entrare in diverse zone a traffico limitato dei centri cittadini, grazie alla possibilità di viaggiare in elettrico per 59 km.
Queste prestazioni sono rese possibili grazie alla combinazione di un motore a benzina PureTech da 200 CV/147 kW con due motori elettrici: uno anteriore, associato al cambio e-EAT8 e che sviluppa 110 CV/81 kW, ed un secondo accoppiato all'assale posteriore, con una potenza di 112 CV/83 kW.
Per quanto riguarda i veicoli 100% elettrici, la Nuova Peugeot e-208 è la perfetta espressione dell'impegno della Casa per offrire grande libertà di movimento, sia in città che fuori dalle metropoli. Grazie ad una batteria ad alta capacità da 50 kWh permette un'autonomia di 340 km (WLTP), più che sufficienti per le nuove esigenze di mobilità. I suoi 100 kW di potenza (136 CV) vengono erogati in estrema silenziosità, senza vibrazioni, rumori e senza soluzione di continuità. Da 0 a 100 km/h in appena 8,1 secondi: chi afferma che le auto elettriche non sono appaganti dovrà rivedere le proprie convinzioni.
Passando al mondo dei SUV compatti, il Nuovo Peugeot e-2008 porta la tecnologia 100% elettrica su tutti i terreni, il tutto con un design unico nel panorama automobilistico e che fonde dinamismo con eleganza delle forme, per non passare inosservati. Un modello che si caratterizza poi per l'elevata tecnologia e sicurezza di cui è dotato e che può contare anche sulla disponibilità della guida autonoma di livello 2, il massimo oggi concesso dalla legge. La sua batteria da 50 kWh consente in questo caso un'autonomia di 320 km, per garantire un ampio raggio di azione.
Fonte: Peugeot Italia