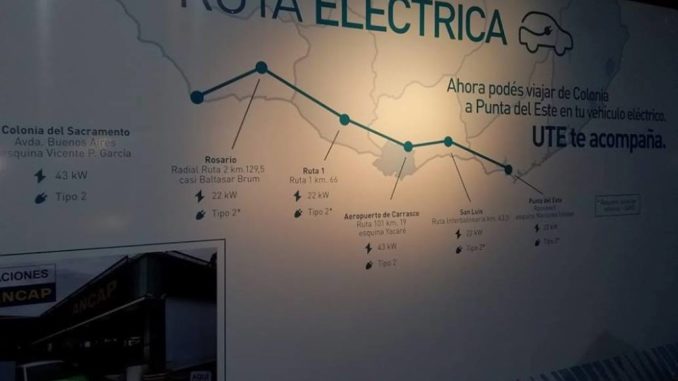 Uruguay is a small country in South America with a population over 3.4 million inhabitants, where nowadays, renewable energy sources represent more than 90% of the country´s power generation matrix.
The first steps towards sustainable mobility began in 2010.
In 2012, regulatory and tax changes were announced by the authorities to stimulate the use of electric vehicles.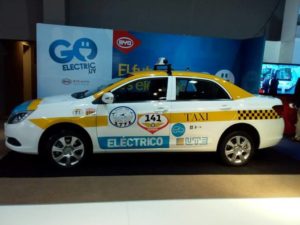 In that purpose, electric vehicles are exonerated to pay import taxes, the income tax on economic activities (IRAE) is also 0%.
It´s been almost a year since what once was a project came to life, with the inauguration of the first electric route in Latin America (Ruta Eléctrica de América Latina) on 17 December, setting an unprecedented in the region.
The Ruta Eléctrica de América Latina comprised six charging stations, all within a distance of 60km, 37 miles, from each other (today there are 10).
The electrified highway connects the cities of Colonia del Sacramento to Punta del Este, which represents about 300km or 187 miles.
Since then, UTE (state-owned electric company) has continued to expand it with the ultimate target of covering the entire national territory through its main national roads in 2019 with 60 charging stations.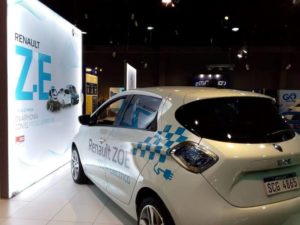 Last June, the first Montevideo e-Mobility and Smart Cities Forum in Uruguay took place in the city capital of Montevideo with the presence of Jean Todt, FIA President who was in the country to also celebrate the 26th FIA Annual Conference for Mobility 2018.
There are two big issues — one is to make mobility in cities feasible and practical — we are struggling with congestion in big cities all over the world, and this needs to be addressed urgently. Then, we must make sure that the vehicles are environmentally friendly. For this, the electric car is absolutely essential – Jean Todt said.
At the end of last year in a ceremony in London, ANCAP, the state-owned oil company, won the Petroleum Economist award in the category "Downstream Company of the Year" for Project of The Year 2018, Electric Charging Stations, a substantial achievement and a recognition to a project that is increasing the charging stations across the country, not only for electric vehicles private owners but also for the electric taxis in the city capital, currently over 50 units, but with a goal of having 300 taxis running the city.
#CeciliaDemartini #TheEMNTeam