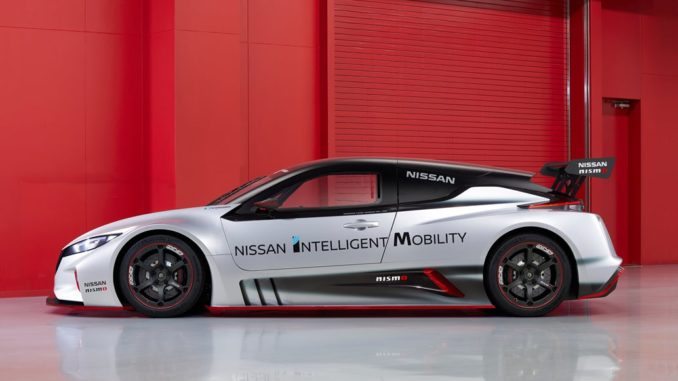 E' stata presentata a Tokyo presso Nissan Crossing, nel quartiere di Ginza, la nuova auto da corsa elettrica Nissan LEAF NISMO RC.
La nuova Nissan LEAF NISMO RC possiede una potenza massima e un'erogazione di coppia più che raddoppiate rispetto alla versione precedente.
Sviluppata da NISMO, la divisione sportiva di Nissan specializzata nelle tecnologie di gara, la LEAF NISMO RC debutterà ufficialmente il prossimo 2 dicembre nel circuito del Fuji in occasione del NISMO Festival, accanto alla nuova auto da corsa elettrica di Nissan per la Formula E.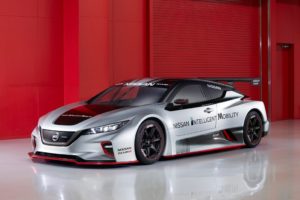 Con il doppio motore elettrico, la trazione integrale e un nuovo design per gli esterni, questa vettura ad alte prestazioni dimostra che la tecnologia dei veicoli elettrici Nissan può offrire una guida entusiasmante e al tempo stesso silenziosa, all'insegna di una alimentazione a zero emissioni, elemento fondamentale della visione Nissan Intelligent Mobility. Il modello integra una batteria tecnologicamente all'avanguardia e organi di trasmissione ripresi dalla Nissan LEAF, l'auto elettrica più venduta al mondo.
La nuova LEAF NISMO RC dimostra la nostra lungimiranza in fatto di potenza e prestazioni allo stato puro, un approccio che ci consente di offrire ai clienti veicoli elettrici ancora più emozionanti – ha dichiarato Daniele Schillaci, Executive Vice President e global head of marketing, sales and electric vehicles di Nissan. È ad oggi la massima espressione della Nissan Intelligent Mobility.
Nissan prevede di produrre sei LEAF NISMO RC da diffondere in varie parti del mondo, per garantire agli appassionati di motori un'esperienza all'insegna della potenza e delle emozioni.
Propulsione elettrica all'ennesima potenza, da oggi con trazione integrale
La nuova Nissan LEAF NISMO RC è alimentata da due motori elettrici collocati alle estremità opposte del telaio. Insieme generano una potenza combinata di 240 kilowatt (120 kW ciascuno) e forniscono alle ruote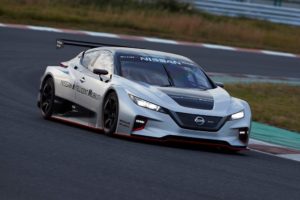 una straordinaria coppia istantanea pari a 640 Nm. La potenza massima e l'erogazione di coppia risultano più che raddoppiate rispetto alla versione precedente di LEAF NISMO RC, lanciata nel 2011. Tra le tecnologie di trasmissione riprese dalla nuova Nissan LEAF spiccano gli inverter e la batteria agli ioni di litio ad alta capacità.
Le eccezionali prestazioni in curva offerte da LEAF NISMO RC derivano dal sistema a trazione integrale. La forza motrice viene indirizzata autonomamente a ciascun asse, fornendo una coppia istantanea alla ruota con maggiore aderenza, garantendo manovre rapide ed efficienti lungo tutto il tracciato. Come nella versione precedente, la distribuzione del peso del telaio è stata ottimizzata grazie all'inserimento della batteria in posizione centrale, mentre i motori elettrici e gli inverter sono montati in corrispondenza delle ruote anteriori e posteriori.
LEAF NISMO RC presenta una serie di componenti leggeri e una struttura monoscocca sportiva interamente in fibra di carbonio, per un peso complessivo di 1.220 chili. Il rapporto potenza-peso consente un'accelerazione da 0 a 100 km/h in soli 3,4 secondi, con un incremento di velocità del 50% rispetto al modello precedente.
Estetica da gara
Se gli interni della nuova Nissan LEAF NISMO RC sono basati sulla versione originaria, gli esterni presentano un look decisamente più grintoso. Il cofano dalle linee allungate e l'inconfondibile griglia V-motion di Nissan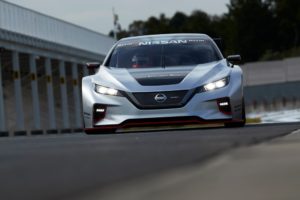 evidenziano il design rivisitato nella parte anteriore. Il caratteristico schema cromatico argento e nero con accenti rossi in puro stile NISMO – simile alla vettura Nissan di Formula E – crea una sensazione di costante dinamismo, anche quando l'auto è ferma sulla linea di partenza.
La carrozzeria tripartita di LEAF NISMO RC comprende sezione anteriore e posteriore rimovibili, finestrini fissi, fari e luci di coda a LED e alettone posteriore regolabile, per una deportanza ottimale sull'asfalto. Il modello è leggermente più lungo rispetto alla versione precedente, con una lunghezza complessiva di 4.546 millimetri e un passo di 2.750 millimetri. Oltre a un profilo aerodinamico, Nissan LEAF NISMO RC presenta un assetto ampio e basso, ponendosi a una distanza di appena 1.212 millimetri da terra a partire dal tetto: rispetto alla Nissan LEAF attualmente in produzione presenta oltre 300 millimetri in meno.
Spazi espositivi dedicati a LEAF NISMO RC
La nuova Nissan LEAF NISMO RC sarà visibile durante le gare di Formula E, ma anche presso importanti saloni ed eventi in diverse parti del mondo. In occasione del NISMO Festival, gli appassionati di motori potranno vedere la nuova LEAF NISMO RC in azione, con piloti professionisti che sfrecceranno a tutta velocità sul circuito del Fuji.