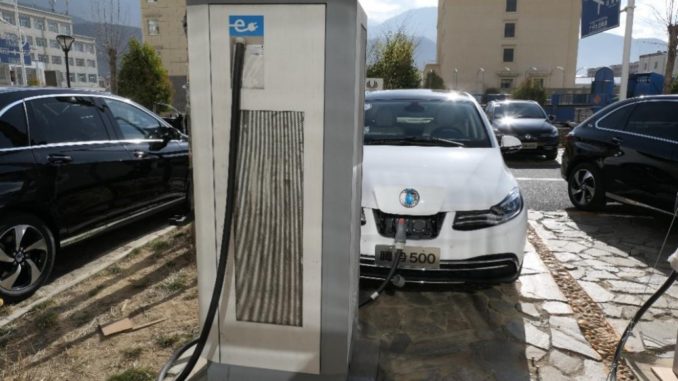 DC battery chargers by ABB operating on the Qinghai-Tibet Plateau ensures the continuous running of Denza 500 electric vehicle test from April 2 to 15, 2018
The test drive of Denza 500 pure electric vehicles was held in the Lhasa-Linzhi section of China National Highway 318 on the Qinghai-Tibet Plateau, aptly named the 'Roof of the World' due to its 3500m elevation. As the global strategic partner, ABB provided the DC charger for this test drive, ensuring the safe, reliable and smooth operation of the car.
Due to restrictions on the development of new energy vehicles and supporting charging infrastructure facilities in Tibet, no public charging stations had been built before. Therefore, the ABB DC chargers used for this test drive were transported from Shenzhen and installed around the Shangri-La Hotel, Lhasa.
The charger comes with ABB Ability connected solutions, which increase visibility and control of infrastructure networks, while minimizing downtime and increasing efficiency. ABB Ability, which is ABB's unified, cross-industry digital offering, delivers web-enabled connectivity that allows network operators to monitor and configure the charge points from any location. Driver issues can be resolved remotely and equipment can be serviced with minimal downtime. It offers flexibility to connect to any charging network, back-office or energy management solution.
Frank Mühlon, Head of ABB's Global Business for Electric Vehicle Charging commented:
We are delighted to have been selected as a partner for this test drive, which has delivered very positive results. According to the charging data fed back from the field, the performance of ABB DC chargers was the same in the plateau area as in the plains, with no slowdown, interruption, or instability resulting from the elevation and associated harsh conditions.
There are two types of charging methods currently available to EV owners in Lhasa: one is to install an AC charger where the vehicle is parked; the other is use 'random charging', which requires a long charging time and involves a certain safety risk, with charging cables lowered down to the parked vehicle from a nearby building.
The solution from ABB offers a safer and more efficient alternative. The pre-charging protection, active self-test, interlocking mechanism, temperature and humidity sensing management features of ABB DC chargers, if used, will improve the safety of charging, and the charging process can be completed within 1-2 hours.
The quality power resources and unique solar energy resources in Tibet provide natural conditions, which complement truly sustainable transport. ABB's new green charging ecology (photovoltaic + energy storage + charging) integrates advanced technologies such as photovoltaic power generation, large-capacity energy storage batteries, and smart chargers, which provide comprehensive infrastructure solutions and technical support for the promotion and popularization of electric vehicles, as well as a new option for the protection of the pure land of the Qinghai-Tibet Plateau.
At present, charging infrastructure is only in its early days of implementation in Tibet. However, the country has already promoted the construction of charging infrastructure in public areas and communities, with ABB poised to provide more extensive services to enable sustainable mobility across Tibet.