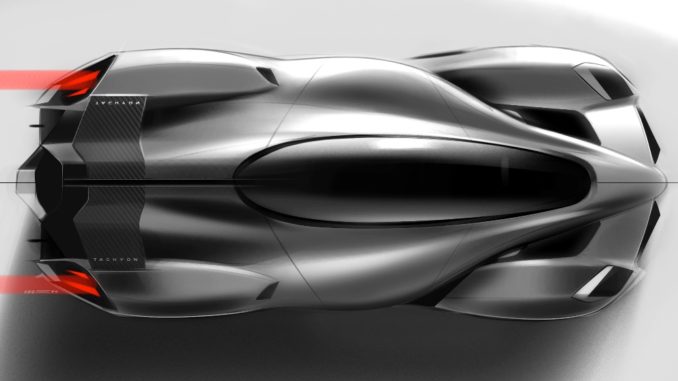 The California company RAESR (Rice Advanced Engineering Systems & Research) has designed and built the hypercar Tachyon Speed, equipped with special technologies.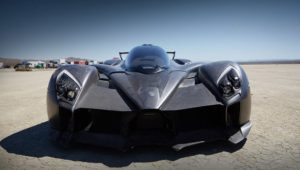 Tachyon Speed ​​is only 40.5 "(1028.7 mm) heigh and 81" (2057.4 mm) wide, equipped with 6 electric motors capable of delivering a power of 1200 HP, with double-hinged front and rear doors and a jet-fighter style canopy.
The Tachyon Speed ​​is an electric hypercar developed from scratch for maximum performance on road and track.
New generation EV technology
Rice Advanced Engineering Systems and Research (RAESR) is a high-end automotive design and technology startup dedicated to creating an exclusive number of hand-built electric and hybrid-electric hypercars.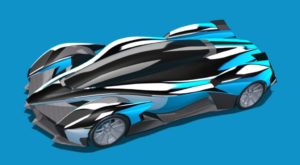 Tachyon Speed ​​is the result of many years of research and development on high-performance electric propulsion systems, state-of-the-art prototyping processes and several studies of energy storage systems.
The design and design work of Tachyon Speed ​​started in southern California in the summer of 2012 with the mission of bringing to reality a new generation electric hypercar, meticulously designed and built with the aim of producing a new class of cars that presents unprecedented driving experience in conventional formats of internal combustion engines (ICE).
The car was born from a modular design philosophy that facilitates customization and allows the creation of new platforms based on advanced systems.
RAESR makes available on request the Powertrain and the batteries inspired by the RAWR Tachyon Speed, also providing design and prototyping services on request.
Technical specifications
Tubular frame in chrome molybdenum (chromoly)
Kevlar interior
Weight and size:
Height: 40.5 "- 1028.7 mm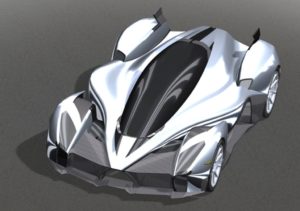 Width: 80.5 "- 2044.7 mm
Length: 195 "- 4953 mm
Dry weight: 2950 LBS – 1338.10 Kg
Performance expected
0-60 mph: under 3.0 sec
0-120 mph: under 7.0 sec
1/4 miles: under 10.0 sec
Maximum speed: Over 240mph – 360km/h
Lateral acceleration: low speed: 1.25GS
high speed: over 2GS
Powertrain: 6 direct drive motors, power of 1250 HP, torque of 365 Lbs / Ft (495 Nm)
Pre-impregnated carbon fiber bodywork
Brakes in ABS and carboceramic
Rear aerodynamic wings adjustables by the driver
four non-adjustable front spoilers
Front splitter and rear diffuser
Cx: 0.39
Frontal area: 17.75 SqFt (1.65 square meters)
Downforce at 150 mph: 400 lbs (181.437 kg) in basic downforce setting
Over 1000 lbs (453.592 kg) in high downforce setting
Adjustable traction control
In-house body parts made with 3D printer in aerospace and nylon polycarbonate
Batteries: 532 Volt DC, 2650 Amp
Peak power: 1 MW
Range in the city: over 150 miles (over 240 km)
Height from the ground variable by the driver, with road and track modes (minimum 1.5 "- 3.81 cm)