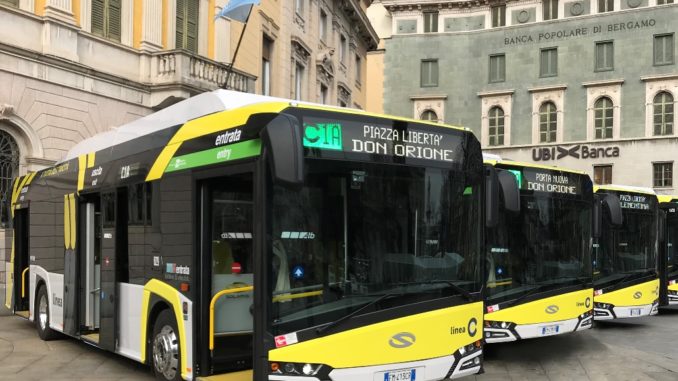 Solaris delivered 12 electric buses to a transport operator from Bergamo, the first vehicles of this type in Italy, manufactured by a Polish producer.
In March this year, there will be another 10 Urbino electric buses supplied to the ATM fleet in Milan.
For Solaris, which has so far delivered nearly 850 vehicles to Italy, the orders from Bergamo and Milan are another proof of the recognition enjoyed on that market. The Italian environment minister Maurizio Martina and the mayor of Bergamo Giorgio Gori, took part in the solemn transfer of the first Solaris electric buses in Italy.
I am very pleased with Italian customers' trust in our brand. By choosing the a proven and industry appreciated design of Solaris Urbino 12 electric, Bergamo has joined many cities of the Apennine Peninsula, where Solaris buses are present. The subject vehicle was awarded the title "Bus of the Year 2017" – says Zbigniew Palenica, Vice CEO of Solaris Bus & Coach.
Urbino electric for the Italian market is powered by axles with integrated 2 x 125 kW traction motors.
Electricity is stored in a set of Solaris High Energy batteries with a total capacity of 240 kWh.
In vehicles for both customers, the manufacturer used a modern touch panel of its own design.
The charger with the option of simultaneously charging two buses with 40 kW of power is used to top up the energy.
While twelve Solaris electric for ATB Bergamo will be the first buses from Bolechowo in this Italian city, they are already well known in Milan. In 2014 and 2015, 125 Urbino12 buses were delivered to ATM Milano from the factory near Poznań. In 2017 alone, there were 225 Solaris buses delivered to Italy.
The largest contract in the history of the Polish manufacturer also comes from the Italian market – 360 InterUrbino buses were ordered by the Roman company Cotral.