Thunder Power rivela un veicolo elettrico al Salone di Francoforte
· Prima mondiale della berlina Thunder Power
· L'eccellenza di progettazione in Europa in combinazione con il design italiano
· Piattaforma EV dedicata ottimizza le prestazioni e l'efficienza
· Le prime vetture previste su strada nel 2017
Fonte: Thunder Power
Francoforte, Germania, 15 Settembre 2015. Il gruppo tecnologico taiwanese Thunder Power ha presentato oggi la sua futura gamma di veicoli elettrici all'IAA 2015. Combinando le proprie competenze in materia di innovazione hi-tech con il meglio del design, della tecnologia e l'ingegneria ha portato ad un rivoluzionario veicolo elettrico per rivaleggiare con il motore a combustione interna tradizionale. Insieme al lusso del posto guida e la perfezione del posto passeggero, l'autonomia è destinata a ridefinire il punto di riferimento per l'innovazione dei veicoli elettrici e le rispettive prestazioni.
Rendere l'EV ancora più veloce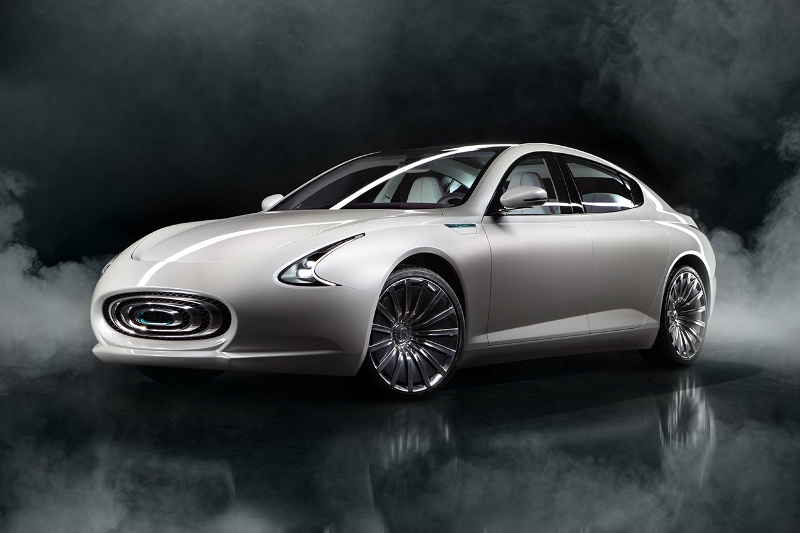 La trazione posteriore Thunder Power Sedan supererà le esigenze del guidatore contemporaneo, offrendo sia prestazioni esaltanti che un invidiabile distanza di massima percorrenza. Con una scelta di configurazioni di alimentazione da 230 kW o 320 kW, la berlina Thunder Power offrirà un'autonomia leader di classe di oltre 650 km con una carica completa – o più di 300 km con una carica di soli 30 minuti. La versione 320 kW accelera fino a 100 km/h in meno di 5,0 secondi e raggiungere una velocità massima di 250 km/h.
In mostra anche al Salone di Francoforte c'è anche il modello all-wheel-drive Race Thunder Power, dimostrando le possibilità e le funzionalità della piattaforma EV dedicata.
Design italiano
All'esterno, lo stile della vettura combina delle performance impressionanti. La berlina Thunder Power è stata progettata dal leggendario studio di Zagato di Milano, un nome presente dietro alcune delle vetture sportive più belle mai costruite. Le linee dinamiche formano una silhouette inconfondibile e potente. La griglia immediatamente riconoscibile è anche un'icona in divenire.
Ingegneria europea
Oltre cinque anni di ricerca e sviluppo hanno contribuito alla realizzazione del veicolo elettrico Thunder Power, lavorando a stretto contatto con i maggiori specialisti europei come Bosch, Dallara e CSI. Il risultato è la creazione di tecnologie avanzate per veicoli elettrici, che ha fissato nuovi standard in termini di prestazioni ed efficienza.
Piattaforma EV dedicata
Dall'ingeneering con una piattaforma avanzata e dedicata da zero, Thunder Power è in grado di ottimizzare l'efficienza dell'architettura del veicolo che permette una serie di vantaggi prestazionali. Svincolato dai problemi precedenti, questo è particolarmente vero in relazione al disegno della batteria e della capacità, una zona così spesso compromessa sui veicoli elettrici derivati da quelli tradizionali.
Il design modulare del pacco batteria con microprocessore da 125 kWh si basa sulla tecnologia delle celle agli ioni di litio ad alta densità di energia. Non solo il pacchetto è più economico da produrre e sono più leggere rispetto ai sistemi concorrenti, ma un innovativo sistema di bilanciamento di carica permetterà anche rallentare l'invecchiamento della batteria e il degrado. Attraverso il piano-integrazione della batteria, il volume superiore fornirà sia la più alta capacità e la più lunga autonomia di guida.
Una struttura ibrida della carrozzeria contribuisce in modo significativo al basso peso complessivo della berlina di sotto 2.000 kg e garantisce un'elevata rigidità statica e dinamica ed efficiente assorbimento di energia. Il design del telaio flessibile, basato su di un sistema modulare unico permette di estendere la gamma da Sedan alle varianti SUV, compatti e Crossover.
Il comfort dell'autista
Guardando l'intera larghezza della plancia, il sistema di TP-Touch rappresenta un nuovo punto di riferimento in materia di sicurezza, interconnettività e intrattenimento. TP-Touch include non solo la strumentazione, infotainment e tutte le applicazioni di comfort dei passeggeri, come video streaming e internet, ma agisce anche come un supporto driver intelligente. Con la fusione e l'elaborazione di tutti i dati di percorrenza e delle prestazioni di entrambi di assistenza alla guida e sistemi di infotainment, TP-Touch fornirà preziosi consigli al guidatore, riducendo al minimo le distrazioni inutili e aumentando così la sicurezza.
Disponibilità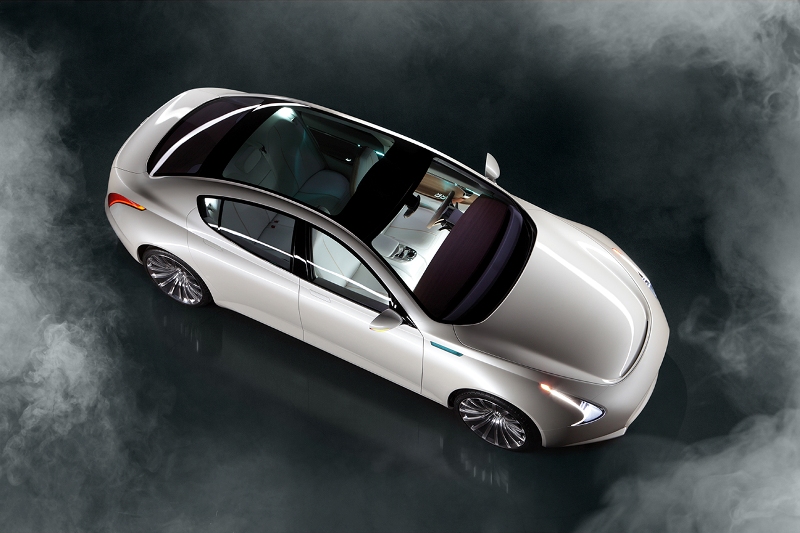 La gamma Thunder Power verrà lanciata in Europa nel 2017 e in Cina nel 2018, seguita dagli USA. L'impianto di produzione principale sarà basato in un sito di 30 ettari a Shaoxing, Zhijiang, in Cina. La sede europea sarà annunciato a tempo debito.
La ricerca e lo sviluppo per tutti i veicoli saranno basati e gestiti dalla sede europea di Thunder Power nei pressi di Milano e supportati da strutture di R&S supplementari sia in Cina continentale, così come negli Stati Uniti.
Il CEO e Presidente Wellen Sham ha detto:
"L'industria dei veicoli elettrici è in continua evoluzione e stiamo facendo in modo di essere un passo avanti. La nostra gamma di veicoli elettrici spingerà i confini. Abbiamo disegnato sulle competenze di designer di classe mondiale e ingegneri europei e dopo cinque anni di ricerca e sviluppo siamo orgogliosi di lanciare la nostra gamma di veicoli di lusso nell'IAA 2015 di Francoforte, uno dei più rinomato saloni dell'auto e conosciuto per la presentazione del ultime tendenze e tecnologie che il settore mette in evidenza. Quindi è un ambiente ideale per mostrare l'anteprima mondiale della nostra gamma di veicoli elettrici ai media, investitori e consumatori. "
Il Dr Ing. Peter Tutzer, Chief Technical Officer ha aggiunto:
"Non è questione di se, ma di quando i veicoli elettrici prenderanno in consegna tutto quello che riguarda i veicoli 'tradizionali', dagli impianti di costruzione di motori a combustione interna. In qualità di produttore di una piattaforma EV dedicata, Thunder Power è in grado di ottimizzare l'efficienza e le prestazioni del veicolo, offrendo al guidatore contemporaneo una proposizione automobilismo senza compromessi e, naturalmente, ad emissioni zero".
Specifiche Tecniche: Thunder Power Sedan
Concetto
Il Sedan Thunder Power è un veicolo elettrico fatto apposta sulla base di moduli di telai flessibili.
Il pacco batteria è piano integrato e massimizzato in volume per la massima capacità.
Infotainment e connettività sono fuse per ottimizzare guidatore e passeggero e di intrattenimento.
Powertrain
Trazione posteriore (Race Version trazione integrale).
Motori elettrici AC con 230 kW o 320 kW.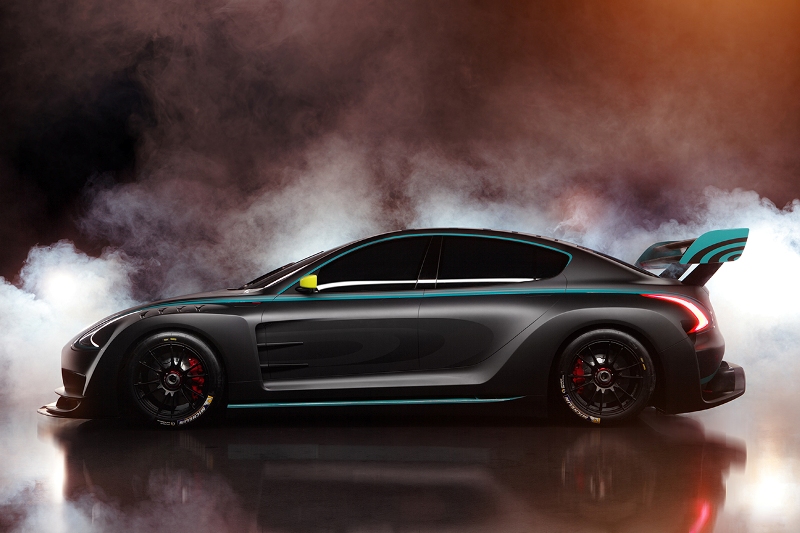 Batteria 125 kWh, a base di cellule agli ioni di litio cilindrici.
Variabile convertitore di frequenza e ad alta efficienza sistema di frenata rigenerativa.
Raffreddato a liquido e controllato da una gestione termica avanzata.
Carica
Sono disponibili due modalità di ricarica.
Il sistema di carica standard bordo carica completa della batteria in meno di 6 ore.
La modalità di ricarica veloce può aggiungere 300 km gamma in meno di 30 minuti o di fornire una carica quasi completa in un'ora.
Carrozzeria
La struttura ibrida riduce il peso, aumenta la rigidità statica e dinamica e ottimizza l'assorbimento di energia.
Telaio
Sospensione anteriore a doppio braccio oscillante, asse sterzante virtuale e molle ad aria opzionali.
Multi sospensione posteriore collegamento con la stabilità migliorando la conformità dello sterzo e sospensioni pneumatiche opzionali.
Il baricentro basso insieme con le sospensioni anteriori e posteriori cinematica e un'elastocinematica fornire una risposta dinamica a ingressi di guida.
Sicurezza e ADAS
Frontale, laterale, Testa, ginocchia, bacino ea tendina.
Frenata d'emergenza automatica.
Avvertimento punto cieco, il Lane Departure e sistema di prevenzione Coalizione.
ABS, ESP e controllo di trazione.
Strumentazione
Lo schermo TP-Touch larghezza incorpora grappolo, infotainment e connettività.
Il cluster è in una posizione fissa e disponibile solo per il conducente.
La posizione delle aree di infotainment e di connettività può essere scambiato per un movimento strisciata.
Infotainment e connettività sono integrati in un unico sistema per fornire i dati pertinenti al conducente senza distrazioni, fornendo allo stesso tempo l'intrattenimento utile e la connettività a tutti gli occupanti.
Prestazione
Potenza / Coppia 230 kW / 320 Nm 320 kW / 560 Nm
Pacco batterie 125 kWh 125 kWh
Minima gamma 650 km minimo 650 km
0-100 km / h <6,0 secondi <5.0 secondi
Velocità massima 210 kmh 250 kmh
In English
Thunder Power reveals electric vehicle range at IAA 2015
·  World Premiere of Thunder Power Sedan
·  European engineering excellence combined with Italian design
·  Dedicated EV Platform optimises performance and efficiency
·  First cars due on the road 2017
Source: Thunder Power
Frankfurt, Germany, September 15 2015: Taiwanese technology group Thunder Power today unveiled its future electric vehicle range at IAA 2015. Combining its expertise in hi-tech innovation with the best of European design, technology and engineering has resulted in a revolutionary electric vehicle proposition to rival the conventional internal combustion engine. Together with luxury driver and passenger refinements, the range is set to redefine the benchmark for electric vehicle innovation and performance.
Taking the EV further, faster
The rear-wheel drive Thunder Power Sedan will exceed the demands of the contemporary driver, offering both exhilarating performance and an enviable maximum journey distance. With a choice of 230 kW or 320 kW power configurations, the Thunder Power Sedan will deliver a class leading range of over 650 km on a full charge – or over 300 km on a mere 30-minute charge. The 320 kW version will accelerate to 100 km/h in under 5.0 seconds and reach a maximum speed of 250 km/h.
Also showcasing at IAA is the Thunder Power all-wheel-drive Race model, demonstrating the technical possibilities and capabilities of the dedicated EV platform.
Italian design
On the exterior, the car's styling matches the impressive performance. The Thunder Power Sedan has been designed by the legendary Zagato studio in Milan, the name behind some of the most beautiful sports cars ever built. Sweeping, dynamic lines form an unmistakably powerful silhouette. The instantly recognisable grill is also an icon in the making.
European engineering
Over five years of research and development have gone into establishing Thunder Power's electric vehicle range, working closely with leading European specialists such as Bosch, Dallara and CSI. The result is the creation of advanced electric vehicle technologies, which set new standards in terms of performance and efficiency.
Dedicated EV platform
By engineering an advanced and dedicated platform from the ground up, Thunder Power is able to optimise the efficiency of the vehicle architecture allowing a series of performance benefits and advantages. Unencumbered by legacy issues, this is especially true in relation to the battery design and capacity, an area so often compromised on electric derivatives of mainstream vehicles.
The modular design of the 125 kWh microprocessor-controlled battery pack is based on unique high-energy-density lithium-ion cell technology. Not only will the pack be cheaper to produce and lighter than competing systems, but an innovative charge balancing system will also slow battery aging and degradation. Through the floor-integration of the battery pack, the superior volume will provide both the highest capacity and longest driving range.
A hybrid body structure contributes significantly to the Sedan's low overall weight of below 2.000 kg and ensures high static & dynamic stiffness and efficient energy absorption. The flexible chassis design based upon a unique modular system allows the range to be extended from Sedan to SUV, Compact and Crossover variants.
Driver Comfort
Spanning the entire width of the dashboard, the TP-Touch system represents a new benchmark in safety, interconnectivity and entertainment. TP-Touch not only includes the instrument cluster, infotainment and all passenger comfort applications such as video streaming and internet, but also acts as an intelligent driver support. By merging and processing all journey and performance data from both driver assistance and infotainment systems, TP-Touch will provide invaluable advice to the driver, minimising unnecessary distractions and thereby increasing safety.
Availability
The Thunder Power range will launch in Europe in 2017 and in China in 2018, followed by the USA. The main manufacturing facility will be based in a 30 Hectare site in Shaoxing, Zhijiang, China. The location of the European production will be announced in due course.
Research & Development for all vehicles will be based and managed from Thunder Power's European headquarters near Milan and supported by additional R&D facilities in both mainland China as well as in the USA.
CEO and Chairman Wellen Sham said, "The electric vehicle industry is constantly evolving and we are making sure that we are one step ahead. Our range of electric vehicles will push the boundaries. We have drawn on the expertise of world-class European designers and engineers and after five years of research and development we are proud to launch our luxury range of vehicles at IAA 2015. Frankfurt is one of the highest profile motor shows and known for showcasing the latest trends and technological industry highlights. So it's a perfect setting to showcase the world premiere of our electric vehicle range to the media, investors and consumers."

Dr Ing. Peter Tutzer, Chief Technical Officer added, "It is not a question of if, but when Electric Vehicles will go 'mainstream' and take over from the internal combustion engine cars. As a manufacturer of a dedicated EV platform, Thunder Power is able to optimise both vehicle efficiency and performance, offering the contemporary driver a motoring proposition without compromise and of course with zero emissions."
Specifications:  Thunder Power Sedan
Concept
The Thunder Power Sedan is a purpose made electric vehicle based on flexible chassis modules.
The battery pack is floor integrated and maximised in volume for the highest capacity.
Infotainment and connectivity are merged to optimise driver and passenger and entertainment.
Powertrain
Rear Wheel Drive (Race Version all-wheel drive).
AC electric motors with 230 kW or 320 kW.
125 kWh battery pack, based on cylindrical lithium-ion cells.
Variable frequency drive inverter and high efficiency regenerative braking system.
Liquid cooled and controlled by an advanced thermal management.
Charging
Two charging modes are available.
The onboard standard charging system fully charges the battery in less than 6 hours.
The fast charging mode can add 300km range in under 30 minutes or provide an almost full charge in one hour.
Body
The hybrid structure reduces weight, increases static and dynamic stiffness and optimises energy absorption.
Chassis
Front suspension with double wishbone, virtual steer axis and optional air springs.
Multi link rear suspension with stability enhancing compliance steering and optional air springs.
The low centre of gravity together with the front and rear suspensions kinematics and elastokinematics provide a dynamic response to driving inputs.
Safety and ADAS
Front, side, head, knees, pelvis and curtain airbags.
Automatic emergency braking.
Blind spot warning, Lane departure & Coalition avoidance system.
ABS, ESP and Traction Control.
Instrumentation
The full width TP-Touch screen incorporates cluster, infotainment and connectivity.
The cluster is in a fixed position and available only for the driver.
The position of the infotainment and connectivity areas can be interchanged by a swiping motion.
Infotainment and connectivity are integrated into a single system to provide relevant data to the driver without distraction, while also providing useful entertainment and connectivity to all occupants. Performance
Power / Torque                          230 kW / 320 Nm                                  320 kW / 560 Nm
Battery pack                                125 kWh                                     125 kWh
Range                                          minimum 650 km                    minimum 650 km
0-100 km/h                             < 6.0 seconds                                              < 5.0 seconds
Maximum speed                       210 km/h                                                     250 km/h
no images were found