Fonte: Rimac Automobili
Monterrey, California. USA. 16 Agosto 2017. Ogni anno nel mese di agosto, la tanto attesa Monterey Auto Week in California ospita le auto più audaci del mondo. Nel corso della settimana, Rimac Automobili presenterà la sua Concept_One al pubblico selezionato del McCall Motorworks Revival Jet Center e al The Quail, un Raduno di Motorsport.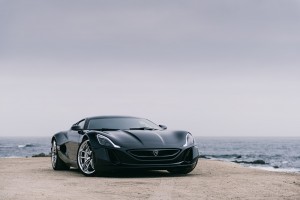 Questi eventi di fama mondiale mettono in luce auto e motorsport attraendo i professionisti e gli appassionati di auto. L'evento di McCall di tutta eleganza e stile si terrà il 16 Agosto. La più bell'ingegneria e design automobilistici saranno mostrati nel grande ambiente garden party al The Quail, un Motorsports Gathering il 18 di agosto.
Due delle otto hypercar fatte su misura Concept_One verranno viste in entrambi gli eventi, dove sarà in mostra la tecnologia all'avanguardia model year 2018.
"Questi eventi hanno un'atmosfera speciale" – dice il Head of Hypercar Sales di Rimac Automobili, Krešimir Ćorić: "E 'importante per noi impegnarci nella passione condivisa tra le case automobilistiche ed i clienti."
Rimac Concept_One porta l'eleganza e la potenza al McCall ed a The Quail e porta fino in fondo verso l'emozionante futuro delle automobili iper.
E' tutto qui: la prestazione eccezionale, gli sguardi mozzafiato e il suono particolare della macchina di livello superiore – testimoniano la storia in divenire al Monterey Car Week 2017.
Le biciclette Greyp danno un tocco di divertimento
Oltre le automobili Rimac Concept_One viste al Monterey Auto Week si aggiungono le bike Greyp G12S, offrendo un'abbinamento elegante di tecnologia all'avanguardia e tanto divertimento di guida.
Le biciclette Greyp G12S sono una vetrina della tecnologia hypercar utilizzata per produrre la più avanzata bicicletta elettrica ad alte prestazioni del mondo. La velocità massima elettronicamente limitata di 70 km/h e l'autonomia senza precedenti di 120 km rendono un pendolare urbano dominante, mentre le sospensioni e la potenza di picco da 12 kW, disponibili in qualsiasi momento, vi condurrà in qualsiasi avventura off-road.
In English
Rimac Concept_One at the Pebble Beach and Monterrey Car Week 2017
Source: Rimac Automobili
Monterrey, California. USA. 16 Agosto 2017. Every year in August, the much-anticipated Monterey Car Week in California is home to the most audacious cars in the world. Over the course of the week, Rimac Automobili will present its Concept_One to the selected audience at McCall's Motorworks Revival Jet Center and at The Quail, a Motorsports Gathering.
These world-renowned events highlight cars and motor-sports attracting car professionals and enthusiasts. McCall's event in all-around elegance and style shall take place on the 16th of August. The finest of the automotive engineering and design will be shown in the grand garden party setting at The Quail, A Motorsports Gathering on 18th of August.
Two out of eight bespoke Concept_One hypercars ever to be produced will be displayed on both events, showcasing the cutting edge technology in 2018 Year Model.
"These events have a special atmosphere," Head of Hypecar Sales of Rimac Automobili, Krešimir Ćorić said: "It is important for us to engage in the shared passion among carmakers and customers."
Rimac Concept_One brings the elegance and power to McCall's and The Quail and leads the way into the exciting future of hypercars. It is all here: the outstanding performance, the stunning looks, and the intense sound of the next-level machine – witness the history in the making at the Monterey Car Week 2017.
Greyp Bikes giving it a fun twist
Rimac Concept_One cars displayed at the Monterey Car Week are joined by the Greyp G12S bikes delivering a stylish package of cutting-edge technology and a whole lot of fun.
Greyp Bikes G12S is a showcase of hypercar technology trickled down to produce the most advanced high-performance electric bicycle out there. The electronically limited top speed of 70 km/h and unparalleled 120 km range make it a dominant urban commuter while full suspension construction and 12 kW of peak power, available at any given time, will take you on any off-road adventure.
no images were found

.