Nissan Leaf unico veicolo elettrico a ricevere il "Loyalty Award" 2014 da IHS Automotive
Fonte: Nissan Italia
Nashville, Tennessee. USA.  6 Febbraio 2015. A seguito dei dati di vendita record registrati nel 2014, Nissan LEAF continua a ricevere riconoscimenti e viene eletta "Migliore compatta tradizionale non di lusso" agli IHS Automotive Loyalty Awards. L'elettrica LEAF, l'unico veicolo elettrico a essere premiato da IHS, è stata insignita dell'importante riconoscimento nel corso dell'Automotive News World Congress al Salone dell'Auto di Detroit.
Gli IHS Automotive Loyalty Awards vengono conferiti ogni anno alle case automobilistiche e ai brand che dimostrano la capacità di fidelizzare i clienti su più cicli di acquisto. Si tratta degli unici riconoscimenti basati su dati reali attribuiti in ambito automotive.
"Dal lancio sul mercato nel 2010, Nissan LEAF ha costantemente guadagnato consensi in tutti gli Stati Uniti", afferma Toby Perry, direttore marketing per Nissan LEAF. "Mentre tra i primi acquirenti la maggioranza era costituita da convinti sostenitori della mobilità elettrica, oggi sono sempre più numerosi i clienti di auto "normali" che si innamorano di LEAF per i tanti vantaggi economici, il divertimento di guida che la caratterizza e gli interni spaziosi. I fan di Nissan LEAF sono tra i clienti più fedeli al mondo, e siamo davvero felici di vederci riconoscere questo successo attraverso il premio conferito da IHS".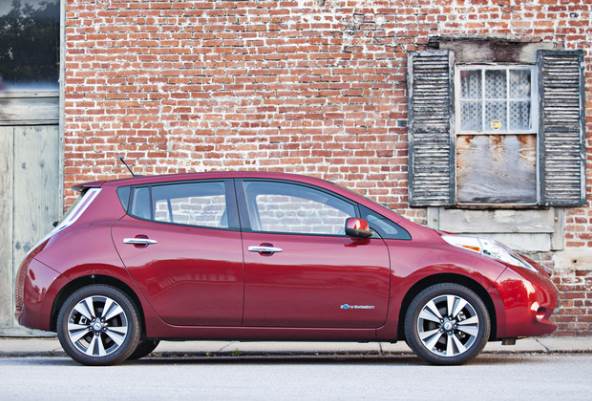 IHS Automotive analizza la fedeltà dei consumatori nel corso dell'anno e lavora regolarmente con i propri clienti per gestire con efficacia livelli di fedeltà e iniziative di conquista attraverso approfondite ricerche e analisi dei comportamenti di acquisto nel settore automotive, dei fattori di influenza sul mercato e delle strategia di conquista e fidelizzazione. La fedeltà si determina quando una famiglia che possiede un nuovo veicolo torna sul mercato e acquista o prende in leasing un altro veicolo nuovo della stessa marca, modello o produttore.
Per scoprire l'elenco completo dei vincitori degli IHS Automotive Loyalty Awards, visitare press.ihs.com.
Nissan North America
In Nord America, Nissan svolge attività di design e progettazione automobilistica, finanziamento a privati e aziende, vendite e marketing, distribuzione e produzione. Nissan ha assunto un preciso impegno ambientale nell'ambito del programma Nissan Green Program ed è stata nominata ENERGY STAR® Partner of the Year nel 2010, 2011, 2012 e 2014 dalla U.S Environmental Protection Agency. Per ulteriori informazioni su Nissan in Nord America e sulle gamme Nissan e Infiniti, visitare www.NissanUSA.com e www.InfinitiUSA.com o i siti americani per i media NissanNews.com e InfinitiNews.com.
IHS Automotive
IHS Automotive, che fa capo a IHS Inc. offre ai clienti i contenuti più completi e le competenze e conoscenze più approfondite disponibili oggi, in qualunque angolo del mondo, sul settore automobilistico. Con l'acquisizione di Polk lo scorso anno, IHS Automotive è oggi in grado di offrire competenze e insight predittivi sull'intera catena del valore automobilistica, dalla nascita del prodotto – passando per progettazione e produzione – alla vendita e alle attività di marketing volte a massimizzare il potenziale sul mercato. Nessun'altra azienda è in grado di fornire un quadro tanto completo del settore automotive globale. IHS è il provider leader di informazioni, insight e analisi nei settori chiave che disegnano il panorama del business odierno. Attiva sin dal 1959, IHS si è quotata alla Borsa di New York nel 2005. Con sede a Englewood, Colorado, USA, IHS persegue una crescita sostenibile e redditizia e conta un organico di circa 8.800 persone in 32 paesi del mondo.
no images were found