• Prima piattaforma di veicoli al mondo con tre motorizzazioni elettrificate, rendendo la mobilità a basse emissioni o a zero emissioni accessibile a tutti
• L'innovativa Ioniq offre ai clienti un'esperienza di guida e design senza compromessi
• Inaugurazione della gamma Ioniq al Salone di Ginevra è disponibile in diretta streaming
Fonte: Hyundai Motor Company
High Wycombe, Gran Bretagna. 24 febbraio 2016 – Al Salone di Ginevra 2016, Hyundai Motor presenta gamma della Nuova Hyundai Ioniq, composta da: Ioniq ibrida, Ioniq elettrica e Ioniq plug-in. Primo modello al mondo che offre tre motorizzazioni elettrificate, Ioniq renderà accessibile a tutti la mobilità a emissioni zero. Il nuovo approccio di Hyundai Motor offre un design ed un'esperienza di guida senza compromessi attraverso la tecnologia innovativa e offre ai clienti le più recenti tecnologie di connettività e sicurezza.
La Nuova Hyundai Ioniq è una tappa importante della strategia di sostenibilità di Hyundai Motor, portando sul mercato nuove tecnologie innovative ed estendendo la gamma di prodotti dell'azienda in modo di sostenere ulteriormente la crescita organica delle vendite in Europa.
Jochen Sengpiehl, Vice Presidente Marketing di Hyundai Motor Europe, ha dichiarato:
"Ioniq è un importante passo avanti per il nostro marchio. Stiamo portando un nuovo approccio unico per la mobilità elettrica, senza compromessi sul design, il piacere di guida e la connettività. E lo stiamo rendendolo accessibile a più clienti, estendendo ulteriormente la nostra linea di prodotti".
L'ibrida Ioniq e Ioniq plug-in saranno presentani con il nuovo motore Kappa 1.6 litri GDI, ad iniezione diretta di benzina, motore a quattro cilindri con un rendimento termico del 40 per cento, leader della categoria, in grado di fornire 105 CV e 147 Nm di coppia. Il motore è stato adattato per l'applicazione ibrida ed è combinato con la trasmissione a sei marce a doppia frizione – differenziando la Ioniq dalla concorrenza con una esperienza di guida più dinamica. Il motore elettrico accoppiato consente la guida elettrica pura e sviluppa una coppia istantanea che permette al telaio con sospensioni posteriori multi-link delle dinamiche di guida notevolmente migliorata.
Il motore elettrico Hybrid Ioniq eroga 32 kW (43,5 CV) con una coppia massima di 170 Nm, alimentato da una batteria ai polimeri di litio-ione con capacità di 1,56 kWh posizionato sotto i sedili posteriori. In combinazione con il motore 1.6 litri GDI Ioniq ibrido offre una uscita del sistema di 103,6 kW (141 CV) e fino a 265 Nm di coppia di accelerazione ad una velocità massima di fino a 185 km/h (115 mph), con emissioni di CO2 miratamente bassa di 79 g/km (combinato).
I conducenti che scelgono la plug-in Ioniq possono contare tranquillamente con circa più di 50 chilometri (31 miglia) di autonomia in pura guida elettrica alimentata dal potente pacco batteria ai polimeri di litio-ione da 8,9 kWh. I 45kW (61 CV) del motore elettrico con il 1.6 litri GDI a quattro cilindri del motore Kappa prevedono obiettivi di emissioni di CO2 a partire da 32 g/km.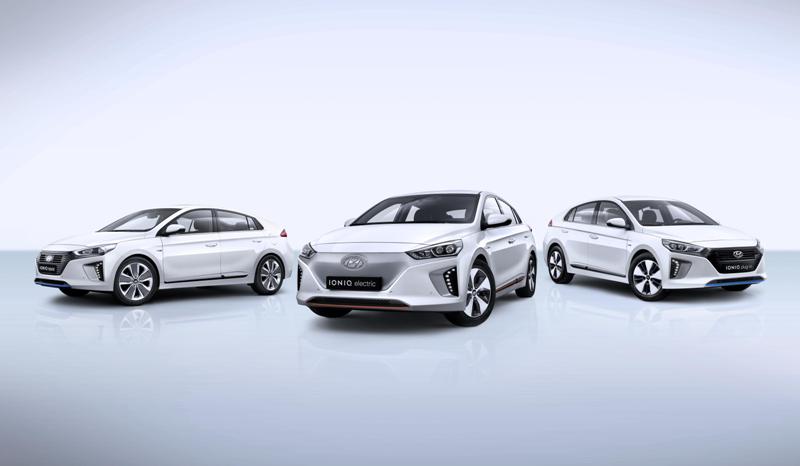 La Ioniq Electric offre e-mobility pura attraverso una batteria di 28 kWh agli ioni di litio polimero per una'autonomia stimata di oltre 250 km (155 miglia). La coppia massima istantaneamente disponibile di 295 Nm viene erogata dal motore elettrico con potenza massima di 88 kW (120 PS) attraverso la trasmissione a riduttore di singola velocità accelerando la vettura fino a 165 km/h (103 mph).
L'esperienza del cliente all'interno della gamma Ioniq si arricchisce attraverso le caratteristiche dello stato dell'arte come la connettività Android Auto, Apple Car Play così come Tom Tom Live Services e ricarica wireless dello smartphone. Inoltre, l'esperienza di guida diventa digitale attraverso il quadro strumenti TFT da 7 pollici che visualizza tutte le informazioni chiave.
Un pacchetto di sicurezza olistico e innovativo tra cui Autonomous Emergency Braking, Lane Keep Assist System, Blind Spot Detection, Rear Cross Traffic Alert e Smart Cruise Control assicurano livelli elevati di sicurezza per conducenti e passeggeri.
Tutte le versioni sono dotate di profilo aerodinamico elegante con un valore Cd di classe-principale di 0,24. Un fluido canale di flusso d'aria naturale esterno sottolinea le linee aerodinamiche ed i volume della carrozzeria.
Gli accenti blu sull'Hybrid Ioniq e sulla Ioniq plug-in risaltano gli elementi specifici sulla parte esterna e al suo interno per un design senza soluzione di continuità. La Ioniq elettrica dispone di accenti di colore rame esclusivo per significare che l'elettricità fluisce attraverso l'interno della vettura.
Thomas A. Schmid, Chief Operating Officer di Hyundai Motor Europe, ha dichiarato:
"Con il nostro veicolo elettrico pionieristico ix35 Fuel Cell e molti modelli ibridi e ibridi plug-in venduti in tutto il mondo, Hyundai Motor ha già una capacità dimostrata in propulsori elettrificati. Ora, con il lancio del nostro primo modello dedicato, stiamo prendendo un vantaggio essendo l'unico costruttore di automobili con ibridi, elettrici, ibridi plug-in e veicoli a celle a combustibile in produzione".
La gamma della Nuova Hyundai Ioniq celebrerà il suo debutto mondiale al Salone di Ginevra il 1° marzo in occasione della conferenza stampa di Hyundai alle 10:30 CET.
Diretta della conferenza stampa al Salone di Ginevra sarà disponibile presso:
httpv://livestream.com/HyundaiEurope/GIMS2016
Trasmissione di pre-spettacolo inizia alle 10:15 CET il Martedì 1 marzo 2016.
Tutte le specifiche tecniche sono preliminari e soggetti a omologazione.
In English
All-New Hyundai IONIQ line-up electrifies Geneva Motor Show
World's first vehicle platform with three electrified powertrains, making low- to zero-emission mobility accessible to everyone
Innovative IONIQ offers customers uncompromised driving experience and design
Unveiling of the IONIQ line-up at the Geneva Motor Show is available as live stream
ce: Hyundai Motor Company
High Wycombe, UK. 24 February 2016 – At the Geneva Motor Show 2016, Hyundai Motor is introducing the All-New Hyundai IONIQ line-up, consisting of: IONIQ Hybrid, IONIQ Electric and IONIQ Plug-in. The world's first model offering three electrified powertrains, IONIQ will make low-to zero-emission mobility accessible to everyone. The new approach of Hyundai Motor delivers an uncompromised design and driving experience through innovative technology, and offers customers the latest connectivity and safety technologies.
The All-New Hyundai IONIQ is an important milestone of Hyundai Motor's sustainability strategy, bringing to market new innovative technologies and extending the company's product range to support further organic sales growth in Europe.
Jochen Sengpiehl, Vice President Marketing at Hyundai Motor Europe, said:
"IONIQ is an important step forward for our brand.  We are bringing a unique new approach to e-mobility, with no compromise on design, driving pleasure and connectivity. And we're making it accessible to more customers, further extending our product line-up."
The IONIQ Hybrid and IONIQ Plug-in both feature the new Kappa 1.6-litre GDI, direct injection petrol, four-cylinder engine with a class-leading thermal efficiency of 40 per cent delivering 105 PS and 147 Nm of torque. The engine has been tailored to the hybrid application and is combined with the direct responding, smooth shifting six-speed double clutch transmission – differentiating the IONIQ from its competitors with a more dynamic driving experience. The mated electric motor enables pure electric driving and delivers instant torque as the chassis with rear multi-link suspension greatly enhances driving dynamics.
The IONIQ Hybrid's electric motor delivers 32 kW (43.5 PS) with maximum torque of 170 Nm, powered by a lithium-ion polymer battery with 1.56 kWh capacity positioned under the rear seats. In combination with the 1.6-litre GDI engine IONIQ Hybrid offers a system output of 103.6 kW (141 PS) and up to 265 Nm of torque accelerating to a top speed of up to 185 km/h (115mph) with targeted CO2 emissions as low as 79 g/km (combined).
Drivers choosing the IONIQ Plug-in can safely rely on approximately over 50 kilometres (31 miles) of estimated pure electric driving range powered by the potent 8.9 kWh lithium-ion polymer battery. The 45kW (61 PS) electric motor together with the 1.6-litre  GDI four-cylinder Kappa engine targets CO2 emissions as low as 32 g/km.
The IONIQ Electric offers pure e-mobility through a 28 kWh Lithium-ion Polymer battery for an estimated range of over 250 km (155 miles). The instantly available maximum torque of 295 Nm is delivered by the electric motor with maximum output of 88 kW (120 PS) through the single-speed reducer transmission accelerating the car up to 165 km/h (103mph).
The customer experience inside the IONIQ line-up is enhanced through state-of-the art connectivity features like Android Auto, Apple Car Play as well as Tom Tom live services and wireless charging of your smartphone. Furthermore, the driving experience becomes digital through the 7-inch TFT instrument cluster displaying all key driver information.
A holistic and innovative safety package including Autonomous Emergency Braking, Lane Keep Assist System, Blind Spot Detection, Rear Cross Traffic Alert and Smart Cruise Control ensures high safety levels for drivers and passengers alike.
All versions feature the sleek aerodynamic silhouette with a class-leading Cd value of 0.24. A fluid exterior shape and natural air flow channels emphasize the aerodynamic body lines and volumes.
Blue accents on the IONIQ Hybrid and IONIQ Plug-in emphasize specific elements on the exterior and in the interior for a seamless design.  The IONIQ Electric features exclusive copper coloured accents to signify electricity flowing through the car's interior.
Thomas A. Schmid, Chief Operating Officer at Hyundai Motor Europe, said:
"With our pioneering ix35 Fuel Cell electric vehicle and several hybrid and plug-in hybrid models sold around the world, Hyundai Motor already has a proven capability in electrified powertrains. Now, with the launch of our first dedicated model, we are taking the lead as the only car manufacturer with hybrid, electric, plug-in hybrid and fuel cell vehicles in production."
The All-New Hyundai IONIQ Line-up will celebrate its world premiere at the Geneva Motor Show on March 1 at the Hyundai Press Conference at 10:30 CET on the Hyundai stand (No. 1040).
Livestreaming of the press conference at the Geneva Motor Show will be available at:
httpv://livestream.com/HyundaiEurope/GIMS2016
Broadcast of pre-Show begins at 10:15 CET on Tuesday 1 March 2016.
All technical specifications are preliminary and subject to homologation.
no images were found

.