Kia Motors introduce il nuovo sub-brand 'Drive Wise' per le tecnologie di guida autonoma
• Kia 'DRIVE WISE' comprende i futuri sistemi di assistenza avanzata al conducente
• Tecnologie di sicurezza Intelligent Drive WISE esposte al 2016 Consumer Electronics Show di Las Vegas
• Lo stato americano del Nevada concede licenza a Kia per testare Kia EV a guida autonoma su strade pubbliche
• Introduzione delle tecnologie di guida parzialmente autonoma entro il 2020, con l'arrivo di veicoli completamente autonomi previsti entro il 2030
Fonte: Kia Motors UK
Londra, Gran Bretagna. 6 Gennaio 2016. Kia Motors ha presentato oggi il lancio di un nuovo sub-brand, 'Drive Wise', che comprende i suoi futuri Advanced Driver Assistance Systems (ADAS). Drive Wise incarna la filosofia Kia di realizzare veicoli sicuri e intelligenti caratterizzati dalle recenti e le future tecnologie Kia ADAS. Kia ha recentemente annunciato l'intenzione di produrre vetture parzialmente autonome entro il 2020 e mira a portare il suo primo veicolo completamente autonomo sul mercato entro il 2030.
Debuttando al Consumer Electronics Show (CES) 2016 di Las Vegas, dal 6 al 9 gennaio, la spinta innovativa delle tecnologie Wise di Kia sono attualmente in fase di sviluppo. Progettate per migliorare la sicurezza per tutti gli utenti della strada, Drive Wise consentirà Kia di introdurre tecnologie di sicurezza intelligenti per la sua futura gamma di modelli, contribuendo ad eliminare potenziali pericoli e, per alcuni, la noia della guida, pur cambiando il modo in cui i proprietari interagiscono con i loro veicoli.
Più tardi nel corso dell'anno, Kia presenterà molte delle sue innovative tecnologie Wise nelle nuove unità nel Salone di Ginevra 2016, dove i visitatori saranno in grado di visualizzare in anteprima le future tecnologie di guida e di assistenza autonome Kia.
Kia svela la tecnologia Drive Wise al CES 2016
Al CES 2016 Kia illustra la progressione delle sue tecnologie di guida autonome, tra quelli disponibili nei modelli attuali con caratteristiche di avanguardia e quelle in fase di sviluppo nel corso dei prossimi 15 anni, sotto la bandiera Drive Wise. La mostra Kia al Salone sempre più popolare offre ai visitatori la possibilità di sperimentare una serie di tecnologie e concetti di nuova generazione con esposizioni interattive.
Tae Won-Lim, Senior Vice President, Central Advanced Research and Engineering Institute di Hyundai Motor Group, ha commentato:
"Kia sta subendo un processo molto promettente e graduale per introdurre le tecnolgie di guida parzialmente e completamente autonome nei i suoi veicoli. Anche se la prima macchina completamente autonoma commercializzabile da Kia non sarà disponibile nell'immediato futuro, il lavoro che i nostri team di ricerca e sviluppo stanno facendo per sviluppare la nostra gamma di tecnologie Drive Wise sta già migliorando la sicurezza su strada e l'assistenza alla guida. Le novità presentate al salone di quest'anno dimostrano la direzione futura che stiamo prendendo".
Tecnologie Drive Wise per migliorare la sicurezza su strada
Entro il 2020, Kia mira a introdurre la sua prima vettura parzialmente autonoma con tecnologie Drive Wise, sulla base dell'attuale generazione di sistemi di assistenza alla guida.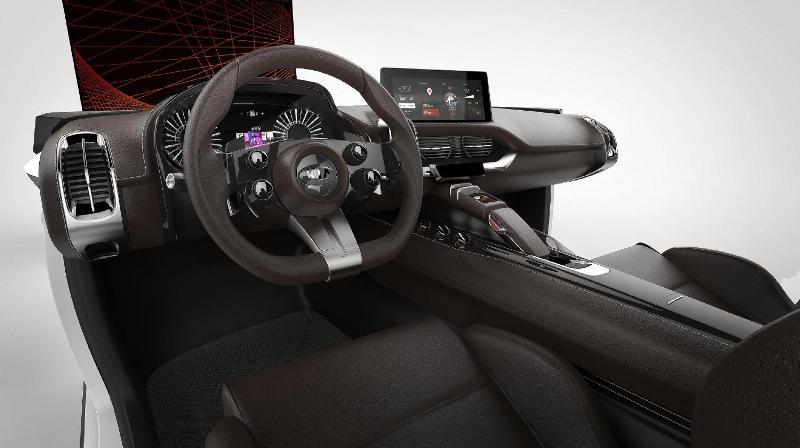 Le tecnologie più avanzate in fase di sviluppo da parte di Kia forniscono al guidatore maggiori livelli di assistenza, anticipando e reagendo ai cambiamenti delle condizioni stradali ed ai rischi potenziali per migliorare la sicurezza per tutti gli utenti della strada. Contribuendo a eliminare molti dei pericoli inerenti, le tensioni e fastidi di guida su strade congestionate di oggi, Drive Wise consentirà ai proprietari di concentrarsi maggiormente sui piaceri della guida.
Le future tecnologie Drive Wise di Kia in mostra al CES 2016 includono Tipo di guida autonoma in Autostrada, guida autonoma Urbana, a seguito del veicolo precedente, Emergency Stop System, Trafic Jam Assist, un nuovo parcheggio autonomo e la funzione Out:
• Guida autonoma Tipo Autostrada (HAD) impiega una combinazione di sistemi radar e di rilevamento della fotocamera per interpretare la segnaletica orizzontale, permettendo alla vettura di rimanere nella sua corsia o passare in altra per il sorpasso di altri veicoli o seguire una strada diversa; il tutto senza contributo di conducente.
• Guida autonoma Urbana (UAD) si applica il GPS ed i sensori per identificare la posizione della macchina sulla strada, permettendogli di navigare in modo sicuro attraverso ambienti cittadini densamente congestionati, anche in risposta dal vivo agli aggiornamenti sul traffico.
• Veicolo precedente (PVF) è un avanzato sistema di mantenimento corsia che controlla il veicolo che precede e permette alla vettura di calcolare il suo percorso proprio relativo ad esso, seguito a distanza di sicurezza, se la segnaletica orizzontale sono indecifrabili a causa di cattive condizioni o dal tracciato viario.
• Emergency Stop System (ESS) opera in correlazione con il sistema di controllo Kia dello stato del conducente (DSM), analizzando il volto del conducente, garantendo che la loro attenzione non si allontani dalla strada per troppo tempo. Se rileva che gli occhi del guidatore non guardano la strada per troppo tempo, ESS può dirigere automaticamente la vettura in un'apposita corsia laterale per una battuta d'arresto in sicurezza.
• Traffic Jam Assist (TJA) controlla il veicolo che precede in condizioni di traffico congestionato, mantenendo una distanza di sicurezza dal veicolo che precede e lo spostamento in appositi spazi in modo di guadagnare terreno.
• Servizio Autonomo auto permette al guidatore di uscire dalla macchina e lasciare che il veicolo stesso parcheggi in modalità remota, attivata con la chiave intelligente o uno smartwatch.
Drive Wise Technologies sono progettate principalmente per rendere la guida più sicura e più facile per i clienti Kia identificando i pericoli alla prima occasione possibile e permettendo al conducente – o la macchina – di prendere i provvedimenti opportuni, anche se i conducenti li possono aggirare con controlli diretti, che consente di intensificare il controllo di l'auto, se lo desiderano.
Interazione veicolo di nuova generazione
Drive Wise Technologies inoltre facilita la comunicazione e l'interazione tra il conducente e il veicolo con Human Machine Interface (HMI) funzioni innovative nuove, quali il controllo gesti, sensori di impronte digitali e la connettività del dispositivo smart.
In primo piano in una speciale mostra I-cockpit al CES, la prossima generazione di Kia HMI si basa sul concetto di 'controllo cieco', con un touchpad di impronte digitali e riconoscimento dei gesti utilizzati per effettuare i controlli della vettura. Riconoscendo automaticamente le preferenze del guidatore individuale all'avvio – in base alla loro impronte digitali o allo smartwatch – l'automobile può cambiare immediatamente l'atmosfera della cabina per il conducente con la sua musica preferita, il controllo della temperatura preferita e il tipo di informazioni visualizzate dal cruscotto.
I gesti del conducente sono riconosciuti dalla I-Cockpit se vogliono modificare le impostazioni in cabina, senza distogliere lo sguardo dalla strada.
Licenza concessa a testare Kia Drive Wise su strade pubbliche nel Nevada
L'investimento preliminare da Kia – per un totale di 2 miliardi di dollari entro il 2018 – consentirà alla società il veloce sviluppo delle sue nuove tecnologie Drive Wise. Lo stato americano del Nevada ha recentemente concesso Kia una licenza speciale per testare le nuove tecnologie su strade pubbliche. La Kia Soul EV – prima auto elettrica a livello globale venduta della società – agisce come banco di prova del marchio per lo sviluppo di tecnologie di nuova generazione Wise Drive, quanto ci vuole per le strade intorno Death Valley.
Vetture completamente autonome sul mercato entro 15 anni
Chiave per il futuro delle tecnologie Drive Wise di Kia è lo sviluppo del suo veicolo con tutto il sistema (V2X) di comunicazioni. Secondo Kia, per far avanzare le sue tecnologie ADAS parzialmente autonome quanto basta per portare il vero 'auto auto-guida' sul mercato entro il 2030, V2X deve essere pienamente integrato in ambienti di guida reali ed essere in grado di reagire come un conducente umano.
V2X applica una serie di sensori, radar, LiDAR (Light Detection And Ranging Radar) e telecamere esterne, in grado di percepire l'ambiente circostante e tutti gli ostacoli rilevanti, come un conducente umano fa. Il sistema incorpora le tecnologie veicolo-a-veicolo (V2V) nonché veicolo-infrastruttura (V2I), permettendo alla macchina di riconoscere, giudicare e controllare ogni scenario di guida, ostacolo o potenziale minaccia.
Ecco il film promozionale delle tecnologie Kia Drive Wise
httpv://www.youtube.com/watch?v=w6fX2fCK264
In English
Kia Motors introduces new "Drive Wise" sub-brand for Autonomous Driving Technologies
Kia 'DRIVE WISE' encompasses future Advanced Driver Assistance Systems
DRIVE WISE intelligent safety technologies exhibited at 2016 Consumer Electronics Show in Las Vegas
U.S. state of Nevada grants licence to Kia to test autonomous Kia Soul EV on public roads
Introduction of partially-autonomous driving technologies by 2020, with arrival of fully-autonomous vehicles targeted by 2030
Source: Kia Motors UK
London, UK. January 6, 2016. Kia Motors has today introduced the launch of a new sub-brand, 'Drive Wise', to encompass its future Advanced Driver Assistance Systems (ADAS). Drive Wise embodies Kia's philosophy to realise intelligently safe vehicles featuring Kia's latest and forthcoming ADAS technologies. Kia recently announced plans to manufacture partially-autonomous cars by 2020, and aims to bring its first fully-autonomous vehicle to market by 2030.
Debuting at the 2016 Consumer Electronics Show (CES) in Las Vegas, 6-9 January, Kia's innovative Drive Wise technologies are currently under development. Engineered to improve safety for all road users, Drive Wise will enable Kia to introduce intelligent safety technologies to its future model range, helping to eliminate potential dangers – and, for some, the tedium – of driving, while changing the ways in which owners interact with their vehicles.
Later in the year, Kia will showcase many of its innovative new Drive Wise technologies at the 2016 Geneva Motor Show, where visitors will be able to preview Kia's future autonomous driving and assistive technologies.
Kia unveils Drive Wise technologies at CES 2016
Kia's CES 2016 illustrates the progression of its autonomous driving technologies, from those available in current models to cutting-edge features being developed over the next 15 years under the Drive Wise banner. Kia's exhibit at the increasingly popular show gives visitors the chance to experience a host of next-generation technologies and concepts with interactive displays.
Tae-Won Lim, Senior Vice President, Central Advanced Research and Engineering Institute of Hyundai Motor Group, commented:
"Kia is undergoing a very promising and gradual process of introducing partially and fully autonomous technologies to its vehicles. Although the first marketable fully-autonomous car from Kia will not be available in the immediate future, the work our R&D teams are currently doing to develop our range of Drive Wise technologies is already improving on-road safety and driver assistance. The innovations presented at this year's show demonstrate the future direction we are taking."
Drive Wise technologies to improve on-road safety
By 2020, Kia aims to introduce its first partially-autonomous car with Drive Wise technologies, building upon the current generation of driver-assistance systems.
The more advanced technologies under development by Kia provide the driver with greater levels of assistance, anticipating and reacting to changing road conditions and potential hazards to improve safety for all road users. By helping to eliminate many of the inherent dangers, stresses and hassles of driving on today's congested roads, Drive Wise will enable owners to focus more on the pleasures of driving.
Kia's future Drive Wise technologies on display at CES 2016 include Highway Autonomous Driving, Urban Autonomous Driving, Preceding Vehicle Following, Emergency Stop System, Traffic Jam Assist and a new Autonomous Parking & Out function:
Highway Autonomous Driving (HAD) employs a combination of radar and camera detection systems to interpret lane markings, allowing the car to stay in its lane or switch into others to overtake other vehicles or follow a different road; all without driver input.
Urban Autonomous Driving (UAD) applies GPS and sensors to identify the car's position on the road, allowing it to safely navigate through densely-congested city environments while responding to live traffic updates.
Preceding Vehicle Following (PVF) is an enhanced lane-keeping system which monitors the vehicle in front and allows the car to calculate its own path relative to it, following at a safe distance if road markings are indecipherable due to poor conditions or road layout.
Emergency Stop System (ESS) operates in correlation with Kia's Driver Status Monitoring (DSM) system, to analyse the driver's face, ensuring their attention does not stray from the road for too long. If it detects that the driver takes their eyes from the road for too long, ESS can automatically direct the car into an appropriate side lane and come to a halt.
Traffic Jam Assist (TJA) monitors the vehicle in front during congested traffic conditions, maintaining a safe distance from the vehicle in front and moving into appropriate spaces to gain ground.
Autonomous Valet Parking allows drivers to exit the car and let the vehicle park itself remotely, activated using the smart key or a smartwatch.
Drive Wise technologies are primarily designed to make driving safer and easier for Kia customers by identifying hazards at the earliest possible opportunity and allowing the driver – or the car – to take appropriate action, though drivers can circumvent them with direct control, enabling closer control of the car as desired.
Next-generation vehicle interaction
Drive Wise technologies will also facilitate communication and interaction between the driver and vehicle with innovative new Human Machine Interface (HMI) functions, such as gesture control, fingerprint sensors and smart-device connectivity.
Featured in a special I-Cockpit display at CES, Kia's next-generation HMI is based on the concept of 'blind control', with a fingerprint touchpad and gesture recognition used to operate the car's controls. Automatically recognising individual driver's preferences on start-up – based on their fingerprint or smartwatch – the car can immediately change the cabin ambience for the driver with their favourite music, preferred climate control temperature and the type of information displayed by the instrument panel.
Drivers' gestures are recognised by the I-Cockpit if they want to change any setting in the cabin, without taking their eyes off the road ahead.
License granted to test Kia Drive Wise on Nevada public roads
The preliminary investment by Kia – totalling US$2 billion by 2018 – will enable the company to fast-track development of its new DRIVE WISE technologies. The U.S. state of Nevada recently granted Kia a special licence to test the new technologies on public roads. Kia's all-electric Soul EV – the company's first globally-sold electric car – is acting as the brand's testbed for the development of next-generation Drive Wise technologies, as it takes to the roads around Death Valley.
Fully-autonomous cars on the market within 15 years
Key to Kia's future Drive Wise technologies is the development of its vehicle-to-everything (V2X) communications system. For Kia to advance its partially-autonomous ADAS technologies far enough to bring the true 'self-driving car' to market by 2030, V2X must be fully integrated into real-life driving environments and be able to react as a human driver can.
V2X applies a series of sensors, radar, LiDAR (Light Detection And Ranging Radar) and external cameras, to perceive the surrounding environment and all relevant obstacles, as a human driver does. The system incorporates vehicle-to-vehicle (V2V) and vehicle-to-infrastructure (V2I) technologies as well, allowing the car to recognise, judge and control every driving scenario, obstacle or potential threat.
Here the Kia Drive Wise promotional film:
httpv://www.youtube.com/watch?v=w6fX2fCK264
no images were found