• MPV ad emissioni zero con un'autonomia di oltre 330 miglia (533 km)
• Sette nuovi modelli ibridi elettrici e plug-in per la Cina
• BUDD-e è precursore dei veicoli elettrici di nuova generazione
Fonte: Volkswagen AG
Wolfsburg, Germania. 8 Giugno 2016. BUDD-e, la show car presentata al CES 2016, è in tour in Cina come ambasciatrice dell'e-mobility. Con la concept car, Volkswagen presenta la prossima generazione di veicoli alimentati elettricamente agli automobilisti cinesi nella propria località. L'MPV zero-emissioni ha celebrato la sua prima mondiale a Gennaio al CES di Las Vegas. Da allora il concept car ha viaggiato in tutto il mondo come il precursore di una nuova generazione di veicoli elettrici.
I cinesi sono affascinati da questa Volkswagen, che attinge visivamente alla mitica 'Bulli' e costituisce così un ponte tra le origini del marchio e un tempo lontano nel futuro. BUDD-e è la prima Volkswagen sulla base della nuova piattaforma modulare elettrica Drive Kit (MEB). Avvicinandosi al 2020, quando vedremo il lancio dei modelli MEB – potenti vetture elettriche con autonomia di alto livello faranno da controparti alle auto a benzina di oggi. Nel caso della show car presentata al CES 2016 è 533 chilometri (330 miglia).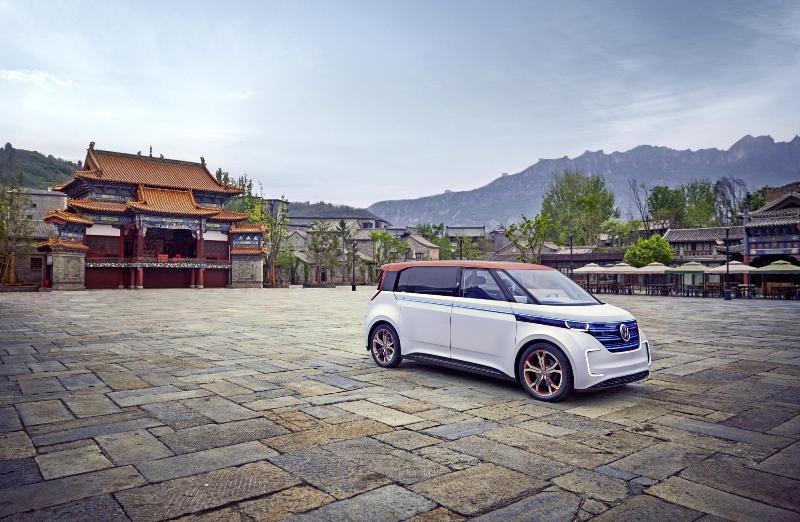 In Cina la gente è molto aperta a guidare delle auto elettriche. Le condizioni ambientali nelle grandi città può essere notevolmente migliorata in futuro attraverso sviluppi come  quelli dei veicoli elettrici a zero emissioni. Lo Stato ed i principali comuni sono pronto alla promozione dell'automobilismo elettrico attraverso una serie di misure. Un esempio: nelle megalopoli come Pechino (21,5 milioni di abitanti, la terza città più grande della terra) o Shanghai (a 24 milioni di abitanti, la ​​più grande del mondo), il numero di immatricolazioni dei veicoli a "nuova energia" è stato limitato – tuttavia, senza un numero di registrazione non è possibile acquistare la licenza di un nuovo veicolo. L'attesa è quindi molto lunga. Tuttavia, gli acquirenti di modelli con trazione ibrida plug-in, sistemi di trazione elettrica o idrogeno ricevono i numeri di registrazione ambiti molto più rapidamente. L'unica condizione: i veicoli, chiamati veicoli a nuova energia (NEV) in Cina, devono essere fatti a livello locale nel paese.
Volkswagen sta spingendo a pieno ritmo con lo sviluppo di veicoli completamente e parzialmente alimentati elettricamente. Entro il 2020, sette nuovi modelli elettrici e ibridi plug-in saranno venuti sul mercato cinese, dove sono anche in fase di produzione. In questo contesto, il BUDD-e è infatti diventando un ambasciatore per un nuovo tipo di mobilità ad alta tecnologia. E ciò che è interessante di questo è non solo il sistema di trasmissione, ma anche la nuova forma di funzionamento e gestione delle informazioni via voce, touch e controllo dei gesti, oltre a grandi display di visualizzazione.
In English
Budd-e fascinates China
Zero-emission MPV with a range of over 330 miles
Seven new electric and plug-in hybrid models for China
BUDD-e is precursor to new generation electric vehicles
Source: Volkswagen AG
Wolfsburg, Germany. 8th June 2016. BUDD-e, the 2016 CES show car, is touring China as an ambassador for e-mobility. With the concept car Volkswagen is presenting the next generation of electrically powered vehicles to Chinese motorists live in their own locality. The zero-emission MPV celebrated its world premiere in January at the CES in Las Vegas. Since then the concept car has been travelling the globe as the precursor of a new generation of electric vehicles.
The Chinese are fascinated by this Volkswagen, which draws visually on the legendary 'Bulli' and thus forms a bridge between the origins of the brand and a time far into the future. BUDD-e is the first Volkswagen based on the new Modular Electric Drive Kit (MEB). Approaching 2020 is when we will see the launch of the MEB models – powerful electric cars with ranges at the level of today's petrol counterparts. In the case of the 2016 CES show car that's 533 kilometres (330 miles).
In China the people are very open to driving electric cars. The environmental conditions in the big cities there can be significantly improved in future through developments such as zero-emission, electrically powered vehicles. The state and major municipalities are promoting electric motoring through a variety of measures. One example: in megacities such as Beijing (21.5 million inhabitants, third-largest city on earth) or Shanghai (at 24 million inhabitants the world's largest) the number of newly issued vehicle registration numbers is being limited – however, without a registration number it is not possible to licence a new vehicle. The wait is therefore very long. However, purchasers of models with plug-in hybrid, electric or hydrogen drive systems receive the coveted registration numbers very much more quickly. The only condition: the vehicles, called New Energy Vehicles (NEV) in China, must be made locally in the country.
Volkswagen is pushing ahead at full speed with the development of fully and partially electrically powered vehicles. By 2020, seven new electric and plug-in hybrid models will have come onto the market in China, where they are also being produced. Against this background, the BUDD-e is indeed becoming an ambassador for a new kind of high-tech mobility. And what is fascinating about this is not just the drive system, but also the new form of operation and information handling via voice, touch and gesture control, plus large display landscapes.
no images were found

.