IED Torino presenta SCORP-ION: provocazione elettrica per il futuro di Abarth
L'Istituto Europeo di Design di Torino interpreta un futuro 100% Abarth nella concept all-electric degli studenti del Master of Arts in Transportation Design – work experience e presenta due tesi di successo del corso triennale in Transportation Design.
Giunto al suo ottavo anno di presenza al Salone dell'Automobile di Ginevra, IED Torino presenta in anteprima mondiale SCORP-ION: concept ecologica progettata dagli studenti del Master of Arts in Transportation Design – work experience a.a. '09/10 e realizzata in collaborazione con Abarth. Per l'edizione ottantuno del Salone, l'Istituto Europeo di Design ha colto una sfida: interpretare attraverso la visione del giovane car designer la vera essenza del brand Abarth, slegandolo dal marchio FIAT con il quale spesso viene identificato.
Come rendere la pura autenticità Abarth riconosciuta in veicoli grintosi dalla sportività compatta ed intelligente? IED Torino ha risposto con SCORP-ION.
SCORP-ION (lunghezza 4010 mm – larghezza 1905 mm – altezza 1192 mm – passo 2350 mm) sintetizza tutte le caratteristiche proprie di Abarth in un connubio fatto di sportività e dimensioni ridotte.
La concept esce però da ogni attuale schema della gamma di produzione per proiettarsi nel domani del marchio, secondo una visione estremizzata dell'identità e del carattere Abarth.
SCORP-ION è concepita come una vettura ecologica: un'identità verde, compatta a 2 posti e full electric. Il posizionamento delle batterie a litio, da cui il significato del nome SCORP-ION dall'inglese ion ovvero ione, è sotto il vano di carico dietro ai sedili e consente una massima razionalizzazione degli spazi. Il motore è delocalizzato nelle quattro ruote con l'obiettivo di sfruttare completamente gli interni mentre il baricentro del mezzo è molto basso per permettere il massimo nelle prestazioni e nell'efficienza alla guida; la configurazione bi-posto consente invece al veicolo di disporre di un bagagliaio di ampie dimensioni. La concept nel complesso richiama le linee dello scorpione – icona del marchio Abarth – e segue una progettazione in grado di favorire l'aerodinamica del mezzo, grazie anche
alla completa copertura delle ruote posteriori.
"È sempre emozionante – dichiara César Mendoza, Direttore IED Torino – oltre che un momento di particolare apprensione, sapere che ogni anno la nostra scuola partecipa a Ginevra senza avere fin dall'inizio una visione definitiva del progetto che presenteremo, visione che si affina e concretizza soltanto quando la concept è stata ultimata dagli allievi. È questa silenziosa fiducia che riserviamo 81° Salone Internazionale dell'Automobile di Ginevra ai nostri studenti e che esiste fra scuola, docenti e allievi stessi, che è alla base della crescita professionale del singolo designer. La concept che esibiamo in anteprima quest'anno è già di per sé un'immensa soddisfazione, perché ci ha dato l'opportunità di fare ricerca su un grande brand italiano, sul suo carattere, considerando anche l'utilizzo di energie alternative. Questo studio ha portato i nostri studenti a generare soluzioni stilistiche e volumetriche innovative e grintose".
SCORP-ION è frutto del lavoro dei sette studenti del Master coordinati da Luca BORGOGNO, Senior Designer Pininfarina e da Luigi GIAMPAOLO, Designer Maserati. Il Master of Arts in Transportation Design – work experience è un percorso formativo altamente qualificato, di durata biennale, che forma professionisti dell'automotive competenti e in grado di affrontare il mondo del lavoro attraverso un rapporto costante con aziende e centri stile.
La concept car è infatti il risultato di un processo scandito da diverse fasi di valutazione che simulano una reale situazione lavorativa: a partire dalle sette proposte progettuali, i modelli sono stati tutti realizzati in clay in scala 1:4 e tra questi è stato selezionato quello che meglio ha saputo rispondere al brief iniziale affidato dall'azienda. L'intera classe, suddivisa in gruppi, ha poi lavorato sul progetto scelto per portare a termine il concept in tutti i dettagli di interni ed esterni.
SCORP-ION nasce da un'idea di: Emre HUSMEN (Turchia)
Hanno lavorato al progetto: Alexandre GOLOSKOK (Russia), Aydar NIGMATULLIN (Russia), Maksym SHKINDER (Ucraina), Karla Dennis SORIANO FARFAN (Messico), Chrysanthos THERAPONTOS
(Cipro), Marcos VILLALON (Argentina)
SCORP-ION è stata realizzata grazie alla collaborazione di: Pirelli e OZ Racing
SCORP-ION è stata verniciata da: GR Painting
Accanto al modello in scala reale, IED Torino presenta all'interno dello stand BIO RENOVATIO e TOROK concept car in scala 1:4, progetto di tesi degli studenti del corso triennale in Transportation Design – car design a.a. '09/10, realizzate in collaborazione con McLaren.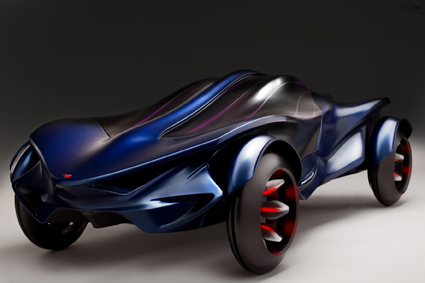 L'elaborazione del progetto si è concentrata sulla realizzazione di un'auto sportiva 4WD, ibrida, con motore centrale, tetto apribile e cellula abitativa per due persone costruita grazie al modello unico di telaio in fibra di carbonio, il McLaren MonoCell. Seguendo un approccio concettuale, i diplomandi hanno ragionato su una potenziale vettura da inserire nel mercato del 2020: un'auto capace di coniugare con coerenza la supremazia sportiva, le emozioni di guida e le caratteristiche McLaren nelle prestazioni sia fuori che su strada.
Gli studenti che hanno preso parte al progetto hanno lavorato sotto la supervisione di Fulvio FANTOLINO, Coordinatore del Corso triennale post-diploma in Transportation Design – car design.
BIO RENOVATIO è un progetto di: Salvatore CUTAIA, Vasily KURKOV e Jesus Adrian SOLIS GARCIA
TOROK è un progetto di: Michel DI MARCO, Andrea INVERNIZZI e Shariq VIRANI
SCORP-ION, BIO RENOVATIO e TOROK sono stati costruiti da: CECOMP
L'Istituto Europeo di Design di Torino ringrazia per la collaborazione: ABET Laminati