Lapo Elkann presenta la BMW i8 Futurism Edition
Fonte: BMW Group
Monaco di Baviera, Germania. 8 Giugno 2016. Lapo Elkann, Presidente e Fondatore di Garage Italia Customs, visita il BMW Group e mostra la BMW i8 Futurism Edition ad Adrian van Hooydonk, capo del BMW Group Design.
"Garage Italia Customs e il marchio BMW entrambi condividono tutti i valori legati alla evoluzione tecnologica e la continua ricerca di innovazione nei loro specifici settori", ha dichiarato Lapo Elkann.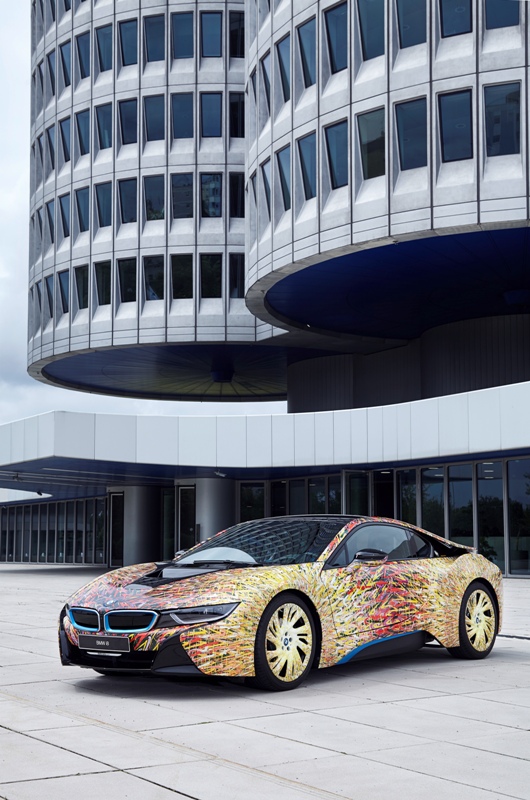 BMW Italia e Garage Italia Customs hanno creato la BMW i8 Futurism Edition per celebrare i 50 anni di storia di BMW in Italia. L'Edition combina l'icona della mobilità futura con l'arte italiana di Giacomo Balla.
"Lampada ad Arco", l'opera di Giacomo Balla, viene replicata sulla vettura. Il dipinto originale è appeso al Museo di Arte Moderna di New York. Esso rappresenta un lampione alimentato da energia elettrica al chiaro di luna. La tecnica del colore rivoluzionaria e l'avvento dell'energia elettrica nel 1900 sono strettamente legate al futuro della tecnologia della BMW i8. Il rivestimento al suo interno mostra riflessi cangianti quando viene colpito dalla luce ed è composto da Solaro, un tessuto che viene utilizzato per le tute.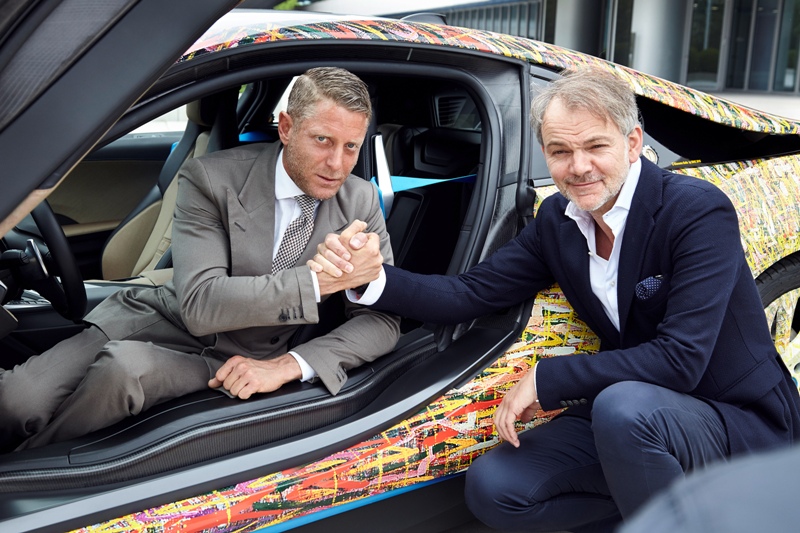 BMW i sta per concetti visionari dei veicoli e delle tecnologie, così come una nuova comprensione delle vetture premium che è fortemente definita dalla sostenibilità. BMW i è presente in 50 paesi con la BMW i3 (auto elettrica per le aree metropolitane) e la BMW i8 (plug-in ibrida sportive). La BMW i8 è la macchina sportiva ibrida più venduta del mondo e rappresenta una icona della mobilità del futuro.
"C'è stata una sinergia immediata con BMW Italia la prima volta che ci siamo incontrati per il progetto i8 Futurism Edition. La BMW i8 Futurism Edition è una pratica di stile. Ha dato ai maestri di Garage Italia Customs la possibilità di celebrare una macchina che si proietta verso il futuro della mobilità. Allo stesso tempo, si onora l'arte italiana con Giacomo Balla, che è una figura di spicco del movimento futurista ", ha detto Lapo Elkann.
In English
Garage Italia Customs visits the BMW Group
Lapo Elkann presents the BMW i8 Futurism Edition
Source: BMW Group
Munich. Germany. June 8th 2016. Lapo Elkann, President and Founder of Garage Italia Customs, visits the BMW Group and shows the BMW i8 Futurism Edition to Adrian van Hooydonk, Head of BMW Group Design.
"Garage Italia Customs and the BMW brand both share all the values connected to technology evolution and the continuous search for innovation in their specific sectors" stated Lapo Elkann.
BMW Italia and Garage Italia Customs have created the BMW i8 Futurism Edition to celebrate 50 years of BMW history in Italy. The Edition combines the icon of future mobility with the Italian art of Giacomo Balla.
"Lampada ad Arco", the work of Giacomo Balla, is replicated on the car. The original painting hangs in the Museum of Modern Art in New York. It represents a street lamp powered by electricity under moonlight. The revolutionary color technique and the advent of electricity in the 1900s are strictly linked to the future technology of the BMW i8. The upholstery in the interior shows iridescent reflections when hit by light and is made by Solaro, a fabric that is used for suits.
BMW i stands for visionary vehicle concepts and technologies, as well as a new understanding of premium that is strongly defined by sustainability. BMW i is represented in 50 countries with the BMW i3 (electric car for metropolitan areas) and the BMW i8 (plug-in-hybrid sports car). The BMW i8 is the world's best-selling hybrid sports car and represents an icon of future mobility.
"There was immediate synergy with BMW Italia the very first time we met for the i8 Futurism Edition project. The BMW i8 Futurism Edition is a practice of style. It gave the Garage Italia Customs Maestros a chance to celebrate a car which is projected towards the future of mobility. At the same time, it honours Italian art with Giacomo Balla, who is a prominent figure of the Futurism movement" said Lapo Elkann.
no images were found

.