La serie di corse di auto elettriche ha annunciato di essere partner ufficiale della COP22
Fonte: Formula E
Marrakech, Marocco. 17 ottobre 2016. Gli organizzatori del FIA Formula E Championship hanno annunciato oggi che la prima serie di corse completamente elettrica al mondo sarà partner ufficiale della COP22 per la prima edizione del Marrakech ePrix con il sostegno del l'alto patrocinio del re Mohammed VI del Marocco.
La 22esima sessione della Conferenza delle Parti della Convenzione quadro delle Nazioni Unite sui Cambiamenti climatici (COP22), si terrà a Marrakech dal 07 al 18 Novembre. Il vertice si farà carico dell'eredità lasciata da COP21 durante la quale sono stati compiuti progressi storici a Parigi lo scorso anno.
Si concentrerà su elementi di azione al fine di conseguire le priorità di stabilite nel Contratto di Parigi, in particolare relativo all'adattamento, la trasparenza, il trasferimento di tecnologia, la mitigazione, la creazione di capacità e le perdite e danni – con ospiti di rilievo tra cui il presidente degli Stati Uniti Barack Obama, e la cancelliere tedesca Angela Merkel.
L'evento sportivo ufficiale di apertura della COP22 – il FIA Formula E Marrakesh ePrix 2016, che si svolge il 12 novembre, sarà la prima volta che la Formula E visita il continente africano e riflette la crescente domanda di soluzioni di e-mobilità in tutto il mondo.
Un documentario speciale che mostra nel dettaglio il modo in cui la Formula E ha raggiunto la prodezza mozzafiato della SRT_01E Spark-Renault in una calotta di ghiaccio in Groenlandia per sensibilizzare riguardo il cambiamento climatico, verrà presentato in anteprima il 13 Novembre a COP22.
Alejandro Agag, Amministratore Delegato di Formula E, ha dichiarato:
"Siamo felici di correre a Marrakech – la prima volta che la Formula E corre nel continente africano, che dimostra come ci siamo evoluti in un vero e proprio campionato mondiale. L'evento ha un significato ancora maggiore perchè noi siamo qui come uno dei partner ufficiali della COP22. Formula E comprende pienamente le sfide ed i rischi che il cambiamento climatico presenta, ed essere una parte del forum più importante per affrontare questo problema è un grande onore."
Jean Todt, presidente della FIA, ha dichiarato:
"La Formula E è un grande esempio di un campionato FIA tra due pilastri principali della Federazione – lo sport e la mobilità. Siamo lieti che la Formula E abbia deciso di diventare un partner della COP22, in occasione della prima edizione del Marrakesh ePrix. Come una parte della missione FIA ​​per promuovere i sistemi di trasporto puliti a disposizione di tutti, stiamo cercando di incoraggiare lo sviluppo e l'adozione di tecnologie sostenibili. Formula E è un laboratorio fantastico che consentirà lo sviluppo di 'tecnologie pulite per tutti' ".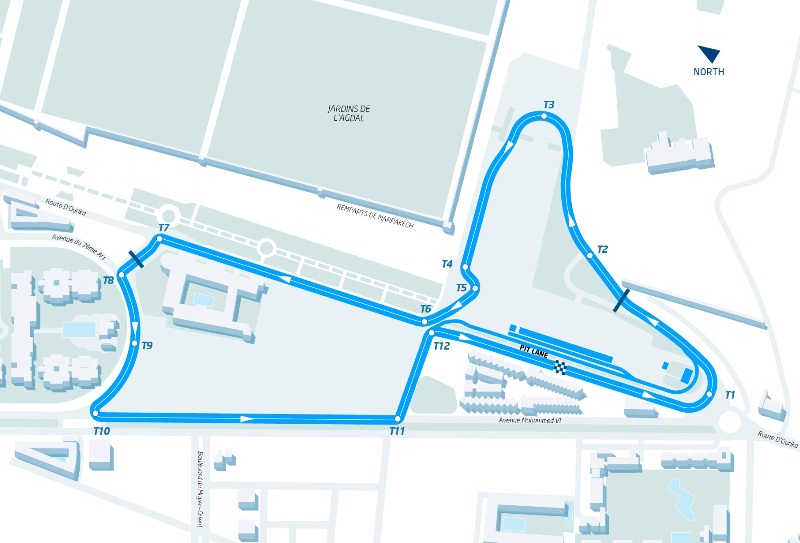 Detto Mouline, CEO dell'Agenzia marocchina per lo sviluppo delle energie rinnovabili, l'efficienza ed il risparmio, ha dichiarato:
"Il Marrakesh ePrix di Formula E del 12 novembre è un evento ufficiale certificato COP22 e sarà una magnifica occasione per dimostrare che la mobilità elettrica ha raggiunto un ottimo livello di maturità e che il suo sviluppo è fino alle politiche determinate da stati-nazione. La mobilità elettrica sta ora anche raggiungendo Africa, dove esistono enormi opportunità."
I piloti di Formula E saranno in lotta nel Circuit International Automobile Moulay El Hassan,  soggetto all'omologazione FIA della pista. Il circuito in senso antiorario è di 2,97 km ed ha già ospitato altri eventi motoristici, tra cui il WTCC Race del Marocco.
Jose Maria Lopez, tre volte campione WTCC e pilota DS Virgin Racing, ha dichiarato:
"Ho corso a Marrakesh per tre anni con il WTCC. Come per tutti i circuiti cittadini è difficile. Io ho corso con le auto del WTCC che hanno bisogno di più spazio, quindi con un evento di Formula E la pista sembrerà più ampia. Qui non ci sono grandi rettilinei, quindi ci sarà molta lotta nei pochi posti dove si posso effettuare dei sorpassi. Non vedo l'ora di correre. Una corsa su una pista familiare in una vettura di Formula E contribuirà a portare una nuova dinamica per la mia esperienza di gara – spero che porti anche al successo!"
I biglietti saranno disponibili per l'acquisto nelle prossime settimane, con i biglietti eVillage al costo di € 15 ed i biglietti in tribuna non numerata al prezzo di 50 €.
In English
Formula E joins forces with COP22 for Marrakesh ePrix
Source: Formula E
Marrakesh, Morocco. October 17 2016. Organisers of the FIA Formula E Championship have today announced that the world's first fully-electric racing series will be an official partner of COP22 for the inaugural Marrakesh ePrix with the support of the high patronage of King Mohammed VI of Morocco.
The 22nd session of the Conference of Parties to the United Nations Framework Convention on Climate Change (COP22), will take place in Marrakesh on November 7-18. The summit will take over the reins from COP21 during which historic progress was made in Paris last year.
It will focus on action items in order to achieve the priorities set in the Paris Agreement, especially related to adaptation, transparency, technology transfer, mitigation, capacity building and loss and damages – with notable guests including President of the United States Barack Obama, and German Chancellor Angela Merkel.
The official sporting opening event of COP22 – the 2016 FIA Formula E Marrakesh ePrix, which takes place on November 12, will be the first time Formula E visits the continent of Africa and reflects the growing demand for e-mobility solutions across the globe.
A special documentary looking into detail at how Formula E achieved the breathtaking feat of delivering the Spark-Renault SRT_01E to an ice cap in Greenland to raise awareness of climate change, will be premiered on November 13 at COP22.
Alejandro Agag, CEO of Formula E, said:
"We are delighted to be racing in Marrakesh – the first time that Formula E has raced on the African continent, which shows how we have evolved into a truly global championship. The event has even greater significance as we are here as one of the official partners of COP22. Formula E fully understands the challenges and risks that climate change presents, and to be a part of the most significant forum for tackling this problem is a huge honour."
Jean Todt, President of the FIA, said:
"Formula E is a great example of an FIA championship among the Federation's two main pillars – sport and mobility. We are delighted that Formula E has decided to become a partner of COP22 on the occasion of the first edition of the Marrakesh ePrix. As part of the FIA mission to promote clean transport systems available to all, we are looking to encourage the development and adoption of sustainable technologies. Formula E is a fantastic laboratory that will enable the development of 'clean technologies for all'."
Said Mouline, CEO of Moroccan Agency for the Development of Renewable Energy and Energy Efficiency, said:
"The Formula E Marrakesh ePrix on November 12 is an official COP22-certified event and will be a magnificent occasion to demonstrate that electric mobility has reached an excellent level of maturity and that its development is up to determined policies by nation-states. Electric mobility is now also reaching Africa where huge opportunities exist."
The Formula E drivers will be battling it out around the Circuit International Automobile Moulay El Hassan, subject to FIA track homologation. The 2.97km anti-clockwise circuit has previously hosted other motorsport events, including the WTCC Race of Morocco.
Jose Maria Lopez, three-time WTCC champion and DS Virgin Racing driver, said:
"I've raced in Marrakesh for three years already with WTCC. As with all street circuits it's going to be tricky. I'm used to WTCC cars which need more space, so with a Formula E event the track will feel wider. You don't have a lot of big straight lines here, so there'll be plenty of fighting for small overtaking gaps – I'm really looking forward to it. Racing on a familiar track in a Formula E car will help bring a new dynamic to my race experience – I hope it leads to success!"
Tickets will be available to purchase in the coming weeks, with eVillage tickets costing €15 and unreserved grandstand tickets priced at €50.
no images were found

.