Debutto internazionale per il nuovo Ssangyong Tivoli XLV e midsize SIV-2 Concept a Ginevra
La gamma Tivoli si estende con XLV – il SUV compatto multiruolo con capacità di carico aumentata
Mild Hybrid Concept SIV-2 allude a un crossover multiuso futuro di medie dimensioni
Lancio internazionale della SsangYong Tivoli XLV
Fonte: SY Motor UK
Dopo il successo del lancio di Tivoli, SsangYong lancerà una nuova vettura a Ginevra per offrire ancora più capacità e praticità di trasporto – Tivoli XLV. La vettura è stata mostrata come Concept XLV Air al Salone IAA di Francoforte l'anno scorso, e seguendo il feedback estremamente favorevole la società ha deciso di mettere la macchina in produzione.
Grazie alla condivisione della stessa piattaforma e 2.600 millimetri di passo come la Tivoli, il XLV presenta ana carrozzeria allungata da dietro il montante C, con un incremento di 235 millimetri sulla vettura standard, ampliando la capacità di carico di 720 litri di spazio. Nel frattempo, gli elementi stilistici che contraddistinguono Tivoli vengono mantenuti, tra cui il suo armonico design SUV, il look da coupé sportiva e la linea del tetto galleggiante.
Progettato per offrire una soluzione multi-ruolo e multi-funzione per una vasta gamma di clienti, Tivoli XLV fornisce la versatilità necessaria per soddisfare una vasta gamma di stili di vita individuali. Sarà offerto con una scelta di motore 1,6 litri di benzina o 1.6 litri diesel Euro 6 e abbinato con la possibilità di un cambio manuale a 6 marce o quello automatico Aisin a 6 marce e ci sarà la versione a due o quattro ruote motrici.
Nota: le specifiche per il Regno Unito sono ancora da determinare.
Sviluppo del Concept SIV-2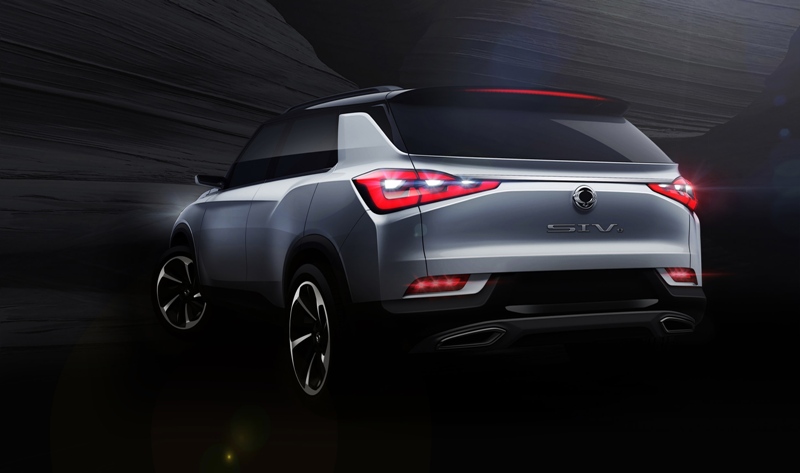 SsangYong presenterà anche il suo Concept SIV-2 (Smart Interface Vehicle), un SUV premium di medie dimensioni.
Come la prossima iterazione partendo dal Concept SIV-1 che è stato mostrato a Ginevra nel 2013, questo richiede un ulteriore passo avanti sotto il concept di design 'Dynamic Motion'.
Basato sul tema dello sviluppo di SsangYong di 'Robusto, Speciale, Premium', questo nuovo concept persegue l'interfaccia emozionale tra il guidatore e l'auto e si evolverà per diventare un modello strategico chiave all'interno della gamma SsangYong.
Il SIV-2 è un ibrido medio, alimentato da un motore benzina turbocompresso a iniezione diretta da 1,5 litri combinato con un moto-generatore elettrico da 10kW e una batteria agli ioni di litio da 500Wh. Questo crea un sistema ibrido medio da 48V, che offre una guida silenziosa ed efficiente, le emissioni di CO2 ridotte e silenziosità asasoluta alle basse velocità.
Questo concpt eco-friendly dispone di una carrozzeria leggera, un basso centro di gravità e un sistema di telaio e sospensioni che può essere ulteriormente sviluppato per creare modelli alternativi con motorizzazioni ad alta efficienza, come HEV, PHEV e EV che saranno il futuro del marchio SsangYong.
In English
Ssangyong debuts at Geneva Auto Show
International debut for new Ssangyong Tivoli XLV and Midsize SIV-2 Concept at Geneva
Tivoli range to be extended with XLV – the multi-role compact SUV with increased load carrying capability
Mild hybrid SIV-2 concept hints at a future midsize contemporary multi-purpose crossover
International launch of the SsangYong Tivoli XLV
Source: SY Motor UK
London, UK. 15 February 2016. Following the successful launch of Tivoli, SsangYong will launch an extended car at Geneva to provide even more carrying capacity and practicality – Tivoli XLV.  The car was shown as the XLV Air concept at the IAA motor show in Frankfurt last year, and following extremely favorable feedback the company has decided put the car into production.
Sharing the same platform and 2,600mm wheelbase as the Tivoli, the XLV features a lengthened body from behind the C pillar, an increase of 235mm over the standard car, expanding the load capacity to a huge 720 cubic litres of space.  Meanwhile, the styling cues that distinguish Tivoli are retained, including its harmoniously fused SUV body design, sports coupé look and floating roofline.
Designed to offer a multi-role, multi-function solution to a wide range of customers, Tivoli XLV provides just the versatility needed to meet a wide range of individual lifestyles.  It will be offered with a choice of a Euro 6 compliant 1.6 litre petrol or 1.6 litre diesel engine, and matched with the option of a 6-speed manual transmission or 6-speed Aisin automatic, two-wheel drive or four wheel drive.
Note: UK specification to be determined.
SIV-2 development concept
SsangYong will also showcase its SIV-2 (Smart Interface Vehicle) midsize premium SUV concept at the show.
As the next iteration on from the SIV-1 concept which was shown at Geneva in 2013, this takes a step further under the design concept of 'Dynamic Motion'.
Based on SsangYong's development theme of 'Robust, Specialty, Premium', this new concept pursues the emotional interface between the driver and car, and will evolve to become a key strategic model within the SsangYong range.
The SIV-2 is a mild hybrid, powered by a 1.5 litre direct injection turbocharged petrol engine combined with a 10kW electric motor-generator and a 500Wh lithium ion battery.  This creates a 48V mild hybrid system which offers quiet and efficient driving, reduced CO2 emissions and silent running when idling and at slow speeds.
This eco-friendly concept features a lightweight body, a low centre of gravity and a chassis and suspension system that can be further developed to create alternative models with high efficiency powertrains such as HEV, PHEV and EV to future proof the SsangYong brand.
no images were found

.