Kia Telluride Concept fa il suo debutto mondiale al NAIAS di Detroit
• Kia Telluride combina tecnologia innovativa, stile e funzionalità in un SUV full-size
• Concept prende spunto del disegno di Kia in una nuova direzione audace e suggerisce lo stile di un possibile grande SUV futuro nella gamma del marchio
• Telluride introduce l'esclusiva tecnologia e lusso in cabina di salute-e-benessere
Fonte: Kia Motors America
Detroit, Michigan. USA. 12 Gennaio 2016. Kia Motors ha presentato una visione d'avanguardia per un SUV full-size al North American International Auto Show (NAIAS). Il Telluride, un sorprendente Concept di SUV di lusso da tre fila sedili, sette passeggeri, dispone di una forma moderna e retta, aspetto muscoloso, e state-of-the-art di cura per i suoi occupanti. Puramente concettuale, la Kia Telluride si basa su una piattaforma esistente e rivela l'interesse del marchio di offrire potenzialmente un SUV premium posizionato sopra l'attuale Sorento.
"La Kia Telluride fa una dichiarazione estetica per il marchio Kia come un audace, nuovo SUV di lusso con una grande varietà di tecnologie avanzate, con particolare attenzione alle esperienze e il comfort degli occupanti della seconda fila", ha detto Tom Kearns, chief designer, Kia Design Center America (KDCA). "Più lunga, più larga e più alta della recentemente ridisegnata Sorento CUV, Telluride ci permette di immaginare come potrebbe essere un SUV Kia full-size da sette passeggeri".
Le porte anteriori di Telluride e le porte posteriori sono incernierate, con angoli d'apertura di 90 gradi in direzioni opposte, creando un portale espansiva e invitante nello spazio interno panoramico rivelando una vetrina tecnologica. I quattro posti in bella pelle nera sembrano galleggiare all'interno della spaziosa cabina di fronte alla terza fila ripiegata. La grande carrozzeria permette ai sedili centrali di reclinarsi fino alla posizione quasi piatta e comprendono grandi pedane armadio per un comfort sublime.
Tutti e quattro i sedili possiedono una serie di taglio a diamante nello schienale, ciascuno dei quali equipaggiato con sensori intelligenti per acquisire informazioni riguardo la salute vitale di conducente e passeggeri.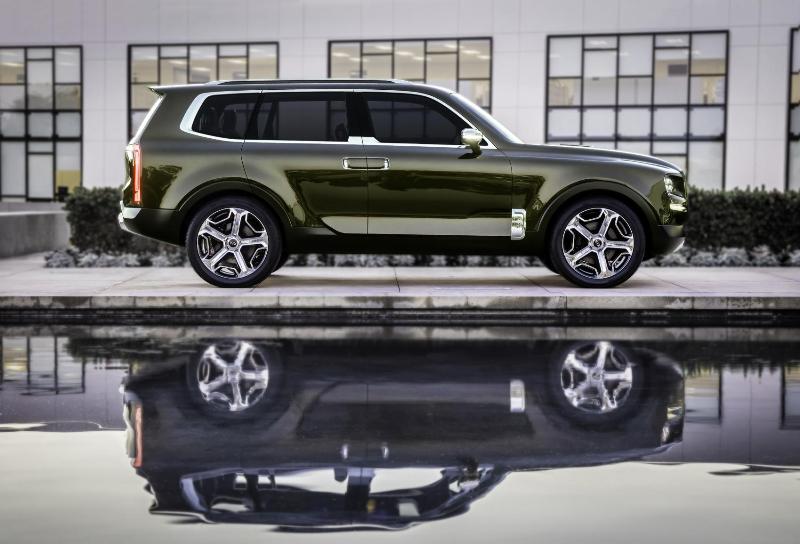 Una volta seduto, questi organi vitali vengono visualizzati sulle schermate del pannello porta interno, che poi sistematicamente viene sincronizzano con un sistema Light Emitted Rejuvenation (LER). Il sistema utilizza un massiccio LER, il pannello LED a forma di ala montato sotto il tetto apribile di grandi dimensioni che visualizza un motivo di luce terapeutica per il trattamento desynchronosis (jetlag) e per migliorare i livelli di energia dei passeggeri.
Un'altra tecnologia unica introdotta da Telluride è lo Swipe Command – una sottile fascia interattiva, sensibile al tatto, montata sulla console centrale della seconda fila – che consente ai passeggeri dei sedili posteriori di scorrere e selezionare rapidamente il supporto desiderato semplicemente strisciando la mano. Il supporto selezionato viene riprodotto tramite l'impianto audio Harman Kardon® premium a sette altoparlanti, o tramite un set di cuffie portatili Harman Kardon® che caricano in modalità wireless quando stivate nella console. Sulla plancia, un vano nella consolle centrale consente la ricarica wireless del telefono cellulare, è il primo utilizzo dei componenti Kia 3D stampati ed aggiunti come elemento dal design moderno al cruscotto, ai pannelli porta ed al volante.
Gli interni e gli esterni di Telluride sono stati disegnati nello studio con sede in California del brand, il Kia Design Center America (KDCA). Finito di vernicire in Verde Pirite scuro, l'altezza è amplificata dalla dimensione complessiva del veicolo. Alto 70.9 pollici, 79.1 pollici di larghezza e 196,9 pollici di lunghezza, Telluride è di 4,4 pollici più alto, 4.7 pollici più ampio e considerevoli 9,5 pollici più lungo rispetto all'attuale Sorento. Alla base di Telluride c'è un telaio Sorento modificato con un passo allungato da 11,9 pollici a 121,3 pollici, dando a Telluride una presenza dominante.
L'aspetto è moderno e muscoloso, accentuato da parafanghi svasati che si estendono intorno a massicce ruote a cinque razze da 22 pollici avvolte in pneumatici Hankook Ventus ST 275/45R22.
La marcherina anteriore del Telluride incorpora una versione molto più ampia della grata a naso di tigre di Kia e il suo volto porta un atteggiamento minaccioso proprio dovuto ai proiettori incastrati quad-LED, ai pronunciati indicatori LED orizzontali e una zona lucida piatta di metallo sotto il paraurti. Nella parte posteriore, i sottili fanali posteriori verticali si allineano con il linguaggio del design moderno del SUV, mentre spunti stilistici coerenti ci sono nei tubi di scappamento duplici, nelle maniglie delle porte anteriori e posteriori e nel soffitto migliorando l'aspetto solido del veicolo.
Con una combinazione innovativa di tecnologie all'avanguardia, l'estremamente efficiente powertrain PHEV del Telluride si attiva premendo il pulsante di avvio. Utilizzando un motore V6 a benzina 3,5 litri con iniezione diretta (GDI) ed un potente powertrain elettrico montato trasversalmente, Telluride è in grado di produrre 400 cavalli (270 cavalli dal V6 e 130 cavalli di potenza dal motore elettrico), ottenendo un valore di consumo di oltre 30 mpg in autostrada .
La potenza è indirizzata a tutte le quattro ruote attraverso un sistema di trazione integrale avanzato.
Mentre non ci sono attualmente piani di portare Telluride in produzione, Kia ha una storia di lanciare dei veicoli in produzione che hanno forti somiglianzi con i concept precedenti.
In English
Kia Telluride Concept World Debut at NAIAS
Kia Telluride Concept makes world debut at North American International Auto Show in Detroit
Kia Telluride combines breakthrough technology, style and functionality in a full-size sport utility vehicle
Concept takes Kia's design language in a bold new direction and suggests styling of a possible future premium large SUV in the brand's lineup
Telluride introduces unique in-cabin health-and-wellness technology and luxury
Source: Kia Motors America
Detroit, Michigan. USA. 12 Gennaio 2016. Kia Motors unveiled a cutting-edge vision for a full-size SUV at the North American International Auto Show (NAIAS). The Telluride, a striking three-row, seven-passenger, luxury SUV concept features a modern and upright shape, muscular stance, and state-of-the-art technology to care for its occupants. Purely conceptual, the Kia Telluride is based on an existing platform and reveals the brand's interest in potentially offering a premium SUV positioned above the current Sorento.
"The Kia Telluride makes an aesthetic statement for the Kia brand as a bold, all-new luxury SUV with an abundance of advanced technology, focusing particular attention on the experience and comfort of second-row occupants," said Tom Kearns, chief designer, Kia Design Center America (KDCA). "Longer, wider and taller than the recently redesigned Sorento CUV, Telluride allows us to envision what a full-size seven-passenger SUV from Kia could look like."
Telluride's front doors and rear-hinged back doors swing open 90 degrees in opposing directions, creating an expansive and inviting portal into the panoramic interior space revealing a technological showcase. Four beautiful black-leather captain's seats appear to float within the spacious cabin in front of a folded third-row bench. The large cabin allows the middle seats to recline nearly flat and include large fold-away footrests for sublime comfort.
All four seats include a series of precise diamond-cut openings in the seatback, each embedded with Smart Sensors to capture a passenger's vital health information.
Once obtained, these vitals are displayed on the interior door panel screens, which then systematically synchronise with a Light Emitted Rejuvenation (LER) system. The LER system utilises a massive, wing-shaped LED panel mounted beneath the oversized sunroof that displays a pattern of therapeutic light to treat desynchronosis (jetlag) and improve the passengers' energy levels.
Another unique technology introduced in Telluride is Swipe Command – a thin, touch-sensitive, interactive band mounted to the second row centre console – which allows rear-seat passengers to quickly scroll and select desired media by simply swiping their hand.  The selected media is then played either through the seven-speaker premium Harman Kardon® audio system, or via a set of portable Harman Kardon® headphones that wirelessly charge when stowed in the console. Up front, a compartment in the centre stack allows for wireless cell phone charging, and Kia's first use of 3D-printed components add a distinct, modern design element to the dashboard, door panels, and steering wheel.
Telluride's interior and exterior were penned at the brand's California-based studio, Kia Design Center America (KDCA). Finished in Dark Pyrite green paint, the tall stance is amplified by the overall size of the vehicle. At 70.9-inches tall, 79.1-inches wide and 196.9-inches long, Telluride is 4.4-inches taller, 4.7-inches wider, and a sizable 9.5-inches longer than the current Sorento. Underpinning the Telluride is a modified Sorento chassis with a wheelbase stretched 11.9 inches to 121.3 inches, giving Telluride a dominating presence.  It's modern and muscular appearance is accentuated by flared fenders stretching around massive 22-inch five-spoke wheels wrapped in Hankook Ventus ST 275/45R22 tires.  Telluride's front fascia incorporates a much larger version of Kia's signature tiger nose grille, and its menacing face brings an attitude of its own with recessed quad-LED headlamps, pronounced horizontal LED indicator lights, and a polished-metal skid plate below the bumper. In the rear, thin vertical taillights align with the modern design language of the SUV, while consistent styling cues across the front and rear door handles, hood scoops and dual exhaust tips enhance the vehicle's solid appearance.
With an innovative combination of cutting-edge technologies, the Telluride's extremely efficient PHEV powertrain is activated finger-print push-button start. Utilising a 3.5-litre petrol direct injected (GDI) V6 engine and powerful electric motor, Telluride's transverse-mounted powertrain combines to produce 400 horsepower (270 horsepower from V6 and 130 horsepower from the electric motor) while achieving more than 30 mpg on the highway. Power is routed to all four wheels via an advanced all-wheel drive system.
While there are currently no plans to bring the Telluride to production, Kia has a history of delivering production vehicles that bear strong resemblance to preceding concept.
no images were found