Fonte: Buick
Guangzhou, China. 22 Novembre 2016. Il Concept Buick Velite ha fatto il suo debutto mondiale al Guangzhou Auto 2016. Il nuovo modello funge da modello per i futuri veicoli di nuova energia sotto la strategia Buick Blue del marchio.
Lo sviluppo del Velite Concept è stato guidato dal Pan Asia Technical Automotive Center (PATAC), joint venture tra GM ingegneria e design con SAIC, sfruttando le risorse globali di GM. Il team con sede a Shanghai ha tratto ispirazione dall'acqua e dalla cultura tradizionale cinese per creare un veicolo che è efficiente, intelligente e green.
Il modello ha una carrozzeria da crossover innovativo che combina un design sportivo con spazio pratico. Le linee fluide, le increspature e le curve scolpite riflettono un linguaggio tutto nuovo di design della Buick, migliorando l'aerodinamica. La sua griglia anteriore a forma di ala è abbinata ai fari intelligenti a LED intelligente, dando un tocco di stile Buick per i futuri veicoli a nuova energia.
Come tutti i modelli Buick, il Concept Velite ha un elegante interno. Il suo design integrato comprende materiali riciclati, un tetto apribile e l'illuminazione panoramica dell'ambiente, che ancora una volta punta a progettare le tendenze per i prossimi veicoli a nuova energia.
Il Velite Concept è caratterizzato dalla powertrain ibrido per veicoli elettrici (PHEV), con sistema modulare di innesto di nuova generazione della trazione elettrica intelligente GM. Incorpora una batteria agli ioni di litio modulare ad alte prestazioni.
Una unità di trazione elettrica potenziata e controlli intelligenti aiutano a massimizzare il risparmio di carburante e le prestazioni in diverse condizioni di guida. La sofisticata tecnologia sarà applicata nel prossimo modello di PHEV di Buick.
Il Concept Velite funge da rete mobile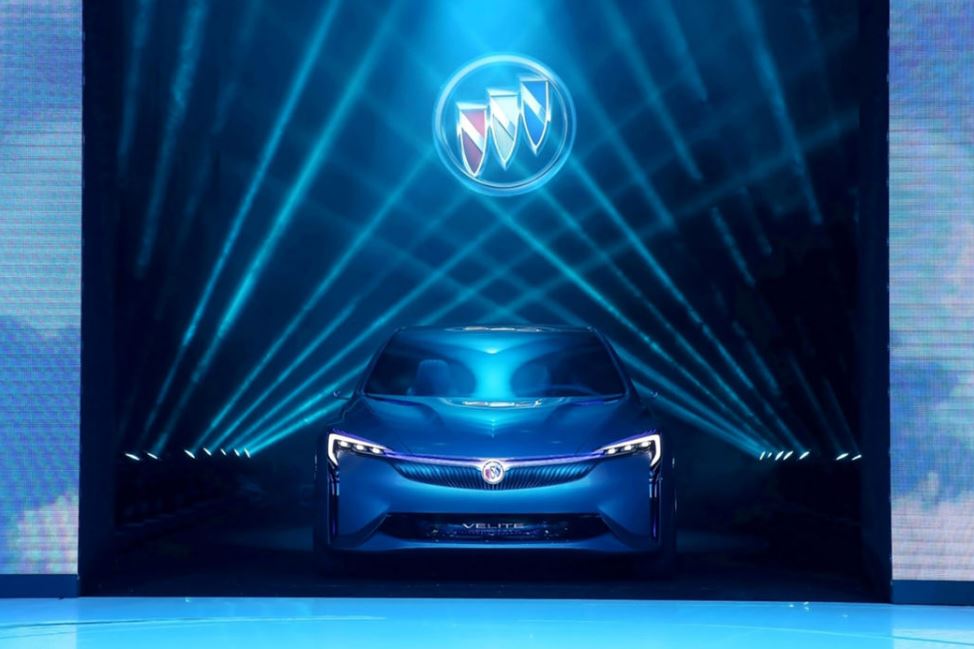 Gli utenti possono godere di un'esperienza uomo-macchina interattiva grazie al collegamento efficiente e conveniente con i loro dispositivi intelligenti, nonché l'applicazione di tecnologie innovative come la connessione cloud-based di stoccaggio, servizio personalizzato e funzionamento a distanza.
Un'altra caratteristica notevole del Velite Concept è il suo sistema intelligente di induzione del traffico a 360 gradi supportato da sensori sulla carrozzeria della vettura, che consente l'assistenza a più funzioni quali luci di emergenza, corsia e la distanza di sicurezza ad alta velocità, il cruise control adattivo, mentre a bassa velocità la guida automatica e la visione notturna.
L'introduzione del Concept Velite segue l'esordio globale di agosto della Buick LaCrosse ibrida Electric Vehicle (HEV) e dimostra lo sforzo di Buick per accelerare l'attuazione della sua nuova strategia di veicolo a energia Buick Blue.
Sulla base di diverse piattaforme, altri prodotti caratterizzati HEV, PHEV, veicoli elettrici ad autonomia estesa (EREV), e trazione elettrica pura sono sulla strada da Buick per fornire diverse soluzioni intelligenti per la mobilità verde.
Oltre la Velite Concept, Buick ha anche in mostra la recentemente lanciata Buick GL8 e GL8 Avenir di nuova generazione ad Auto Guangzhou 2016. Sulla base delle sue scoperte e le innovazioni in termini di design, comfort, sicurezza, qualità e tecnologia, la nuova generazione di GL8 imposta un nuovo punto di riferimento per i grandi monovolume di lusso. Il primo modello del sub-brand Avenir Buick, la GL8 Avenir esprime pienamente l'estetica di design di Buick di "andare oltre i classici" e il programma di servizio al cliente Buick Care orientato al cliente.
In English
Buick Velite Concept Makes Global Debut in China
Source: Buick
Guangzhou, China. 22 November 2016. The Buick Velite Concept made its global debut today at Auto Guangzhou 2016. The new model serves as a template for future new energy vehicles under the brand's Buick Blue strategy.
The development of the Velite Concept was led by the Pan Asia Technical Automotive Center (PATAC), GM's engineering and design joint venture with SAIC, leveraging GM's global resources. The Shanghai-based team drew inspiration from water and traditional Chinese culture to create a vehicle that is efficient, intelligent and green.
The model has an innovative crossover body that combines a sporty design with practical space. Flowing lines and rippling, sculpted curves reflect Buick's all-new design language while improving aerodynamics. Its wing-shaped front grille is matched with intelligent matrix LED headlights, giving a hint of Buick's styling for future new energy vehicles.
Like all Buick models, the Velite Concept has an elegant interior. Its integrated design includes recycled materials, a panoramic sunroof and induction ambient lighting, again pointing to design trends for upcoming new energy vehicles.
The Velite Concept is characterized by its high-performance plug-in hybrid electric vehicle (PHEV) powertrain with GM's new-generation modular intelligent electric drive system at its core. It incorporates a high-performance modular lithium-ion battery pack.
An enhanced electric drive unit and intelligent controls help maximize performance and fuel savings under different driving conditions. The sophisticated technology will be applied in Buick's upcoming PHEV model.
The Velite Concept serves as a mobile network
Users can enjoy an interactive human-machine experience thanks to its efficient and convenient connection with their intelligent devices as well as the application of innovative technologies such as cloud-based connection and storage, customized service and remote operation.
Another notable feature of the Velite Concept is its 360-degree intelligent traffic induction system supported by sensors on the car body, which enables multiple functions such as hazard warning, lane and safety distance keep assist, high-speed adaptive cruise control, low-speed automatic driving and night vision.
The introduction of the Velite Concept follows August's global debut of the Buick LaCrosse Hybrid Electric Vehicle (HEV) and demonstrates Buick's effort to speed up the implementation of its Buick Blue new energy vehicle strategy.
Based on various platforms, additional products featuring HEV, PHEV, extended-range electric vehicle (EREV), and all-electric powertrains are on the way from Buick to provide diverse, intelligent solutions for green mobility.
Besides the Velite Concept, Buick is also showcasing the recently launched new-generation Buick GL8 and GL8 Avenir at Auto Guangzhou 2016. Based on its breakthroughs and innovations in terms of design, comfort, safety, quality and technology, the new-generation GL8 has set a new benchmark for large luxury MPVs. The first model under Buick's Avenir sub-brand, the GL8 Avenir fully expresses Buick's design aesthetics of "go beyond the classics" and the customer-oriented Buick Care customer service program.
no images were found

.