Fonte: General Motors
Shanghai, Cina. 18 Aprile 2016. La nuova Buick LaCrosse Hybrid Electric Vehicle (HEV) ha fatto il suo debutto mondiale durante l'evento 2016 Buick Day a Shanghai, dove il Concept Buick Avista è stato premiato e anche mostrato per la prima volta in Cina.
Entrambi i modelli sono sullo stand Buick dell'Auto China 2016 a Pechino.
"La leadership di GM nel campo delle tecnologie di elettrificazione, ora e in futuro, stanno equipaggiano le Buick in Cina", ha detto Larry Nitz, direttore esecutivo di GM Global Propulsion Systems, durante l'evento. "In effetti, nel corso dei prossimi cinque anni, ci sarà da attendere più di 10 veicoli di nuova energia in Cina, tra cui diversi modelli di Buick. Che include full hybrid, ibridi e veicoli elettrico ad autonomia estesa plug-in".
Buick LaCrosse HEV supporta la strategia Drive to Green
Una componente importante della strategia Drive to Green di SAIC-GM, la Buick Lacrosse HEV adotta lo stesso linguaggio di design e innovazioni tecnologiche della recentemente introdotto LaCrosse, insieme alla tecnologie del powertrain ibrido nel segmento principale.
La LaCrosse HEV è alimentata da un motore 1.8L SIDI che è accoppiato ad una trasmissione variabile elettrica e una batteria al litio ad alte prestazioni da 1,5 kWh. Il suo pedigree verde è sostenuto da numerose tecnologie avanzate come un compressore elettronico di controllo del clima, servosterzo elettronico, recupero di energia termica di scarico, e la griglia attiva che si apre e si chiude, per massimizzare la sua efficienza.
La LaCrosse HEV offre il risparmio di carburante completa di 4,7 l / 100 km. Ciò rappresenta una diminuzione del 35 per cento del consumo di carburante rispetto la Lacrosse con eAssist che è alimentata da un propulsore ibrido intelligente, in grado di lanciare la LaCrosse HEV da 0 a 100 km/h in 8,9 secondi.
SAIC-GM ha anche rilasciato il nuovo logo "Buick blu" per la linea di prodotti verdi della marca, come segno del Buick Day. L'introduzione del logo e "Buick blu" Lacrosse HEV rappresenta il focus di Buick sul miglioramento dei suoi propulsori convenzionali e la promozione delle tecnologie verdi.
Buick in precedenza aveva introdotto modelli eco-compatibili in Cina che includono la Lacrosse con eAssist e LaCrosse Eco-Hybrid.
Buick Avista Concept evidenzia lo stile sportivo futuro del marchio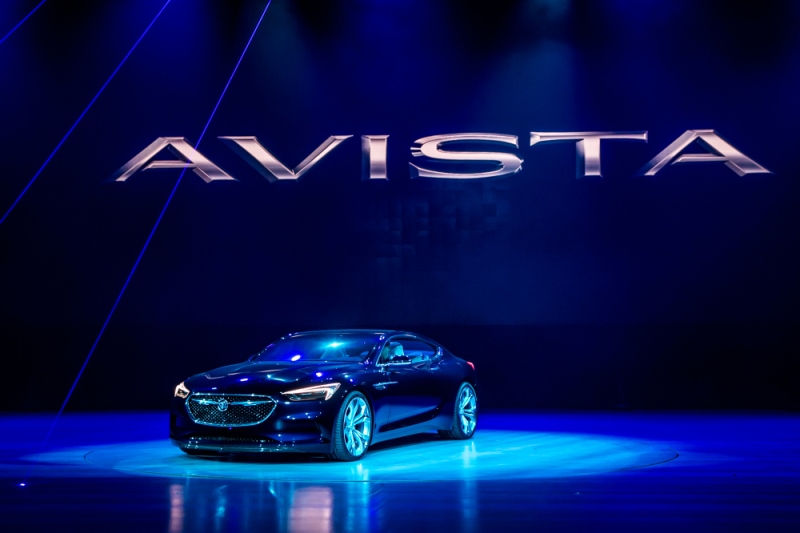 Sviluppato dal team di progettazione globali di GM, il Concept Avista incarna nuovo linguaggio di design di Buick, prestazioni sofisticate e tecnologie avanzate. Indicato per la prima volta al North American International Auto Show di Detroit a gennaio, indica la direzione futura dello stile sportivo del marchio.
Avista ha un aspetto fermo, con fluenti linee della carrozzeria ininterrotte e un abitacolo moderno 2 + 2 che è pulito, semplice ed elegante. E ' alimentata da un motore twin-turbo 3.0L V-6 che produce 298 kW di potenza massima. Il motore è supportato da una trasmissione automatica a otto velocità.
Il veicolo ha adottato una grande quantità di fibra di carbonio e materiali in alluminio con rivestimenti delle portiere e dei sedili stampati in 3D. Esso comprende tecnologie di tendenza delle Buick di prossima generazione QuietTuning, l'avanzato Sistema Qualità dell'aria e il sistema di infotainment IntelliLink Buick. La sua sospensioni Magnetic Ride Control garantisce il controllo del movimento della carrozzeria più preciso che mai.
In English
Buick LaCrosse Hybrid Electric Vehicle Makes Global Debut in Shanghai
Source: General Motors
Shanghai, China. 18th April, 2016.  – The all-new Buick LaCrosse Hybrid Electric Vehicle (HEV) made its global debut at the 2016 Buick Day event in Shanghai, where the award-winning Buick Avista concept was also shown for the first time in China.
Both models will be appearing on the Buick stand at Auto China 2016 in Beijing, which begins on April 25.
"GM's leadership in electrification technologies, now and in the future, are coming to Buick in China," said Larry Nitz, GM executive director of Global Propulsion Systems, at the event. "In fact, over the next five years, we will roll out more than 10 new energy vehicles in China, including several models for Buick. That includes full hybrids, plug-in hybrids and extended-range electric vehicles."
Buick LaCrosse HEV supports Drive to Green strategy
A major component of SAIC-GM's Drive to Green strategy, the LaCrosse HEV adopts the same design language and technological advances as the recently introduced all-new LaCrosse, along with segment-leading hybrid powertrain technologies.
The LaCrosse HEV is powered by a 1.8L SIDI engine that is paired with an electric variable transmission and a 1.5-kWh high-performance lithium battery unit. Its green pedigree is supported by numerous advanced technologies such as an electronic climate control compressor, electronic power steering, exhaust thermal energy recycling, and active grille open and close that maximize its efficiency.
The LaCrosse HEV offers comprehensive fuel economy of 4.7 L/100 km. This represents a 35 percent decrease in fuel consumption from the LaCrosse with eAssist that is powered by a smart hybrid powertrain, yet the LaCrosse HEV sprints from 0 to 100 km/h in 8.9 seconds.
SAIC-GM also released the all-new "Buick Blue" logo for the brand's green product lineup at Buick Brand Day. The introduction of the LaCrosse HEV and "Buick Blue" logo represents Buick's focus on upgrading its conventional powertrains and promoting green technologies.
Buick earlier introduced eco-friendly models in China that include the LaCrosse with eAssist and LaCrosse Eco-Hybrid.
Buick Avista concept highlights brand's future sporty styling
Developed by GM's global design team, the Avista concept embodies Buick's new design language, sophisticated performance and advanced technologies. Shown for the first time at the North American International Auto Show in Detroit in January, it points to the future direction of the brand's sporty styling.
The Avista has an arresting appearance, with flowing, uninterrupted body lines and a 2+2 modern cockpit that is clean, simple and elegant. It is powered by a twin-turbocharged 3.0L V-6 engine that produces 298 kW of maximum power. The engine is supported by an eight-speed automatic transmission.
The vehicle has adopted a great deal of carbon fiber and aluminum materials along with 3D-printed door and seat trims. It includes trendsetting technologies such as Buick's next-generation QuietTuning, the advanced Air Quality System and the Buick IntelliLink infotainment system. Its Magnetic Ride Control suspension delivers more precise body motion control than ever.
no images were found

.