da Associated Press
Las Vegas, Nevada. USA. 6 gennaio 2016 Il costruttore dinese di drone Ehang Inc. mercoledì ha presentato quello che definisce il primo drone al mondo in grado di trasportare un passeggero umano.
La società con sede a Guangzhou in Cina, ha svelato l'Ehang 184 presso il Las Vegas Convention Center durante il CES Gadget Show. In un video ufficiale che mostra il drone in volo, sembra un piccolo elicottero, ma con quattro eliche che raddoppiato l'alzamento dal suolo come gli altri droni.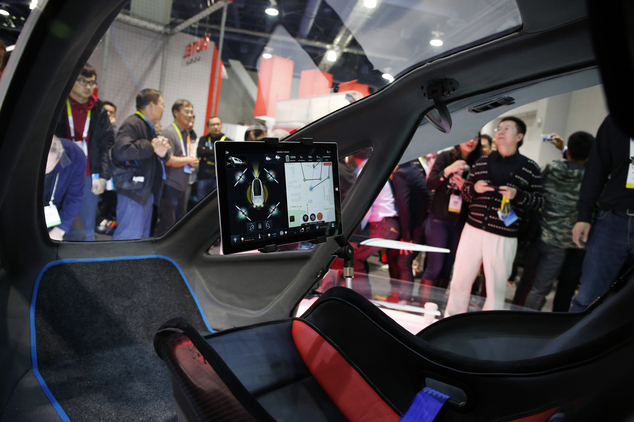 Il drone a trazione elettrica possono essere ricaricati completamente in due ore, può trasportare fino a 220 libbre e volare per 23 minuti al livello del mare, secondo Ehang. La cabina è adatta ad una persona e un piccolo zaino e ha anche l'aria condizionata e una luce di lettura. Con le eliche ripiegatìe, è progettato per adattarsi al parcheggio in un solo posto auto.
Il veicolo aereo autonomo EHang 184 è stato presentato presso lo stand EHang al CES Internazionale.
Dopo aver impostato un piano di volo, il passeggero deve solo dare due comandi, "decollare" e "atterrare", ognuno controllato da un solo clic su un tablet Surface di Microsoft, ha detto la società.
È stato progettato per volare da circa 1.000 a 1.650 piedi da terra con una quota massima di 11.500 piedi e sviluppo una velocità massima di 63 miglia all'ora.
Le autorità statunitensi hanno appena inizianto a tracciare le linee guida per l'uso di droni, e un drone con passeggero uomo sembra certo di dover affrontare un severo controllo.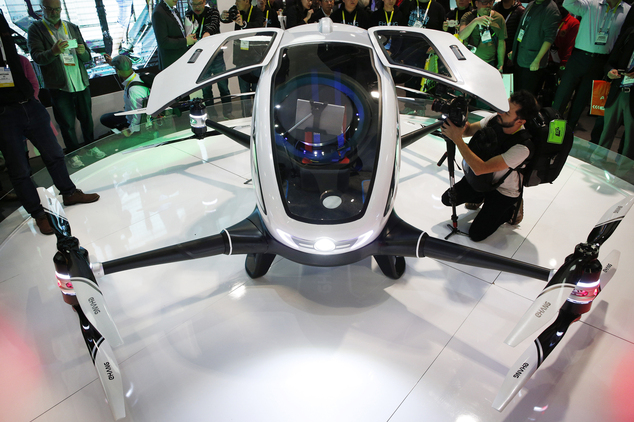 L'Amministratore Federal dell'Aviation Administration Michael Huerta era al CES, ma non è stato possibile raggiungerlo immediatamente per un commento attraverso un portavoce.
Il co-fondatore e Chief Financial Officer di Ehang, Shang Hsiao, ha detto che l'azienda spera di vendere il dispositivo tra i 200 mila ed i 300 mila dollari a partire da quest'anno, ma ha riconosciuto che occupa una "zona grigia" legale.
"In tutto il mondo non ha mai avuto qualcosa di simile prima", ha detto.
Un passeggero non avrebbe nessun controllo di backup, ha detto. Nel caso di un problema la società prevede un centro di controllo remoto che dovrebbe prendere in consegna il veicolo e verificare l'atterraggio di sicurezza, ha detto.
Il Chief Marketing Officer Derrick Xiong ha detto che il veicolo è stato volato per più di 100 volte a bassa quota in una zona boschiva a Guangzhou, tra cui più volte con una persona all'interno.
Una cosa che rende il quad-elicottero più sicuro rispetto gli elicotteri sono i le loro numerosi eliche, ha detto Xiong. Anche se tre dei quattro bracci che hanno le loro sei eliche sono disabili, le eliche da lavoro del braccio finale è in grado di garantire un atterraggio di emergenza in spirale verso il suolo, ha detto.
L'azienda, che fa anche droni più piccoli, ha detto in agosto di aver raccolto 42 milioni di dollari di capitale da vari investitori, tra cui GP Capital, GGV Capital, ZhenFund e altri, in seguito ai 10 milioni di dollari di capitale raccolto l'anno precedente.
In English
Chinese drone maker unveils human-carrying drone
By ASSOCIATED PRESS
Las Vegas, Nevada. USA. 6 January 2016. Chinese drone maker Ehang Inc. on Wednesday unveiled what it calls the world's first drone capable of carrying a human passenger.
The Guangzhou, China-based company pulled the cloth off the Ehang 184 at the Las Vegas Convention Center during the CES gadget show. In a company video showing it flying, it looks like a small helicopter but with four doubled propellers spinning parallel to the ground like other drones.
The electric-powered drone can be fully charged in two hours, carry up to 220 pounds and fly for 23 minutes at sea level, according to Ehang. The cabin fits one person and a small backpack and even has air conditioning and a reading light. With propellers folded up, it's designed to fit in a single parking spot.
The EHang 184 autonomous aerial vehicle is unveiled at the EHang booth at CES International, Wednesday, Jan. 6, 2016, in Las Vegas. The drone is large enough to fit a human passenger. (AP Photo/John Locher)
After setting a flight plan, passengers only need to give two commands, "take off" and "land," each controlled by a single click on a Microsoft Surface tablet, the company said.
It is designed to fly about 1,000 to 1,650 feet off the ground with a maximum altitude of 11,500 feet and top speed of 63 miles per hour.
U.S. authorities are just starting to lay out guidelines for drone use, and a human-passenger drone seems certain to face strict scrutiny.
Federal Aviation Administration administrator Michael Huerta was at CES but could not immediately be reached for comment through a spokesman.
Ehang co-founder and Chief Financial Officer Shang Hsiao said the company hopes to sell the device for $200,000 to $300,000 beginning this year but acknowledged it occupies a legal "grey area."
"The whole world never had something like this before," he said.
A passenger would have no controls as a backup, he said. In the event of a problem the company plans a remote control center that would take over the vehicle and ensure it lands safely, he said.
Chief Marketing Officer Derrick Xiong said the vehicle has been flown more than 100 times at low altitudes in a forested area in Guangzhou, including several times with a person inside.
One thing that makes quad-copters safer than helicopters are its numerous propellers, Xiong said. Even if three of the four arms have their six propellers disabled, the final arm's working propellers can ensure a rough landing by spiraling toward the ground, he said.
The company, which also makes smaller drones, said in August it had raised $42 million in capital from various investors including GP Capital, GGV Capital, ZhenFund and others, following $10 million in capital raised the previous year.
no images were found