Fonte: Citroën
Parigi, Francia. 15 Febbraio 2016. Ai primi di febbraio, l'Espace Commines al terzo arrondissement di Parigi 'è stato trasformato in una "galleria" vetrina Citroën e la sua E-Mehari. Questo sito atipico, per un capannone industriale costruito alla fine del 19esimo secolo, è ciò che la casa automobilistica, con l'aiuto di un'agenzia L'Ecurie, ha selezionato come stage per il suo nuovo stravagante, veicolo easy-going! Anche se fa un cenno spensierato a un'icona, la Mehari del 1968, la E-Mehari è molto di più: un veicolo 100% elettrici, ottimista, alla moda, a quattro posti convertibile con divertimento e stile contemporaneo.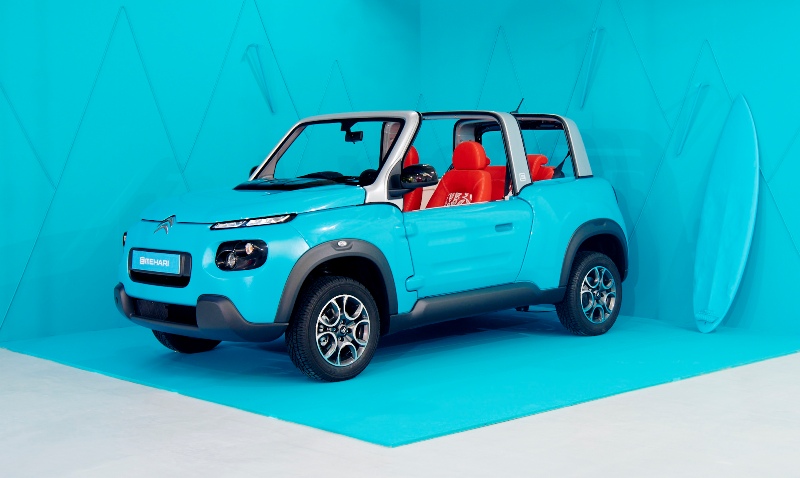 In questa location privata rinominata "#galeriEmehari," quattro E-Mehari, che rappresentano i quattro colori della gamma, sono state esposte in quattro "scatole" con decorazioni originali, ognuno incarnando un'energia e un atteggiamento diverso. Ogni espressiva e colorata E-Mehari possiede il suo singolo proprio mondo ed atmosfera personale: in fondo al mare con lo spirito della fuga; super-elettro My Funny Clementine; il giallo che vuol dire tonificante; e l'elegante beige… per il giorno o della notte.
Le tinte della carrozzeria realizzate nello stesso materiale plastico termoformato resistente alla corrosione che resiste agli urti minori – possono essere accoppiate con una delle due opzioni di tessuto soft-top (nero e arancione) e due rivestimenti interni (beige e arancione, con un centro sezione stampato ispirata al mondo degli sport acquatici). Questo assetto PET è completamente impermeabile.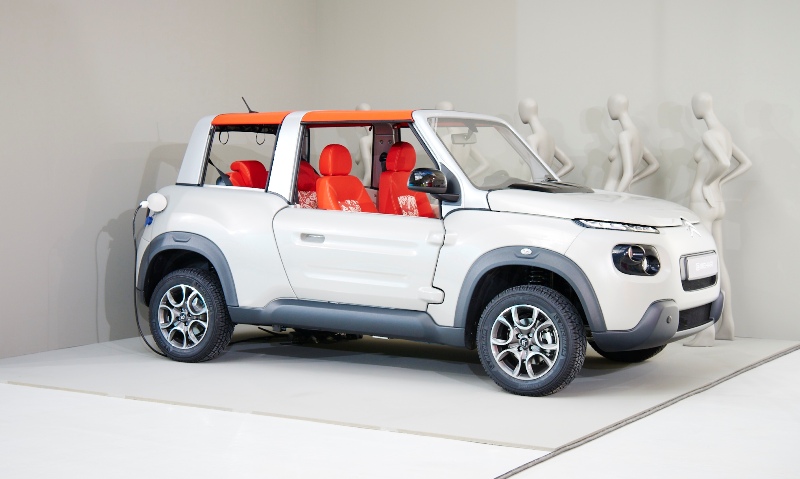 I quattro box a colori della galleria sono opere d'arte – monocromatiche a tema che sono stati aperte al lavoro di più di 25 influenzatori. Questi appassionati di audacia e creatività, sempre con un occhio per le ultime tendenze del design, hanno aggiunto qualche divertente foto-making accanto alla E-Mehari. Quel momento ha portato ad una serie di immagini e pubblicazioni legate al hashtag #galeriEmehari. Un'altra forma di auto-talk per raggiungere un pubblico diverso, e un modo originale per illustrare lo spirito E-Mehari, completamente allineato ai valori di design Citroën di freschezza e di ottimismo!
Pochi giorni dopo la Paris Fashion Week, Citroën ha progettato il proprio colorato modo d'avanguardia per mostrare le diverse personalità del suo nuovo spirito libero è su quattro ruote, un veicolo che è al 100% elettrico, fresco e vibrante.
L'occasione gratuita era stata data a più di 25 E-influencer di esprimersi in uno dei set speciali e condividere le proprie creazioni sul web. Un modo originale per catturare la tendenza dello spirito E-Mehari e rivelare un po' di più di questo nuovo veicolo che punta ad un pubblico mirato.
Poche settimane prima presentazione della E-Mehari al Salone di Ginevra, questa creazione fiammeggiante ed appariscente può essere visionata a #galeriEmehari.
In English
Citroën E-MEHARI on display in the #galeriEmehari
Source: Citroën
Paris, France. February 15, 2016. In early February, the Espace Commines in Paris' third arrondissement was transformed into a "gallery" showcasing Citroën and its E-MEHARI. This atypical site, a former industrial warehouse built in the late 19th century, is what the carmaker, with help from L'Ecurie agency, selected as the stage for its new offbeat, easy-going vehicle! Though a lighthearted nod to an icon, the 1968 Méhari, the E-MEHARI is so much more: a 100%-electric, optimistic, trendy, four-seat convertible with fun, contemporary style.
In this private location renamed "#galeriEmehari," four E-MEHARI, representing the range's four colors, were displayed in four "boxes" with original décor, each embodying a different energy and attitude. Every expressive and colorful E-MEHARI had its own unique world and personal ambiance: Into the Blue with getaway spirit; super-electro My funny Clementine; invigorating Say Yellow; and elegant Ring the Beige… for day or night.
The four body shades in thermoformed, bulk-stained plastic – corrosion-resistant material that stands up to minor impacts – can be paired with either of two fabric soft-top options (black and orange) and two interior trims (beige and orange, with a central-section print inspired by the world of water sports). This PET trim is completely waterproof.
The gallery's four Color Boxes are pop-up works of art – themed, monochromatic sets that were opened to more than 25 influencers. These aficionados of audacity and creativity, always with an eye out for the latest design trends, joined in some image-making fun alongside the E-MEHARI. That moment led to a series of photos and publications linked to the hashtag #galeriEmehari. Another form of car-talk reaching a different audience, and an original way to illustrate the E-MEHARI spirit, completely aligned with Citroën's values of design, freshness, and optimism!
A few days after Paris Fashion Week, Citroën designed its own colorful, cutting-edge way to show off the different personalities of its new free spirit on four wheels, a vehicle that is 100% electric, fresh, and vibrant. Four Citroën E-MEHARI were presented in a Paris location converted into an "E-MEHARI Gallery." Free rein was given more than 25 e-influencers to express themselves in one of the special sets and share their creations on the web. An original way to capture the trendy E-MEHARI spirit and reveal a bit more of this new vehicle it to a targeted audience. All a few days before the E-MEHARI's unveiling at the Geneva Motor Show, the vivacious result can be seen at #galeriEmehari.
no images were found

.