Fonte: General Motors
Las Vegas, Nevada. USA. 6 Gennaio 2016. Chevrolet presenta la Bolt EV 2017 in occasione del Consumer Electronics Show, compiendo la sua promessa di offrire un'auto elettrica a lungo raggio a prezzi accessibili per le masse.
La Bolt EV, che entrerà in produzione entro la fine del 2016, offrirà più di 200 miglia di autonomia di serie su una carica completa (320 km). Dispone anche di tecnologie di connettività avanzate progettate per migliorare e personalizzare l'esperienza di guida.
"E 'stato meno di un anno fa, che abbiamo rivelato il concept Bolt EV e abbiamo promesso di costruire un veicolo elettrico di lunga autonomia accessibile dalle masse" – ha detto il GM Chairman e CEO Mary Barra. "La Bolt EV è in grado di utilizzare l'ultima tecnologia mobile app per consentire il car sharing, il routing avanzato GPS e gamification, tutti progettati per migliorare l'esperienza dei proprietari ora e in futuro."
Connettività Semplifica, Ownership Experience
I benefici della Bolt EV sono stati direttamente dati dai suggerimenti e le idee dei proprietari di Volt e le caratteristiche delle tecnologie rendono loro possessori di un semplice veicolo elettrico di lungo raggio.
Le innovazioni di connettività della Bolt EV forniranno soluzioni personalizzate per la gestione intelligente dell'esperienza di guida. Ad esempio, in futuro un'accurata gamma di proiezione driving sarà basato sul tempo del giorno, il tipo di guida, il tempo e le abitudini di guida del proprietario.
Bluetooth a basso consumo energetico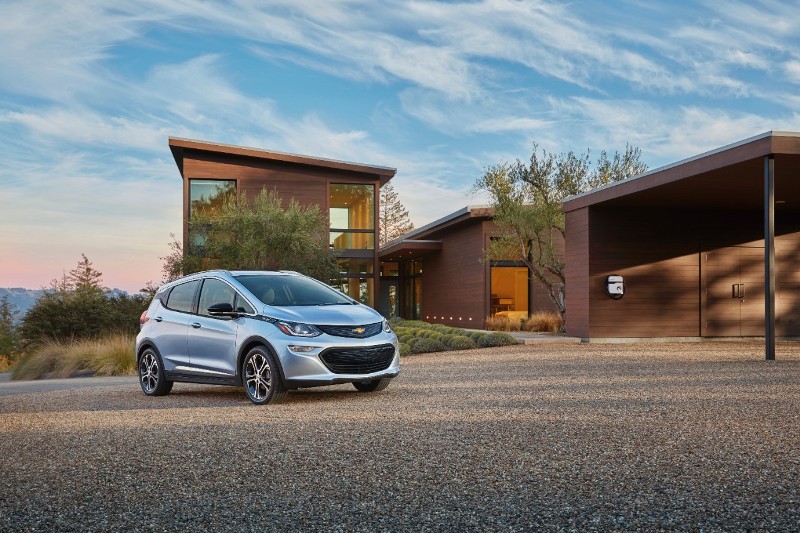 Progettato specificamente per la Bolt EV in modo di ridurre al minimo il consumo di energia – si connette attraverso un telefono intelligente con l'auto mentre il proprietario si avvicina al veicolo.
Molte delle tecnologie sono focalizzate sul conducente della Bolt EV e sono supportate da OnStar 4G LTE, che trasforma la Bolt EV in un hotspot Wi-Fi, che dà ai proprietari il più facile accesso alle applicazioni ed ai servizi tramite una connessione ad alta velocità.
Altre funzioni di connettività e infotainment includono:
Schermo 10.2" a colori touch-screen MyLink
"Stile flip-board" operazioni personalizzabile, basata su widget
Telecamera specchio posteriore
Videocamera rivolta fornisce una vista grandangolare dell'ambiente dietro il veicolo.
Surround Vision
Fornisce una visione a volo d'uccello di quello che c'è intorno alla Bolt EV per migliorare la sicurezza durante la bassa velocità di guida e di parcheggio.
All-New MyChevrolet Mobile App: Combina importanti informazioni del proprietario e del veicolo e funzioni, come ad esempio:
Stato di carica del veicolo
Il servizio OnStar Mappa
Avvio remoto
Pre-condizionamento della cabina
Informazioni Manuale dell'utente
Programmazione concessionario
Mappatura navigazione EV
Capacità di navigazione specifica per EV che progetta percorsi per massimizzare l'autonomia e fornisce posizioni di localizzazione delle stazioni di ricarica vicine, se necessario.
Gamification
In futuro, i proprietari di Bolt EV saranno in grado di "competere", confrontando stili di guida per determinare chi è alla guida in modo più efficiente.
Bolt EV sarà costruita ed assemblata nello stabilimento GM a Orion (Michigan), nei pressi di Detroit.
In English
Chevrolet introduces 2017 Bolt EV
Source: General Motors
Las Vegas, Nevada. USA. January 6, 2016. Chevrolet is introducing the 2017 Bolt EV at the Consumer Electronics Show, fulfilling its promise to offer a long-range, affordable electric vehicle for the masses.
The Bolt EV, which will go into production by the end of 2016, will offer more than 200 miles of range on a full charge. It also features advanced connectivity technologies designed to enhance and personalize the driving experience.
"It was less than a year ago that we revealed the Bolt EV concept and promised to deliver a long-range electric vehicle attainable by the masses," GM Chairman and CEO Mary Barra said. "The Bolt EV is capable of using the latest mobile app technology to enable car sharing, advanced GPS routing and gamification, all designed to enhance the ownership experience now and into the future."
Connectivity Simplifies Ownership Experience
The Bolt EV benefits directly from the suggestions and ideas of Volt owners and features technologies that make owning a long-range electric vehicle easy.
The Bolt EV's connectivity innovations will provide smart, personalized solutions for managing the driving experience. For example, in the future an accurate driving range projection will be based on the time of day, typography, weather and the owner's driving habits.
Bluetooth low-energy – designed specifically for the Bolt EV to minimize energy draw – seamlessly connects a smart phone to the car while the owner approaches the vehicle.
Many of the Bolt EV's driver-focused technologies are supported by OnStar 4G LTE, which turns the Bolt EV into a Wi-Fi hotspot, giving owners easier access to apps and services via a high-speed wireless connection.
Other connectivity and infotainment features include:
10.2'' MyLink color touch-screen display
Customizable, widget-based "flip-board style" operation
Rear Camera Mirror
Rear-facing camera provides a wide-angle view of the environment behind the vehicle.
Surround Vision
Provides a bird's-eye view of what's around the Bolt EV for improved safety during low-speed driving and when parking.
All-New MyChevrolet Mobile App: Combines important owner and vehicle information and functions, such as:
Vehicle charge status
OnStar Map service
Remote start
Cabin pre-conditioning
Owner's manual information
Dealer service scheduling
EV Navigation Mapping
EV-specific navigation capability that designs routes to maximize range and provide locations of nearby charging station locations if needed.
Gamification
In the future, Bolt EV owners will be able to "compete" by comparing driving styles to determine who is driving most efficiently.
The Bolt EV will be built at GM's Orion (Mich.) Assembly facility, near Detroit.
no images were found

.