Fonte: Venturi Automobiles
Parigi, Francia. 1° Dicembre 2015. Nell'ambito della 21esima Conferenza delle Nazioni Unite sui cambiamenti climatici (Le Bourget 30 novembre / 11 dicembre, 2015) Automobiles Venturi partecipa al programma di COP21 Solutions che si svolgono presso il Grand Palais di Parigi.
Automobiles Venturi esporrà dal 4 al 10 Dicembre 3 veicoli sviluppati dal team nel centro di ricerca tecnologica con sede nel Principato di Monaco. Il programma Solutions COP21 mette in mostra le iniziative pubbliche da più campi, proponendo innovazioni tecnologiche per combattere il riscaldamento globale e fornendo soluzioni pulite e sostenibili per la gestione delle risorse naturali.
Automobiles Venturi metterà in mostra tre veicoli radicalmente diversi, ognuno dei quali utilizzano propulsori elettrici innovativi in diverse applicazioni.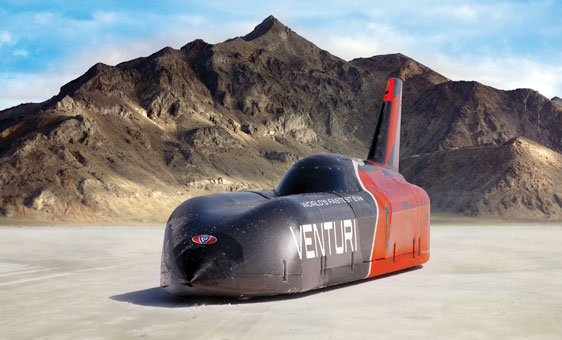 La Venturi VBB-3, un lungo veicolo elettrico da 12 metri e 3,5 tonnellate che ha stabilito diversi record di velocità su terra ed è stato sviluppato in collaborazione con la Ohio State University (USA) come parte di un programma di insegnamento degli studenti. La VBB-3 utilizza un propulsore ad alte prestazioni (2400HP) e il sistema di gestione della batteria in situazioni tecniche complesse di temperature molto elevate. Il programma VBB detiene il record mondiale di velocità con veicoli elettrici nel 2010 a 495 km/h.
Antartide, un veicolo da 8 ruote che può essere montato su bruchi è destinato alla comunità scientifica antartica per la circolazione nei siti di ricerca protette a temperature fino a meno 70° C.
Infine, Venturi metterà in mostra una monoposto elettrica del team Venturi di Formula E dove è in competizione nella loro seconda stagione nel FIA Formula E Championship, in cui automobili Venturi è anche un produttore ufficiale di propulsori elettrici.
Esistono questi tre programmi di veicoli tutti mirati a promuovere e innovare nella ricerca e nello sviluppo di veicoli elettrici. Automobiles Venturi è stata considerata un pioniere in questo campo dal 2000.
"E 'un onore per noi partecipare a COP21 Solutions, che mette in mostra le migliori soluzioni innovative per lo sviluppo pulito e sostenibile. I veicoli che abbiamo portato sono stati progettati per il funzionamento in casi più estremi e in un universo ritenuto impossibile per gli EV, che ci permette di continuare a sviluppare soluzioni che rendono questa tecnologia possibile nella vita di tutti i giorni" – ha detto Gildo Pallanca Pastor, CEO di Venturi Automobiles.
Venturi Automobiles
Dal 2000 Venturi Automobiles e il suo CEO Gildo Pallanca Pastor portano avanti una politica sostenuta di ricerca e innovazione tecnica per i veicoli elettrici. Venturi è un pioniere in auto sportive elettriche e sfrutta la tecnologia più avanzata disponibile che è altrettanto rilevante per i veicoli urbani come lo è per le auto ad altissime prestazioni.
In English
Venturi Automobiles goes to COP21
Source: Venturi Automobiles
Paris, France. December 1st, 2015. As part of the 21st? United Nations Conference on Climate Change (Le Bourget November 30 / December 11, 2015) Venturi Automobiles participates in the Solutions COP21 program taking place at the Grand Palais in Paris.
Venturi Automobiles  will be on display from  December 4th through 10th with 3 vehicles developed by teams in the technological research center based in the Principality of Monaco. The Solutions COP21 program showcases for the public initiatives from multiple fields, proposing technological innovations for fighting global warming and providing clean and sustainable solutions for natural resource management.
Venturi Automobiles will be showcasing three radically different vehicles, all of which utilize innovative electric powertrains in different applications.
The Venturi VBB-3, a 12 meter long EV, 3.5 ton vehicle has established multiple land-speed records and has been developed in collaboration with The Ohio State University (USA) as part of a student teaching program. The VBB-3 utilizes a high performance powertrain (2400HP) and battery management system in complex technical situations in very high temperatures. The VBB program holds the electric world speed record set in 2010 at 495 km/h.
Antarctica, an 8-wheel gear that can be mounted on caterpillars is intended for the Antarctic scientific community for navigating protected research sites in temperatures as low as minus 70 ° Celsius.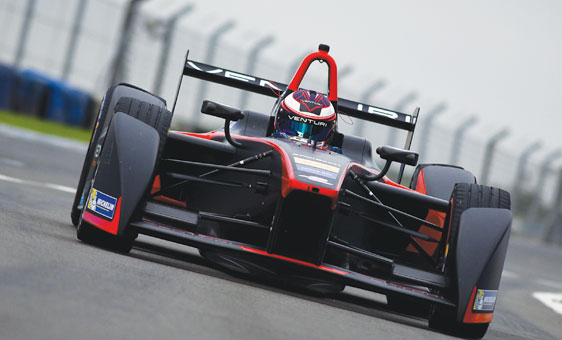 Finally, Venturi will display an electric single-seater from the Venturi Formula-E team where they are competing in their second season in the international FIA Formula-E Championship, in which Venturi Automobiles is also an official manufacturer of electric powertrains.
These three programs and vehicles all exist to promote and innovate in the research and development of EV's. Venturi Automobiles has been considered a pioneer in this field since 2000.
"It is an honor for us to participate in Solutions COP21, which showcases the best innovative solutions in clean and sustainable development. The vehicles we brought are designed for operation in the most extreme cases, and in a universe deemed impossible for EV's, allowing us to continue to develop solutions that make this technology possible in everyday life." said Gildo Pallanca Pastor, Venturi Automobiles' CEO.
Venturi Automobiles
Since 2000, Venturi Automobiles and its CEO Gildo Pallanca Pastor have been carrying out a sustained policy of research and technical innovation for electric vehicles.
Venturi is a pioneer in electric sports cars and harnesses the most advanced technology available that is just as relevant to urban vehicles as it is to very high performance cars.
no images were found