Fonte: Artega
Francoforte, Germania. 15 Settembre 2015. Il tempo è pronto per una vettura sportiva Artega a propulsione esclusivamente elettrica. La nuova auto sportiva elettrica tedesca Artega Scalo attira come un diretto successore dell'Artega GT con molte raffinatezze visuali e tante novità tecniche mondiali. E' costruita in una piccola serie di dodici esclusivi veicoli da ordinare.
L'idea di sviluppare un'Artega come una macchina sportiva elettrica è antica quanto la storia del marchio.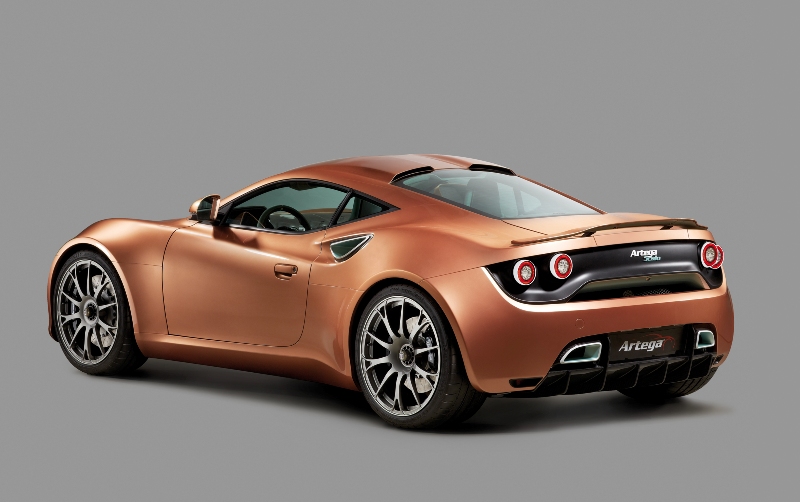 Coerente con la costruzione leggera ed il tipo di costruzione modulare del telaio rendono la piattaforma Artega perfetta per gli azionamenti elettrici. Tre prototipi sono stati costruiti entro il 2012, ma non fatti per la produzione in serie per il loro design.
L'auto elettrica pura Artega Scalo fonda una nuova tradizione. In futuro, i veicoli del marchio Artega porteranno i nomi dei famosi stalloni da corsa. Scalo è la prima – era uno stallone molto speciale della Westfalia, Galloper of the Year nel 2010 e allenato molto vicino alla sede diArtega.
Tecnologia aerospaziale
Artega Scalo è dotata di due motori elettrici Voltabox alloggiati sulle ruote posteriori, ad alte prestazioni con una potenza totale di 300 kW (potenza di picco 390 kW) e una coppia di 575 ft-lb. Esso sorpassa così i dati delle prestazioni del suo predecessore. La Artega Scalo accelera da 0 a 60 mph in 3,6 secondi e raggiunge una velocità massima limitata elettronicamente di 155 mph (250 km/h).
I due motori elettrici utilizzano le più recenti tecnologie dal settore aerospaziale e agiscono sull'asse posteriore attraverso un ingranaggio centrale monostadio. Il Torque vectoring mirato garantisce la massima dinamica longitudinale e trasversale con la trazione sulle ruote motrici.
La massa del motore è di solo 66 libbre ciascuno, che porta a uno straordinario rapporto peso potenza di  2,3 kW/lb. Il regime massimo del motore è di 12.500 rpm, la massima efficienza a 6.900 rpm è fino al 95%.
Su richiesta, è disponibile una versione con efficienza eccezionale del 98%.
Le macchine ad alta efficienza Voltabox sono fornite e controllate tramite due inverter di nuova concezione con un rendimento di fino al 93%. Una versione con speciale transistor al carburo di silicio raggiunge anche la conversione energetica massima del 98,8%.
L'accumulo di energia offre anche una novità globale. Per la prima volta, la Artega Scalo offre un sistema di moduli state-of-the-art della batteria con celle agli ioni di litio attivamente controllati termicamente sulla base di nichel-manganese e cobalto, in combinazione con condensatori (Supercaps) da elevate prestazioni perfettamente personalizzati.
Per quanto riguarda il recupero i SuperCaps ricaricano in fretta; ma all'accelerazione, i supercondensatori si scaricano prima. Questo ha l'effetto di aumentare l'accelerazione ed estendere l'autonomia. Il sistema può regolare fino a quattro volte i recuperi del conducente, attraverso le palette poste sul volante.
Autonomia di fino a 250 miglia (402 km)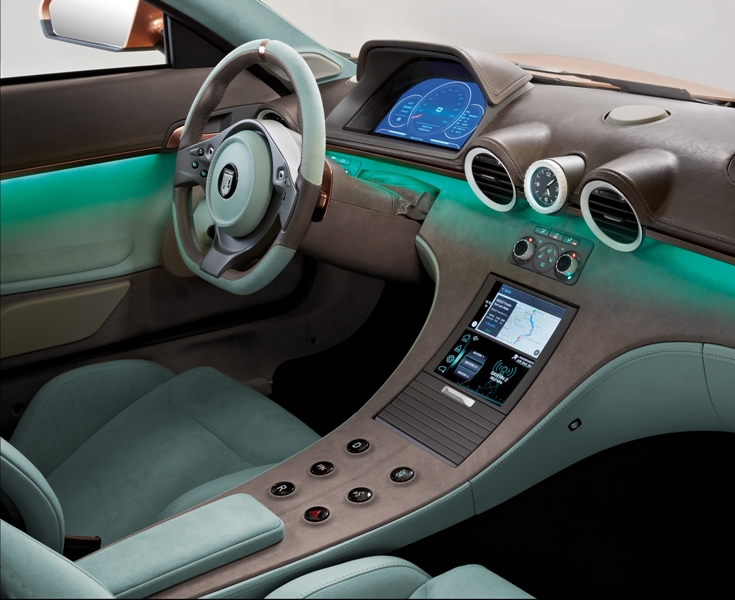 I modelli al litio ion sono distribuiti tra due sistemi protetti ai crash integrati nella struttura del veicolo. I condensatori posti al centro di gravità garantiscono anche una migliore distribuzione di peso. La gestione termica e la batteria Voltabox sono pienamente integrati e funzionali con elevati standard di sicurezza intrinseca secondo le normative DIN / ISO 26262.
La capacità della batteria installata è superiore a 37 kWh e la tensione nominale è di 411 Volt. Fino a 10 secondi può essere richiesta una potenza elettrica di 385 kW.
La Artega Scalo ha un'autonomia di fino a 250 miglia (402 km). In un stato di carica di sotto il 25%, la velocità è limitata a 125 mph (201 km/h) per avere comunque una maggior autonomia residua.
Il set batteria ha il proprio circuito di raffreddamento. L'elettronica di potenza ed i due motori elettrici hanno un secondo dispositivo di raffreddamento comune. In questo modo, tutti i componenti del sistema funzionano al rispettivo miglior punti di lavoro.
Con una carica rapida DC da 64 kW è possibile caricare completamente la batteria in meno di un'ora. La potenza massima di carica del caricabatteria trifase Voltabox di bordo è di 22 kW, che corrisponde a una durata di carica di circa due ore. Alla rete AC con una presa domestica da 16 A, ci vogliono circa dieci ore.
Grande volume di stoccaggio e bella forma cerchi ruota
La nuova auto sportiva elettrica tedesca ha un volume di stoccaggio di 8,8 CFT che sono distribuiti tra il tronco anteriore e lo spazio dietro i sedili. Il peso a vuoto di questo veicolo, comprese le batterie è di 3.494 libbre.
La Artega Scalo ha forgiato cerchi da un design dedicato (8,5" x 20" anteriore, 11″ x 20″ posteriore) e pneumatici di dimensioni 245/35 x 20 e 295/30 x 20 rispettivamente. La massa del cerchio anteriore è di soli 21,3 libbre e quella del posteriori da 24.4 libbre. Le pinze dei freni Brembo installate (6 pistoncini davanti, 4 pistoncini posteriori con pinza del freno a mano separata) con dischi freno in due parti riflettono l'esperienza del marchio nel motorsport.
Dati tecnici Artega Scalo
Propulsione
• 2 motori sincroni, ciascuno da 150 kW di potenza continua (picco di potenza 195 kW) fino al 95% di efficienza (a 6.900 giri al minuto, il 98% opzionale), raffreddati ad acqua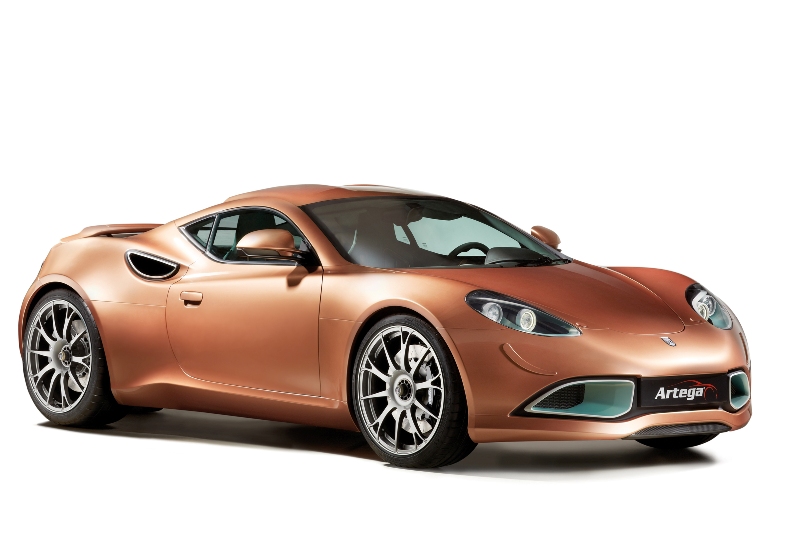 • £ 575-ft di coppia
• Giri massimi 12,500
• Singola marcia, sistema torque vectoring
• Accelerazione da 0 a 60 mph in 3.6 secondi
• 155 mph (249 km/h) velocità massima, limitata elettronicamente (125 mph – 201 km/h – se lo stato di carica <25%)
• controllo inverter Formotor 2 ad alte prestazioni con efficienza fino al 93% (opzionale fino a 98,8%), raffreddato ad acqua
Batteria
• Batteria controllata termicamente da 37 kWh agli ioni di litio, nichel-Mangan-Cobalto-base combinata con condensatori ad alta potenza; protezione incidente; tensione nominale 411 volt
• Recupero regolabile di energia a 4 vie
• Autonomia fino a 250 (402 km)
• Ricarica rapida con oltre 64 kWDC in circa 60 minuti (22 kWAC: circa 2 ore, presa domestica da 16A AC: Circa 10 ore.)
Esterno
• Carrozzeria in poliuretano combinato con carbonio
• Cerchi sviluppato appositamente da 20″ forgiati con chiusura centralizzata
• spoiler posteriore automatico e regolabile elettricamente
• lembi allungabili
• fari LED / luci di coda
Cruscotto interno
• Digitale
• Unità principale Mirror Pilot; OLED touchscreen mobile
• ricarica senza fili e accoppiamento di smartphone
• Volante multifunzione; controllo gestuale
• Sound system con 13 altoparlanti basati su bus e potenza totale da 800W
• Cintura; telefono con prestazioni mani libere-set e riconoscimento vocale
• Luce ambientale
Suono
• Suono del motore sintetico interno / esterno
Dimensioni
• Peso a vuoto 3.494 libbre.
• Lunghezza totale 157,8 a., Larghezza 74 a., Altezza 47 a., Interasse 97 a.
• Bagagliaio 8.8 cft.
In English
Artega Scalo. The New German Electric Sports Cars
Source: Artega
Frankfurt, Germany. 15th September 2015. The time is ready for an Artega sports car with a purely electric drive. The new German electric sports car Artega Scalo entices as a direct successor of the Artega GT by visual refinement and many technical world novelties. It is built in a small series of twelve exclusive vehicles to order.
The idea of developing an Artega as an electric sports car is as old as the brand's history.
Consistent light-weight construction and the modular construction of the chassis make the Artega platform perfect for electric drives. Three prototypes have been built by 2012, but not made it for serial production due to their design.
The purely electric Artega Scalo founds a new tradition. In future, the vehicles of the Artega brand will bear the names of famous racing stallions.
Scalo is the first – he was a very special Westphalian stallion, Galloper of the Year in 2010 and trained very near the head office of Artega.
Technology from aerospace
The Artega Scalo has two Voltabox rear-mount high-performance electric motors with a total output of 300 kW (peak output 390 kW) and a 575 ft-lb. It thus outdoes the performance data of its predecessor. The Artega Scalo accelerates from 0 to 60 mph in 3.6 seconds and reaches an electronically limitedmaximumspeed of 155mph.
The two electric motors use the latest technologies right from aerospace and drive the rear axle via a single-stage central gear. Targeted torque vectoring ensures maximum longitudinal and cross-dynamics with the demand-oriented distribution across the drive wheels. The motor mass is only 66 lbs each, which leads to an outstanding performance density of 2.3 kW/lb. The maximum motor speed is at 12,500 rpm, the maximum efficiency at 6,900 rpm is up to 95%.
On request, a version with an outstanding efficiency of 98% is available.
The Voltabox high-efficiency machines are supplied and controlled via two newly developed inverters with an efficiency of up to 93%. A version with special silicon carbide transistors even achieves amaximumelectrical energy conversion of 98.8%.
The energy storage also offers a global novelty. For the first time, the Artega Scalo offers a hybrid system of state-of-the-art battery modules with actively thermally controlled li-ion cells on nickel-manganese-cobalt basis, combined with perfectly customized high-performance capacitors (SuperCaps). For recuperation, the SuperCaps recharge quickly at first; at acceleration, the capacitors will discharge first. This constellation increases acceleration and extends the range. The recuperations system can be adjusted four-fold by the driver by switching paddles at the steering wheel.
Strong range of up to 250 mls
The li-ion models are distributed between two systems that are crash-protectedly integrated into the vehicle structure. The capacitors placed in the centre of gravity also ensure best weight distribution. The Voltabox thermal and battery management is fully integrated and functionally intrinsically safe according to DIN/ISO 26262.
The installed battery capacity is in excess of 37 kWh, the nominal voltage is at 411 Volt. For up to 10 seconds, as much as 385 kW electrical output can be demanded. The Artega Scalo has a range of up to 250mls.At a charge status below25%, the power output is limited to 125mph almost for the sake of a better remaining range, however.
The battery set has its own cooling circuit. The power electronics and the two electric motors have a second shared cooler. This way, all system components work at their respective best working points.
With a 64 kW DC quick charge, it is possible to charge the battery completely in less than one hour. The maximum charge output of the Voltabox on-board charger at the three-phase current connection is 22 kW, which corresponds to a charging duration of approx. two hours. At the AC grid with a 16 A household socket, it takes approx. ten hours.
Large storage volume and beautifully shaped wheel rims
The new German electric sports car has a storage volume of 8.8 cft that are distributed among the front trunk and the space behind the seats. The empty weight of this vehicle, including batteries is at 3,494 lbs.
The Artega Scalo has forged central closure rims in a dedicated design (8.5"x 20" front, 11"x 20" rear) and tyres sized 245/35 x 20 resp. 295/30 x 20. The rim mass in front is only 21.3 lbs and at the rear 24.4 lbs. The installed Brembo brake callipers (6 pistons front, 4 pistons rear with separate calliper for the hand brake) with two-part brake discs reflect the brand's experience in racing sports.
Technical Data Artega Scalo
Propulsion
• 2 synchronous high-performancemotors each 150 kWcontinuous power (peak power 195 kW) up to 95% efficiency (at 6,900 rpm, 98% optional), water-cooled
• 575 lb-ft of torque
•Maximum rpm 12,500
• Single speed fixed gear, torque vectoring
• Acceleration from 0 to 60 mph in 3.6 seconds
• Top speed 155 mph, electronically limited (125mph, if state of charge < 25%)
• 2 high performance inverter for motor control with up to 93% efficiency (optional up to 98.8%),water-cooled
Battery
• Active thermally controlled 37 kWh Li-ion battery pack,Nickel-Mangan-Cobalt-based combined with high-power capacitors; crash protected; nominal voltage 411 volts
• 4-way adjustable recuperation
• Range up to 250 mls
• Quick charge with up to 64 kWDC in about 60minutes possible (22 kWAC: approx. 2 hrs., household outlet 16A AC: approx. 10 hrs.)
Exterior
• Bodymade of polyurethane combined with carbon
• Specially developed 20" forged rims with central lock
• Automatically and electrically adjustable rear spoiler with gurney
• Extendible flaps
• LED headlights / tail lights
Interior
• Digital instrument panel
• Head unit MirrorPilot;moveable OLED touchscreen
•Wireless charging and antenna coupling of smartphone
•Multifunction steering wheel; gesture control
• Bus-based sound system with 13 speakers and 800Wtotal power
• belt-mic; performance in hands free-set and voice recognition
• Ambient light
Sound
• Synthetic engine sound inside/outside
Dimensions
• Curb weight 3,494 lbs.
• Overall length 157.8 in.,width 74 in., height 47 in.,wheel base 97 in.
• Luggage compartment 8.8 cft.
no images were found